Bangkok–CHIC episode 2
The greatest trick to Thailand (anywhere, but here it's absolutely vital) is to treat each part of our day and our stumbling around as part of the sightseeing and not try to get from one place to the next.
Because we won't, surely not how and when we imagined. Public transport is still a mystery, and the distances are huge, bus stops are rarely signed, and no itinerary or timetable is to be found. Uber was so far the most reliable, as the price was clear and the car had AC, even if that meant giving up consumer ethics for this week.
Real planning is not efficient here, so our days are mostly series of images and moments, like when the history museum was already closed (it was open, but there were no more guides), which left us snacking and talking about how stupid are passports and borders (imagine M.I.A. — Borders in the background). Or when we found a lovely bookshop, run most probably by someone who lived for a while in the US based on his accent. 3 monks were peacefully and quietly drinking their coffee there, which seemed like a good recommendation.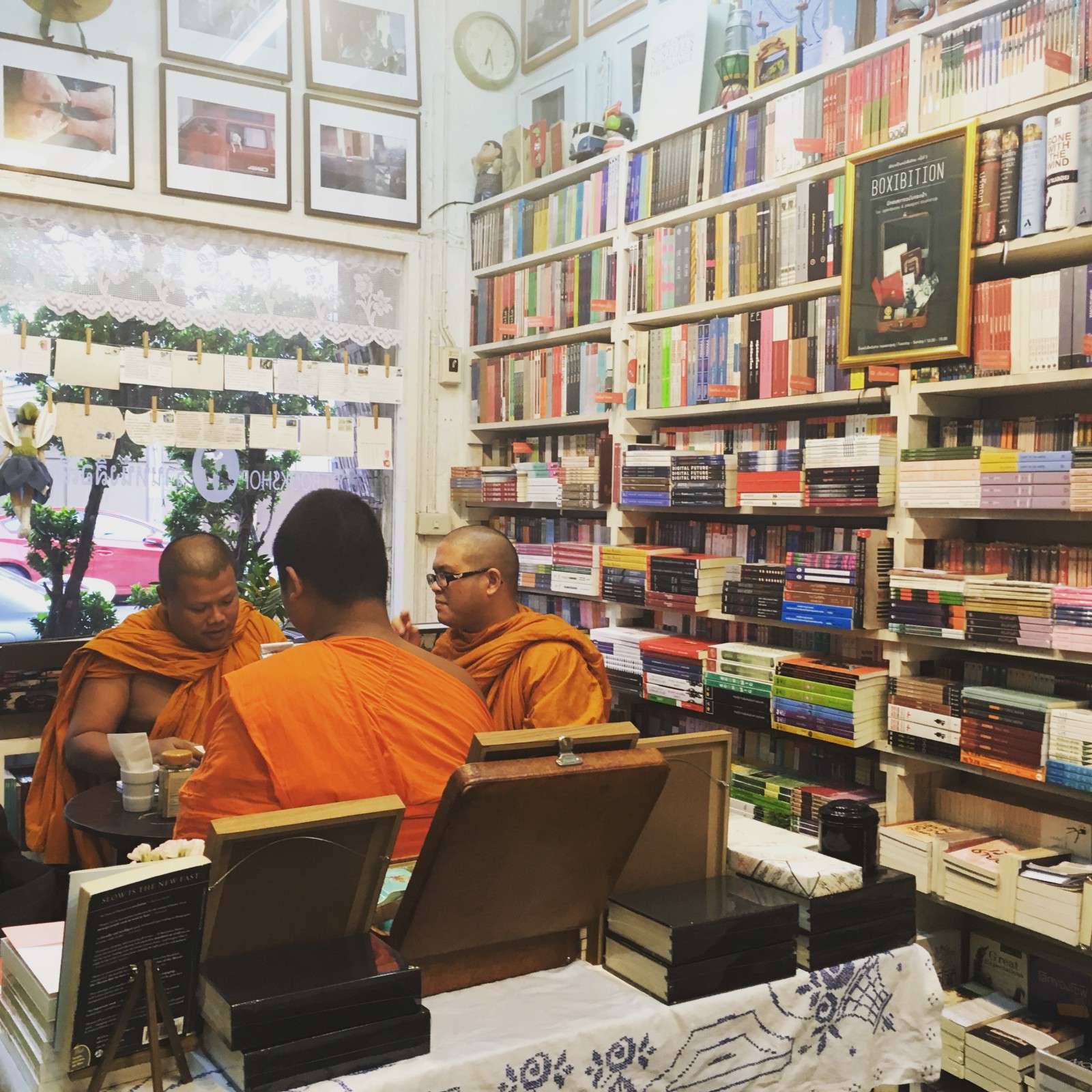 Our biggest luxury spending here is coffee, which equals to our lunch meals, as it's approximately the same price as in Italy. There are some local variants of course, but I reserve my experimentation for the numerous street food places where we usually eat, the spices probably disinfect us too.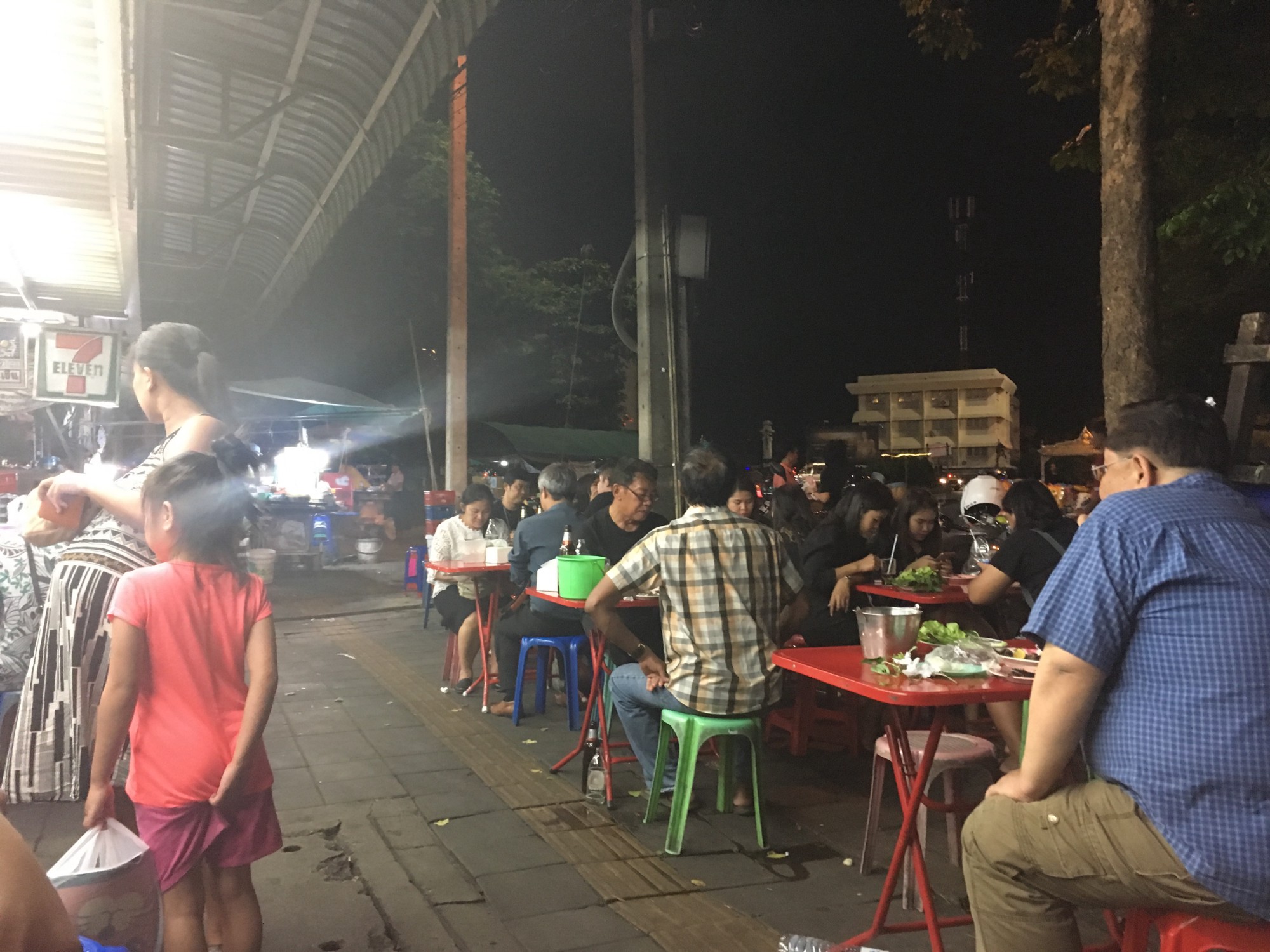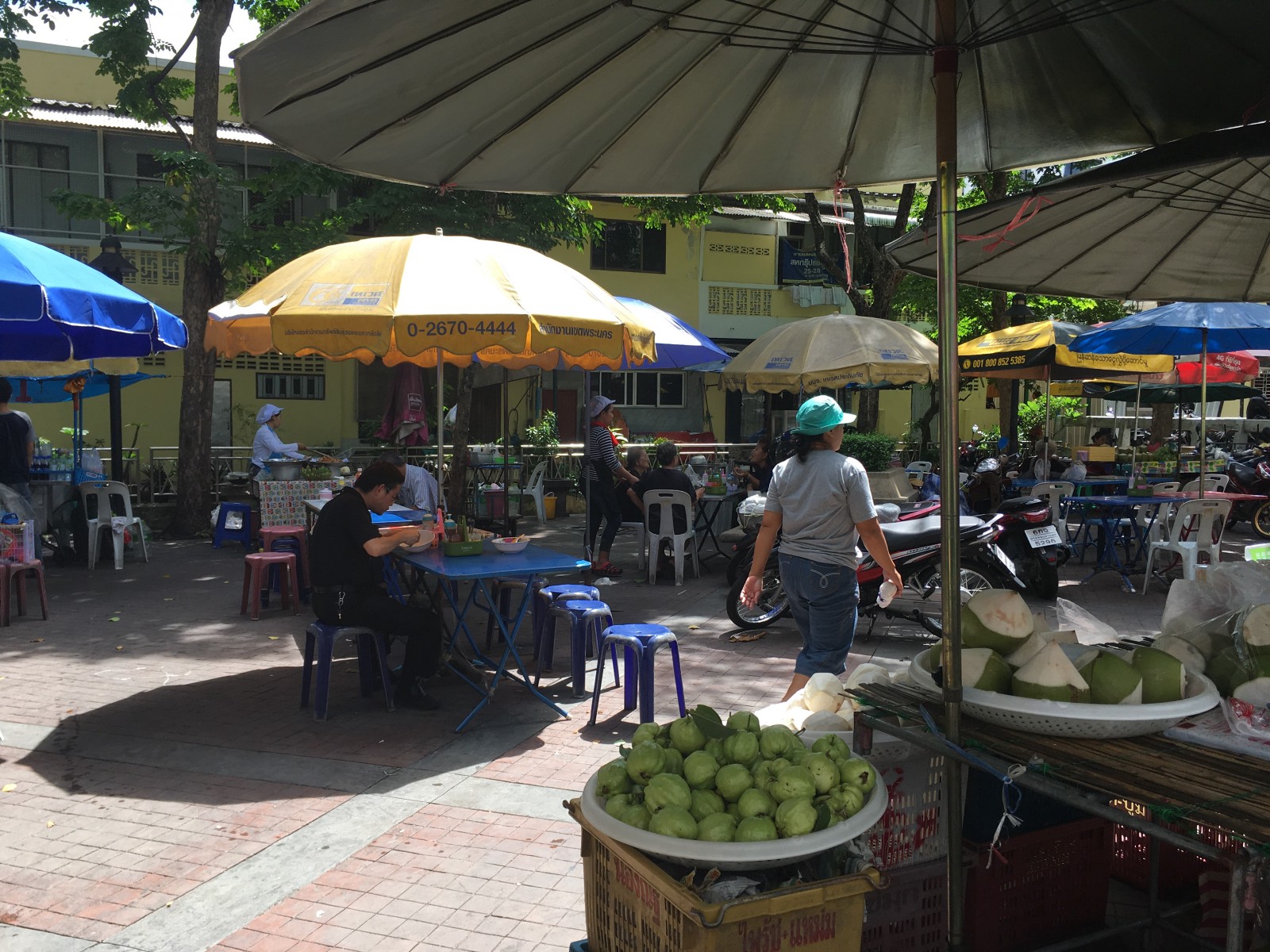 The evenings were spent either at the couch surfing meetup (where are the girls?), the evening market for tourists with blasting music and cheap clothes, or a high-end bar with live music and local guests, who did not appear to be of legal drinking age.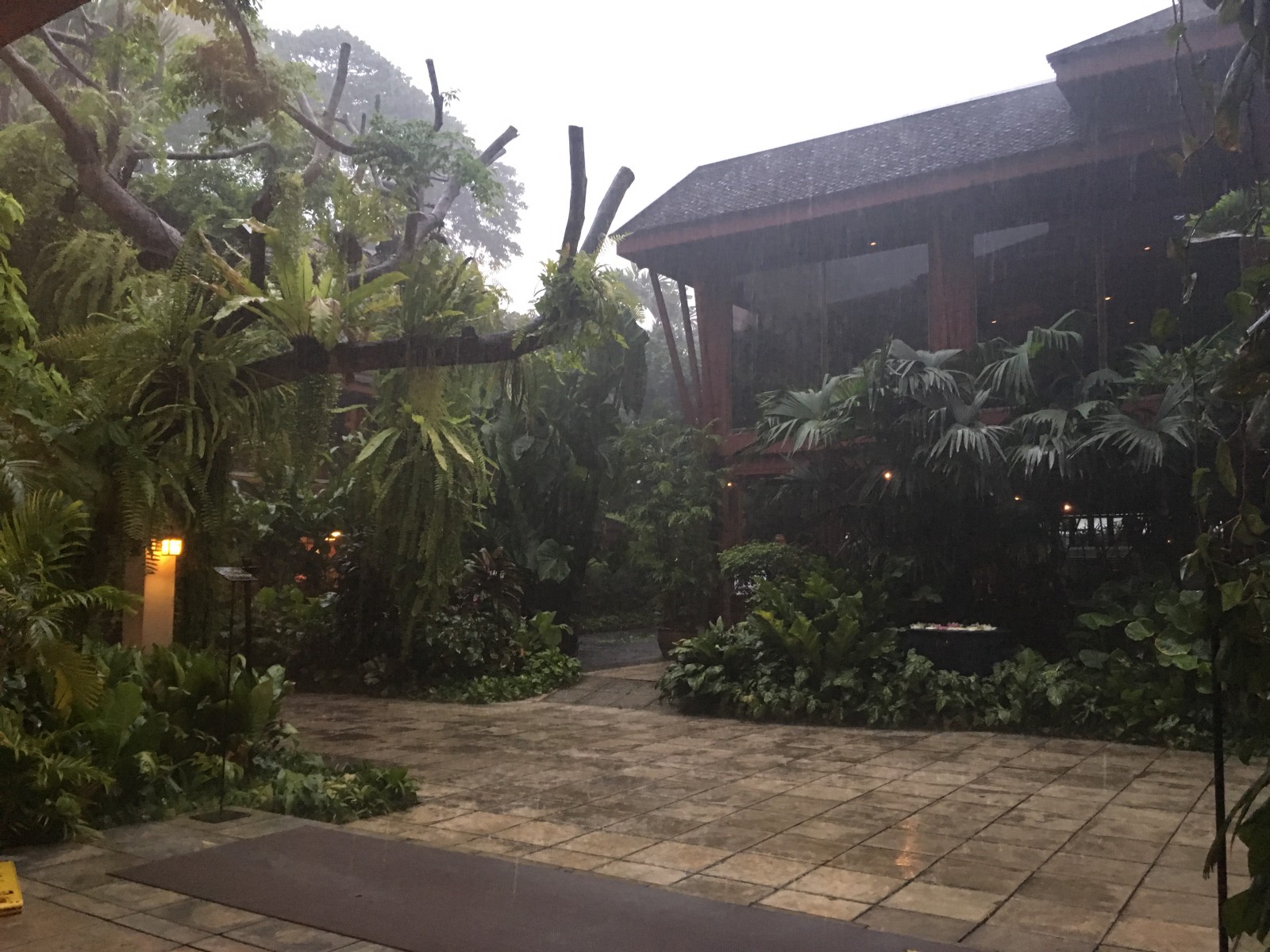 And we had our first huge rain that got us stuck at Jim Thompson's House, which is a museum. Thompson revived international silk trading in Thailand. He seems like a beloved figure, if a little eccentric. As a businessman, he sticked to cottage-based production, mainly by women, and as an architect, he built his home here to live among his Asian art collection.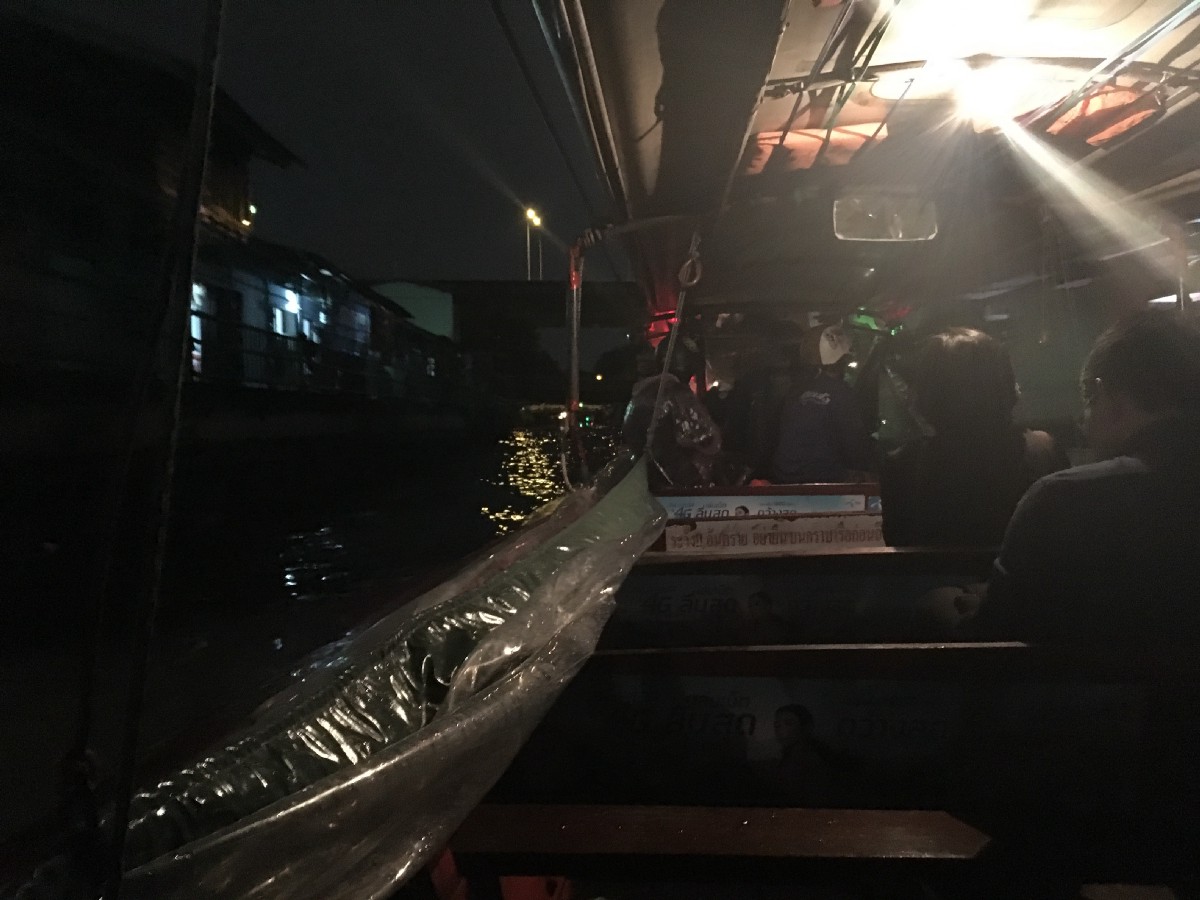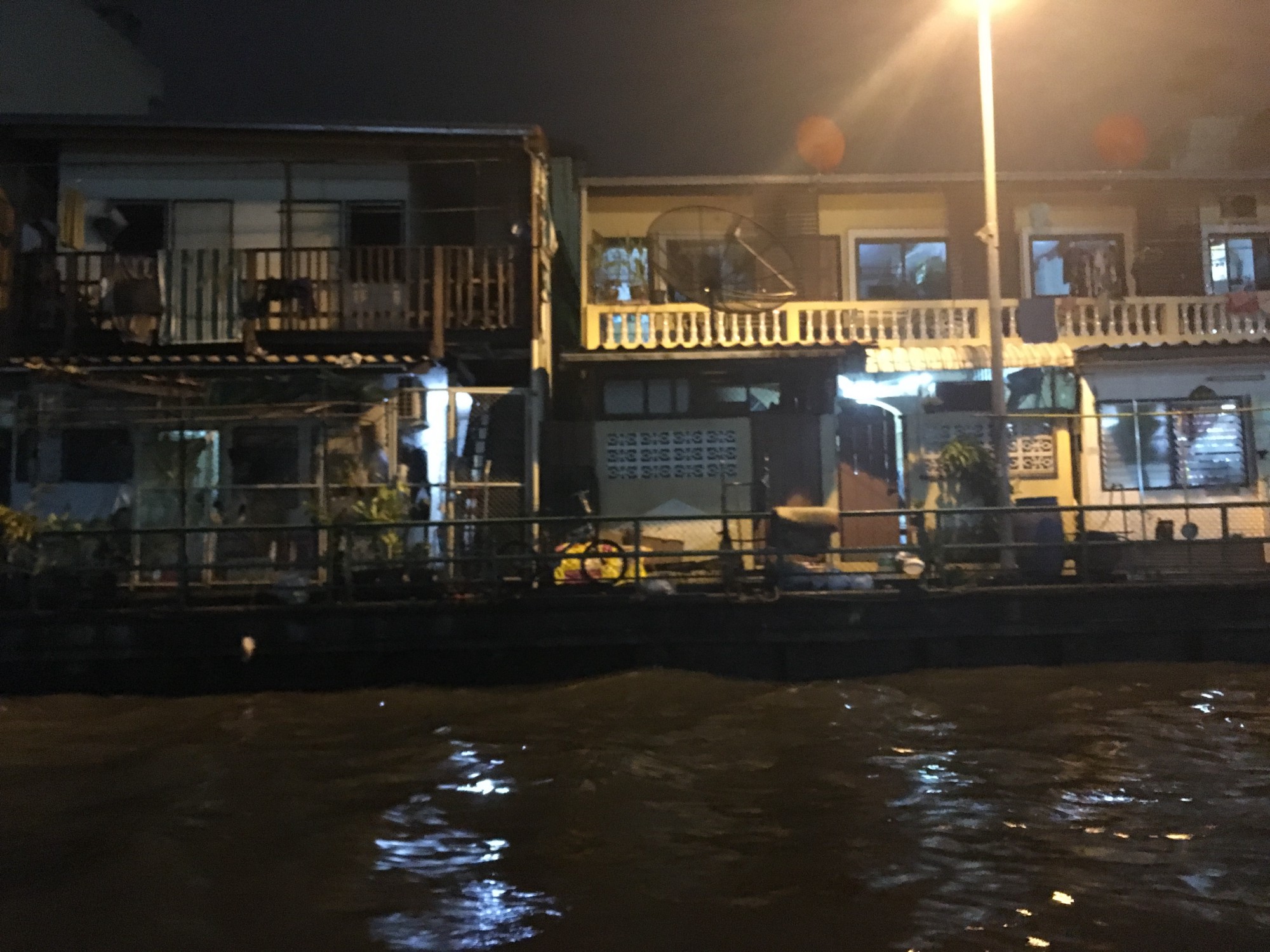 After the formidable rain, we also had our first success with public transportation: we took a boat — we already got soaked, it couldn't get much worse. The canal gave a view of backyards and half-open rooms of haphazard construction, which clashed with the view of the skyscrapers behind them, which was how I visually imagined Bangkok. What I did not see before was that almost everyone operating the boat would be a woman. They were effortlessly jumping-gliding in flip-flops between the shore and the boat at stops. And how we found a boat? A nice gentleman in military uniform helped us out, as Google and local signs failed us, though I still love the Thai alphabet's typographic rhythm and pattern.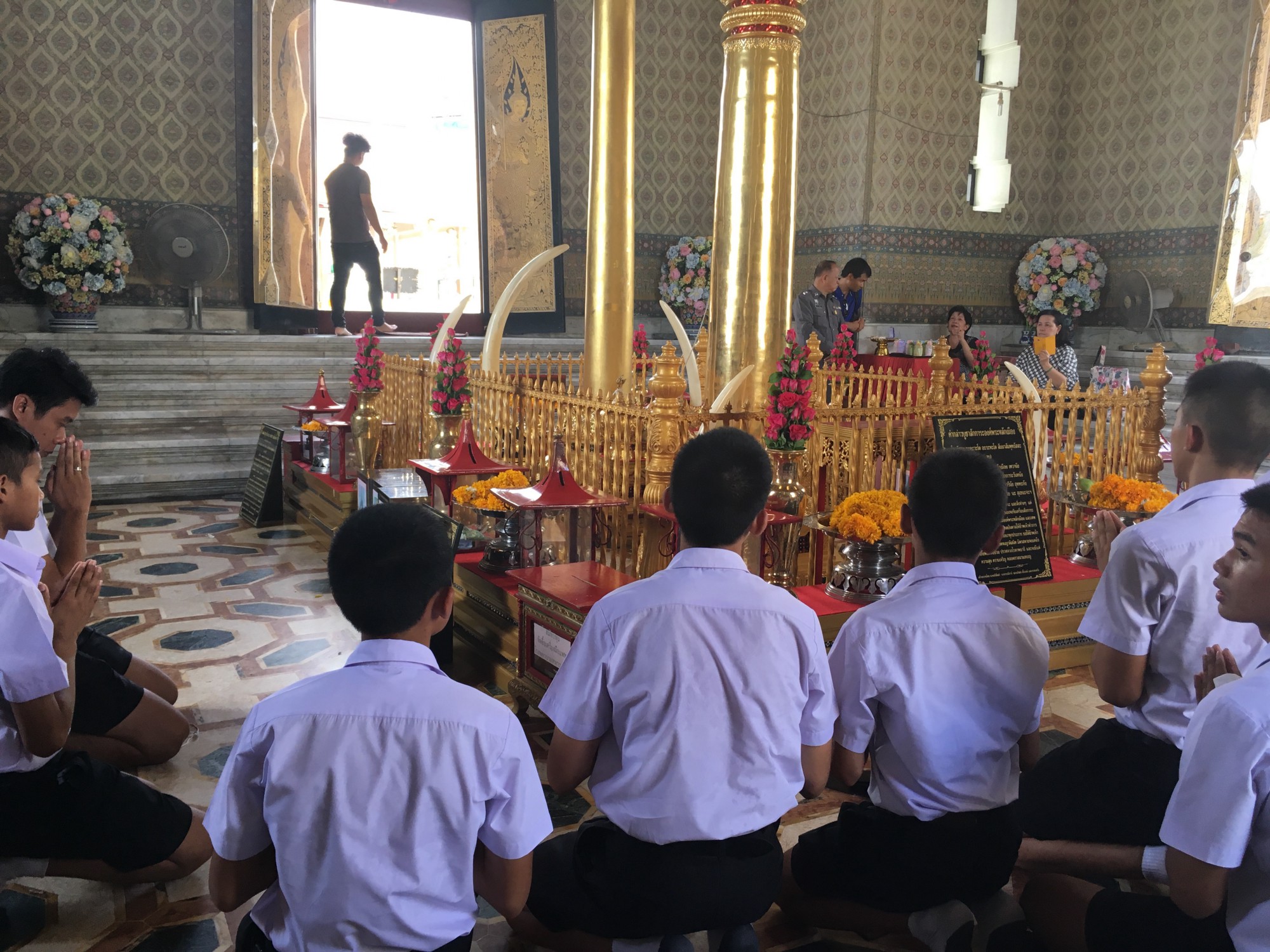 Don't show your feet to Buddha — or don't ride? We will never know
Of course we went to the Grand Palace, it would have been really awkward to come here and miss it. Due to the intense heat and the even more intense crowd we just followed the short version with crowds of Chinese tourists, while avoiding the mourners of the king. Next to the palace there were places of real prayer and worship, and the Emerald Buddha (from jasper) also drew real believers, but I hope to find places that still feel sacred and I don't have to navigate between so many selfie-sticks.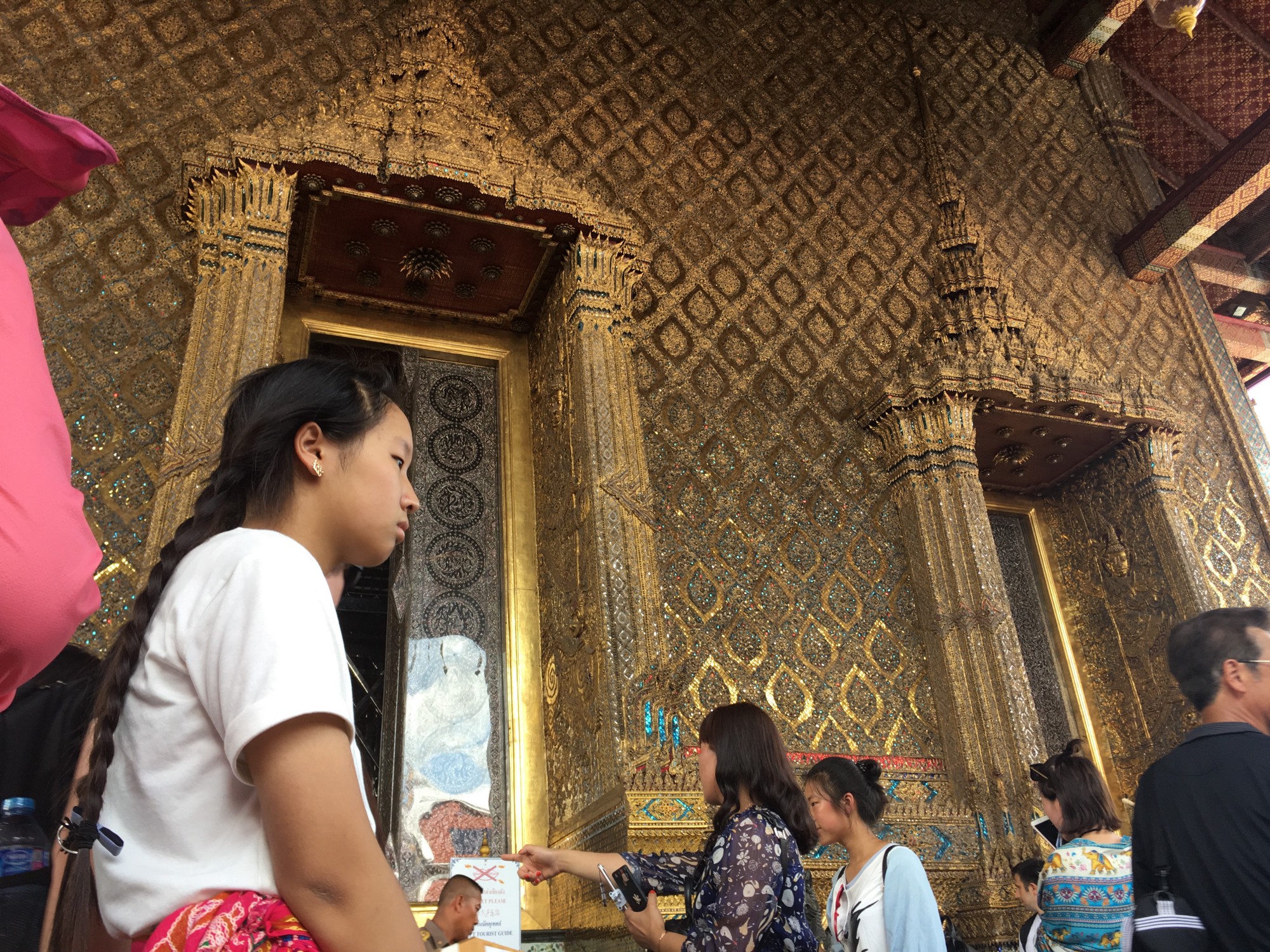 They had an interesting business model at the entrance of the Palace, where they sent back nearly all tourists to buy some more clothes to cover up: a shirt with longer sleeves, long skirt or pants, hats, etc, and some stores were conveniently located just there. Apart from the sarcasm, we could have thought of this ourselves beforehand if our heads were not melting off our necks in the sun, and this gave some kind of uniformity to the crowd.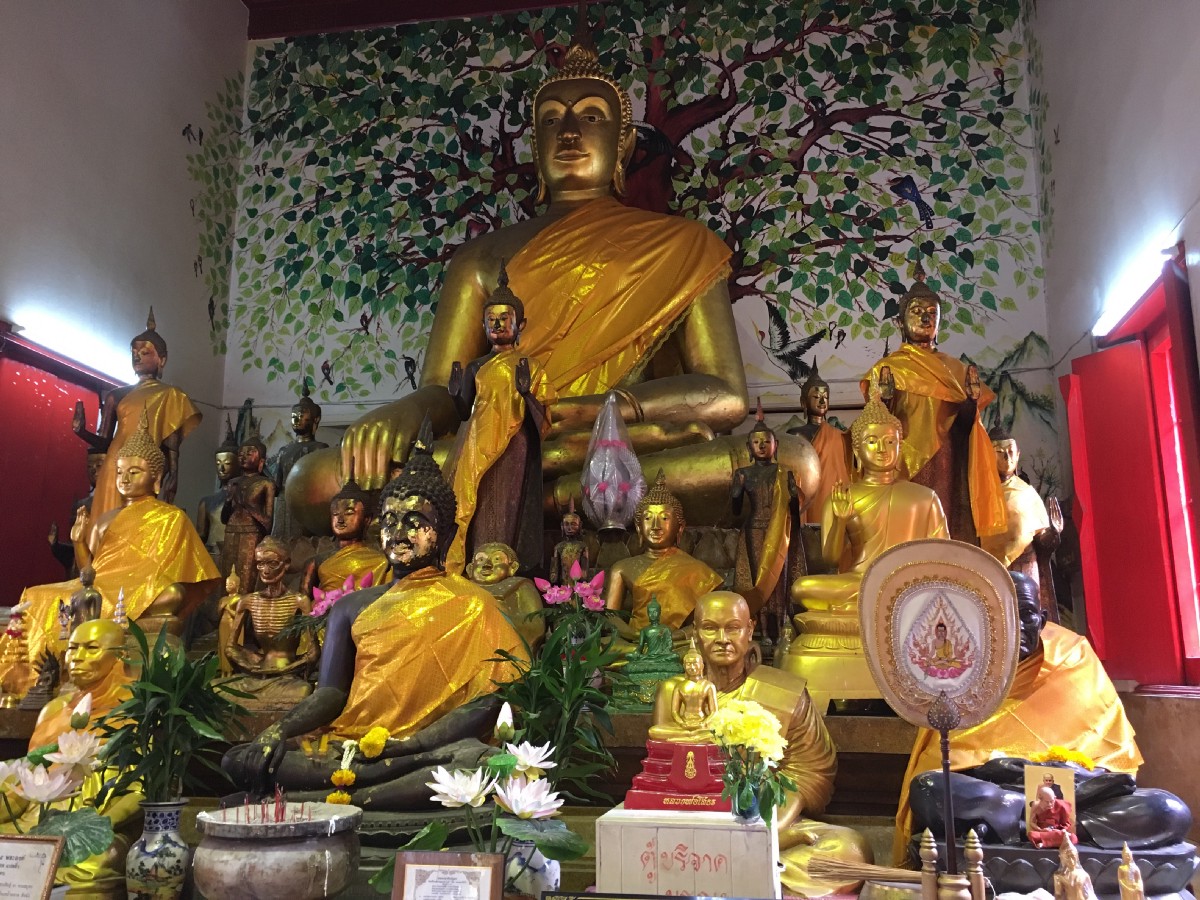 Chinese and Thai Buddhist temples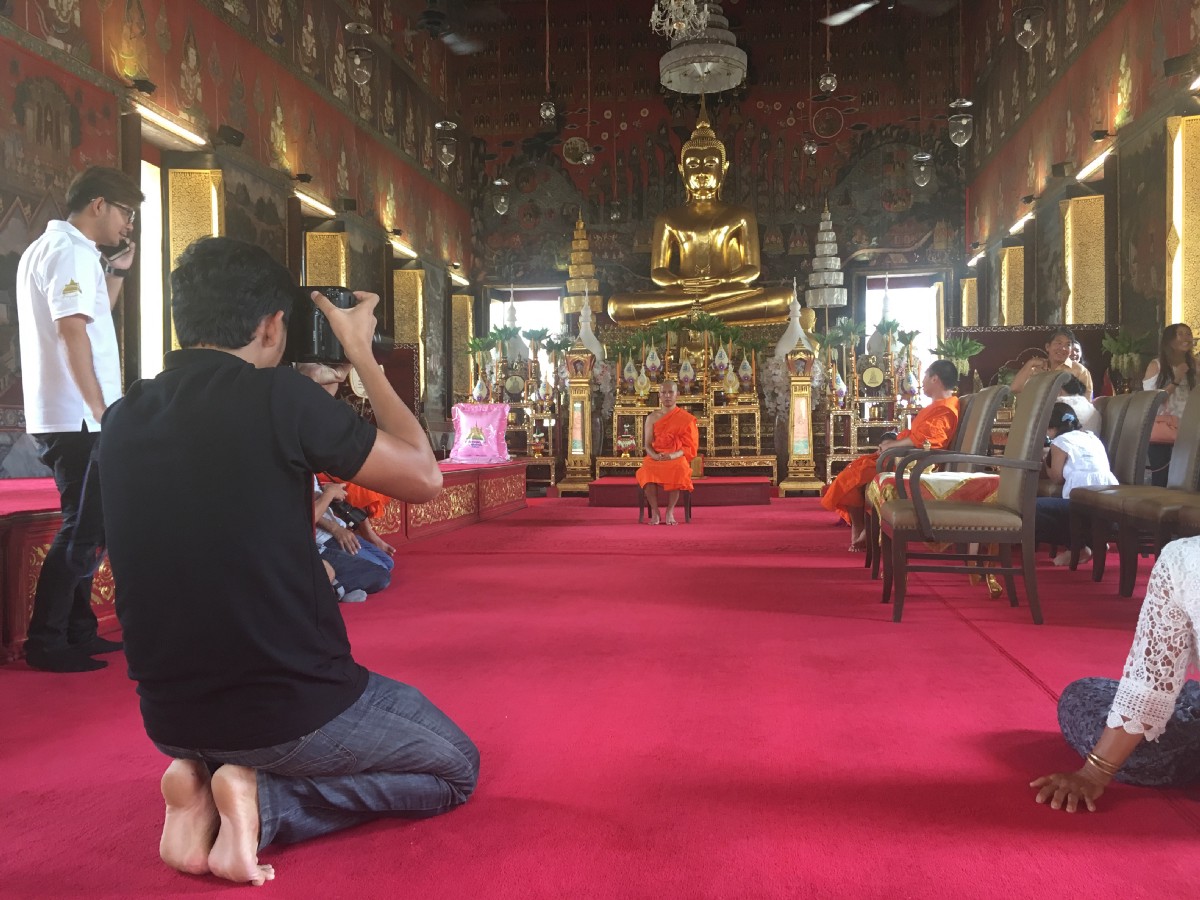 And there were other places where Buddhism is still practiced. Amid the noise and easy-to-follow beat of Chinatown we found a Chinese Buddhist temple where people drop by to pray to a massive amount of cheap-looking Buddhas in different sizes and shapes, some still from the ascetic period of the prince.
In a Thai Buddhist temple an extended family was taking pictures with a distinguished-looking monk, in different group settings and alone, with 2 professional cameras. The temple was beautiful with an authentic look and soul, and it's still used apparently.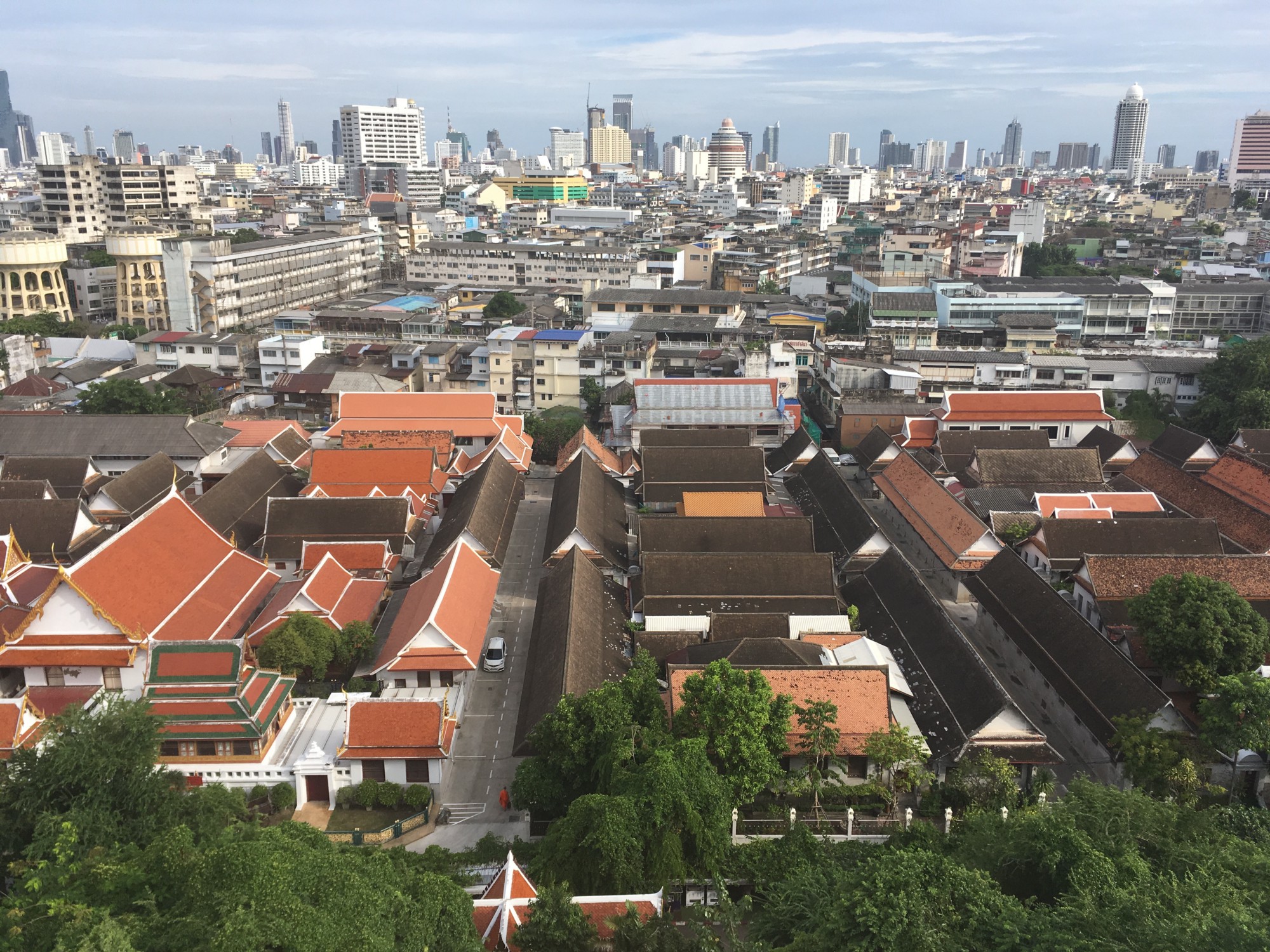 The touristic Golden Mountain's main attraction was definitely the view of the city. The altar did not command silence, did not feel spiritual, however the mountain itself was impressive. The first time we accidentally tried going up the wrong way, so we also saw the tiny cemetery behind it, which turned out to be a dead end (pun intended, sorry). Also I've met the biggest insect of my life, the Godzilla of centipedes.
My biggest question though: what are the mirrors for in the temples?
The Emerald Buddha at the Grand Palace was, among many other things, placed between two huge mirrors. Instead of being a tool for vanity and more at home in palazzos than churches, does it stand for self-reflection here? Anyone?