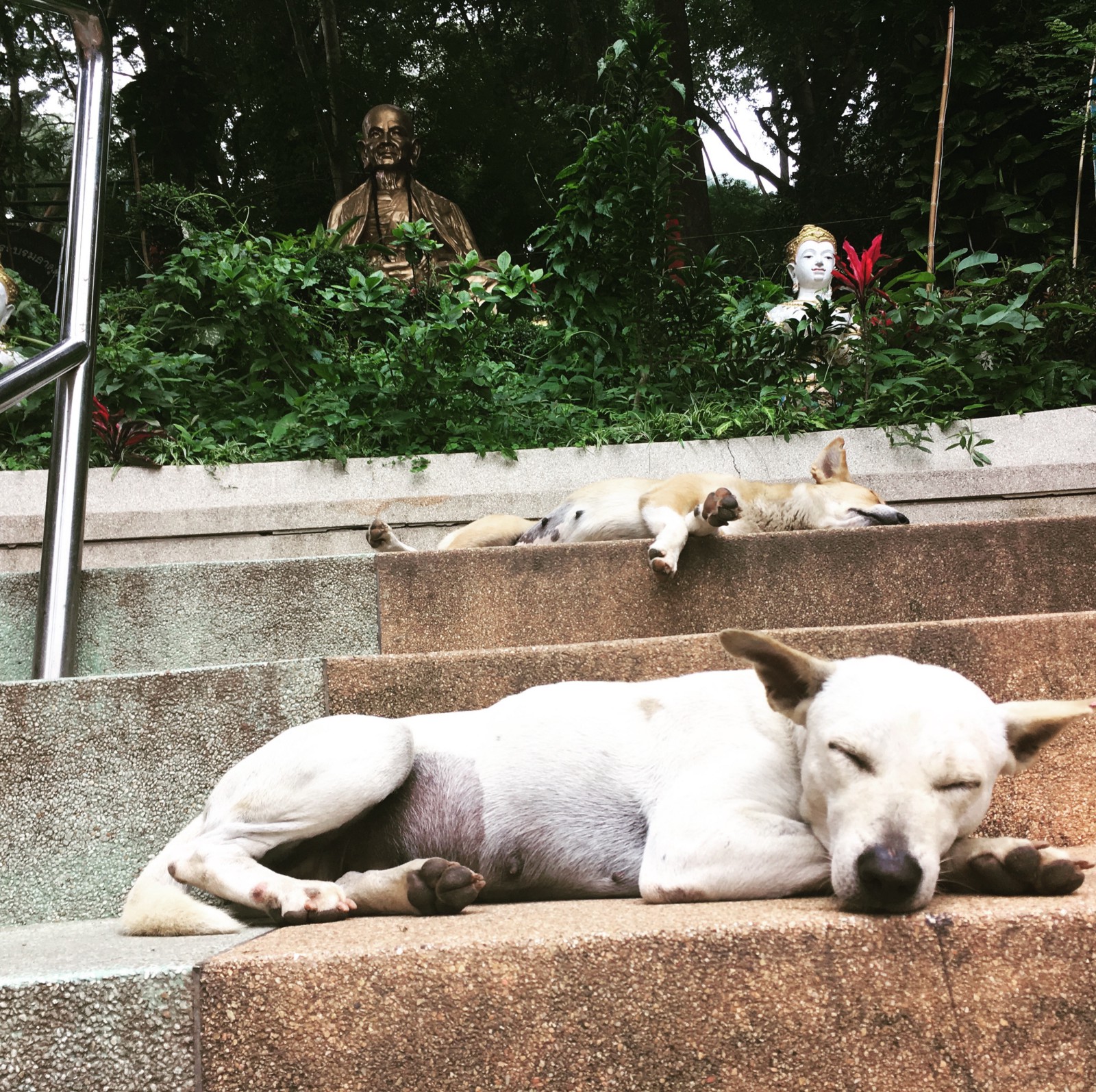 I love how accidental relationships, acquaintances change during travel, as it happened with G. who luckily left Bangkok for Chiang Mai later than us and brought the content of T's locker after us careless girls. Or J., who is nearing the end of a world tour, and knew much more than us as a practicing Buddhist about the symbols and meanings in temples, and how Ganesha and Buddha can share the same ground in peace.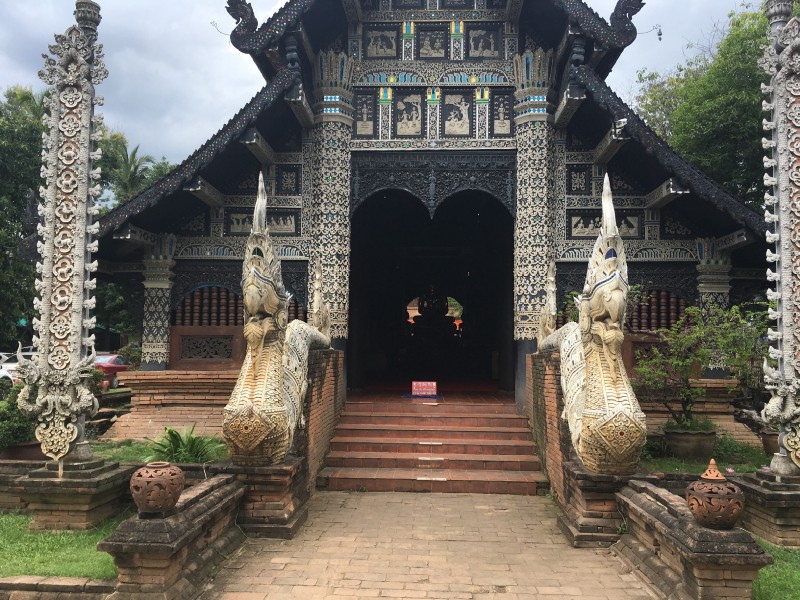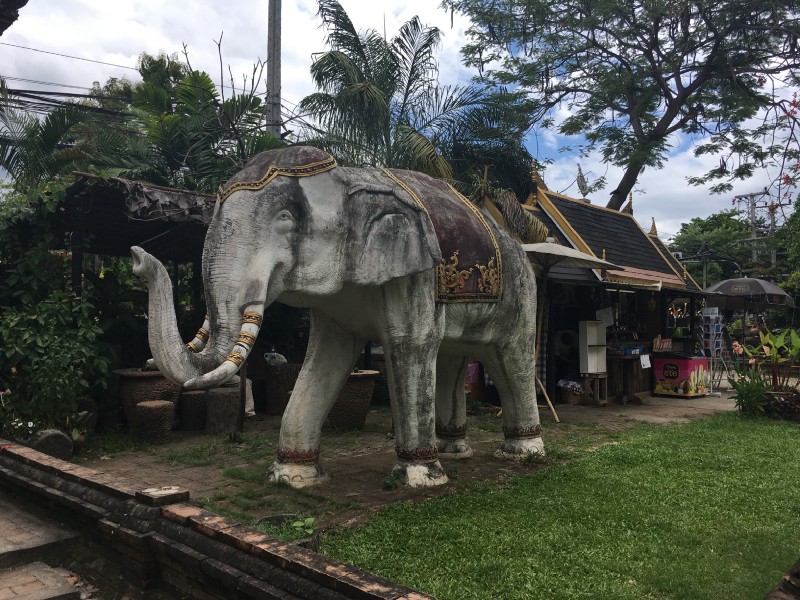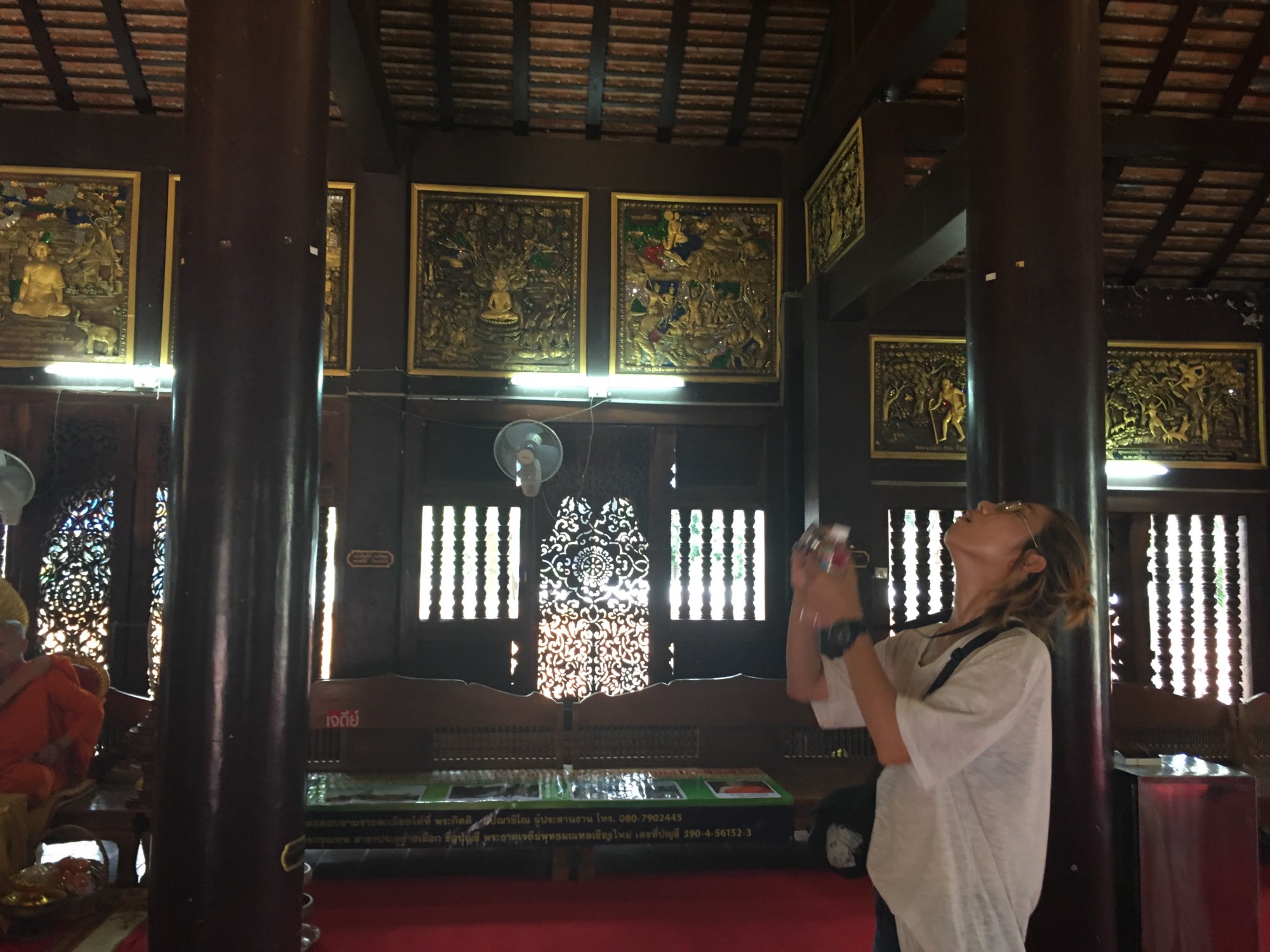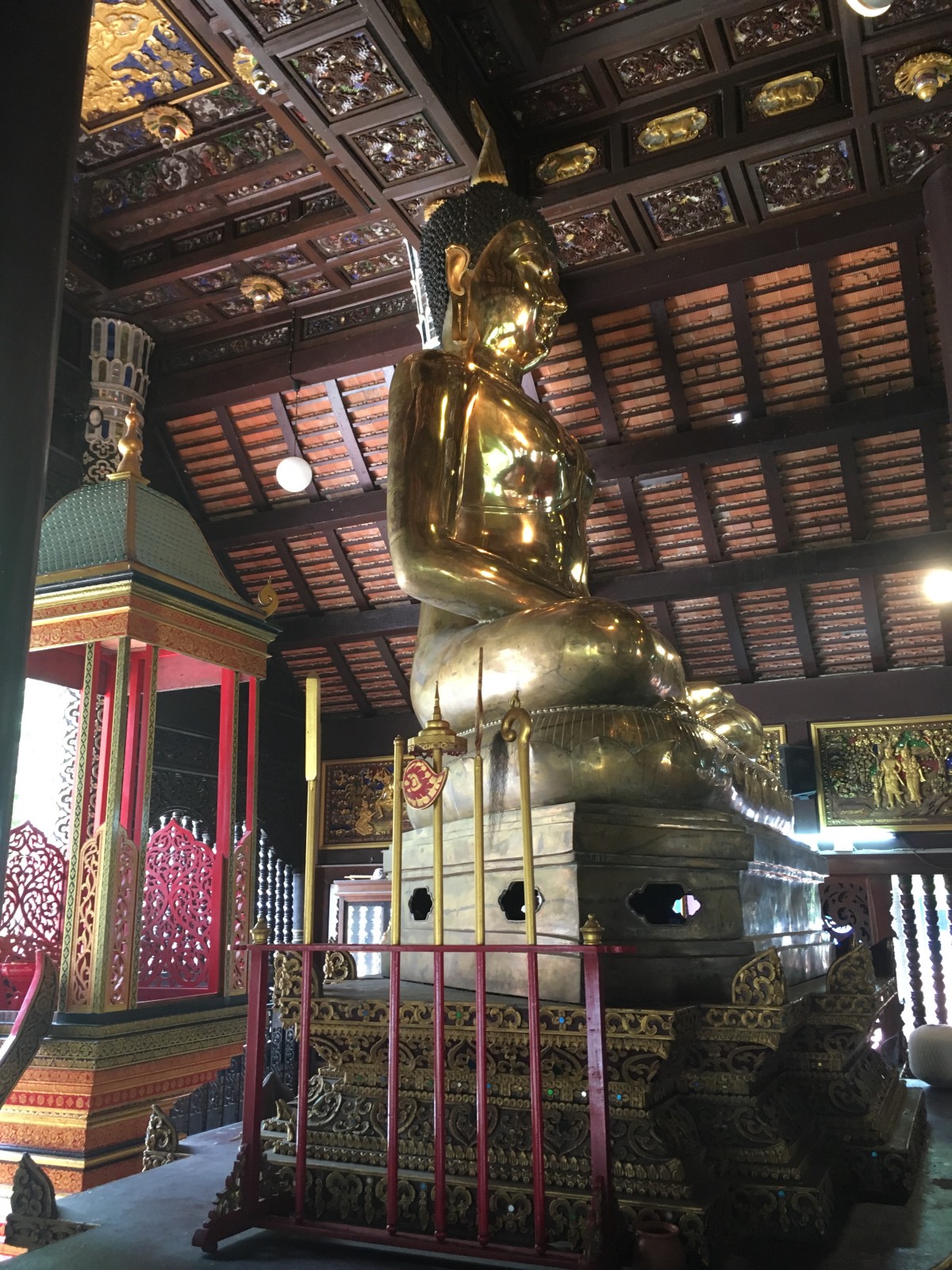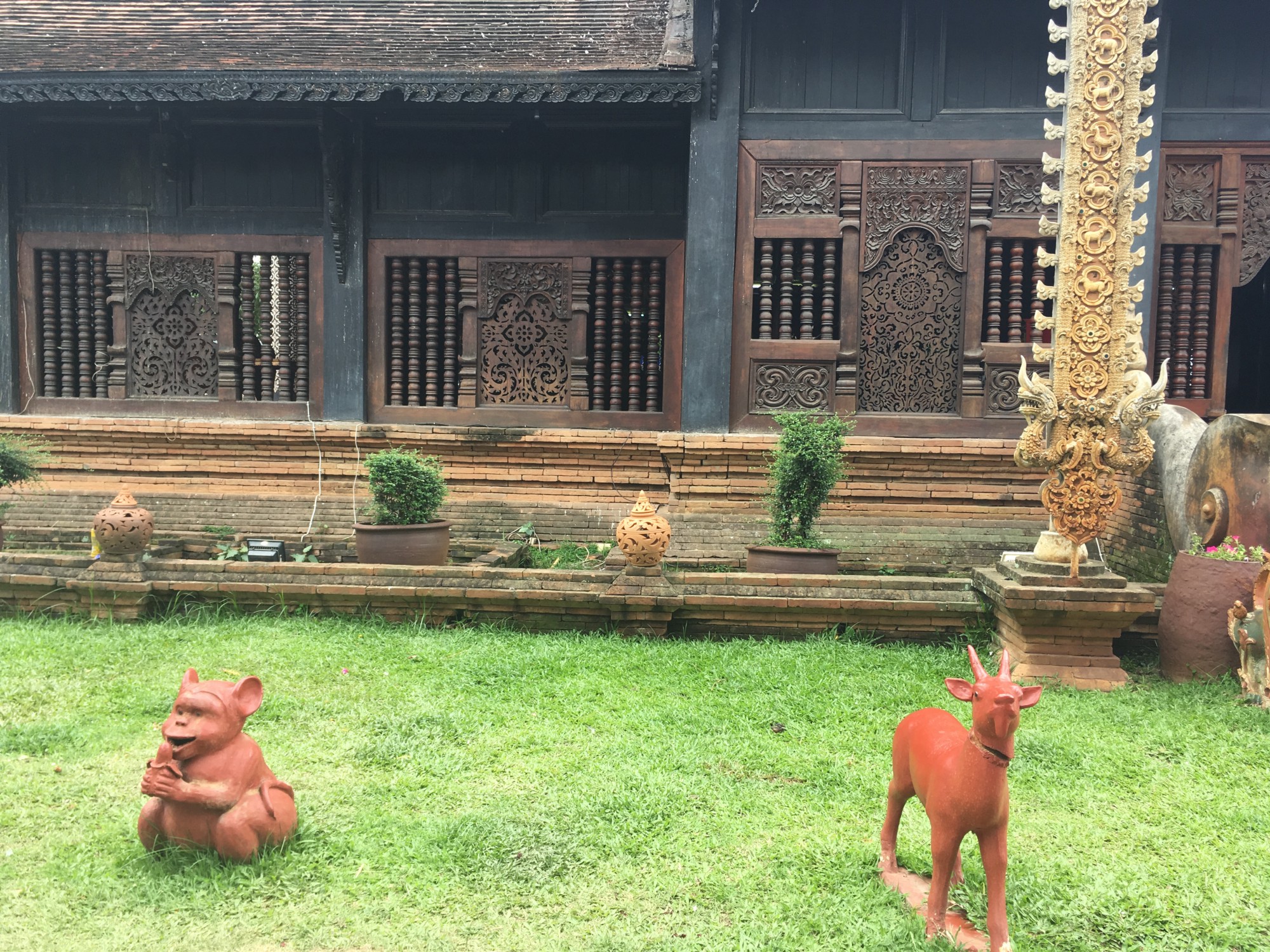 There are zodiac signs around the temple (same as the Chinese) and different choices to leave wishes materially: on gold or silver leaves, or pulling it up to an outside-sitting Buddha on strings.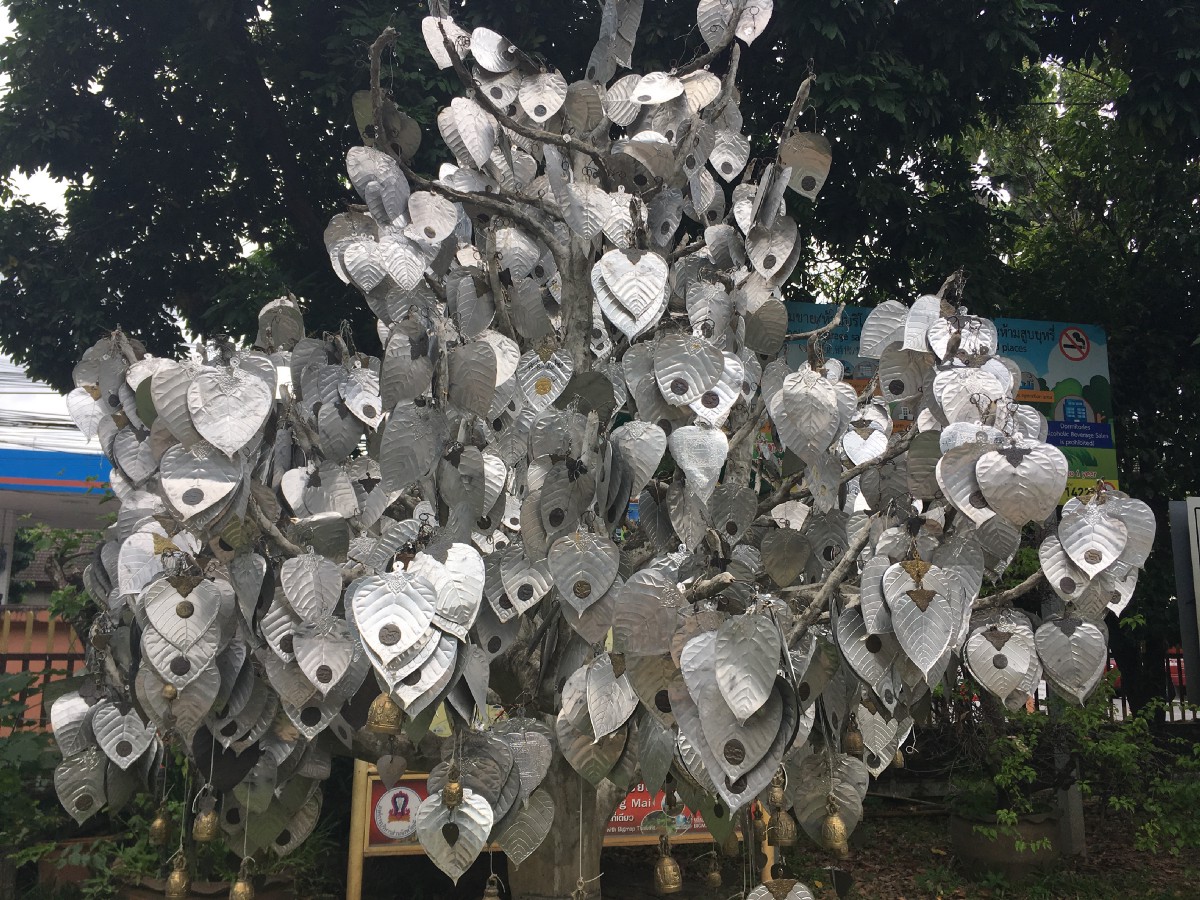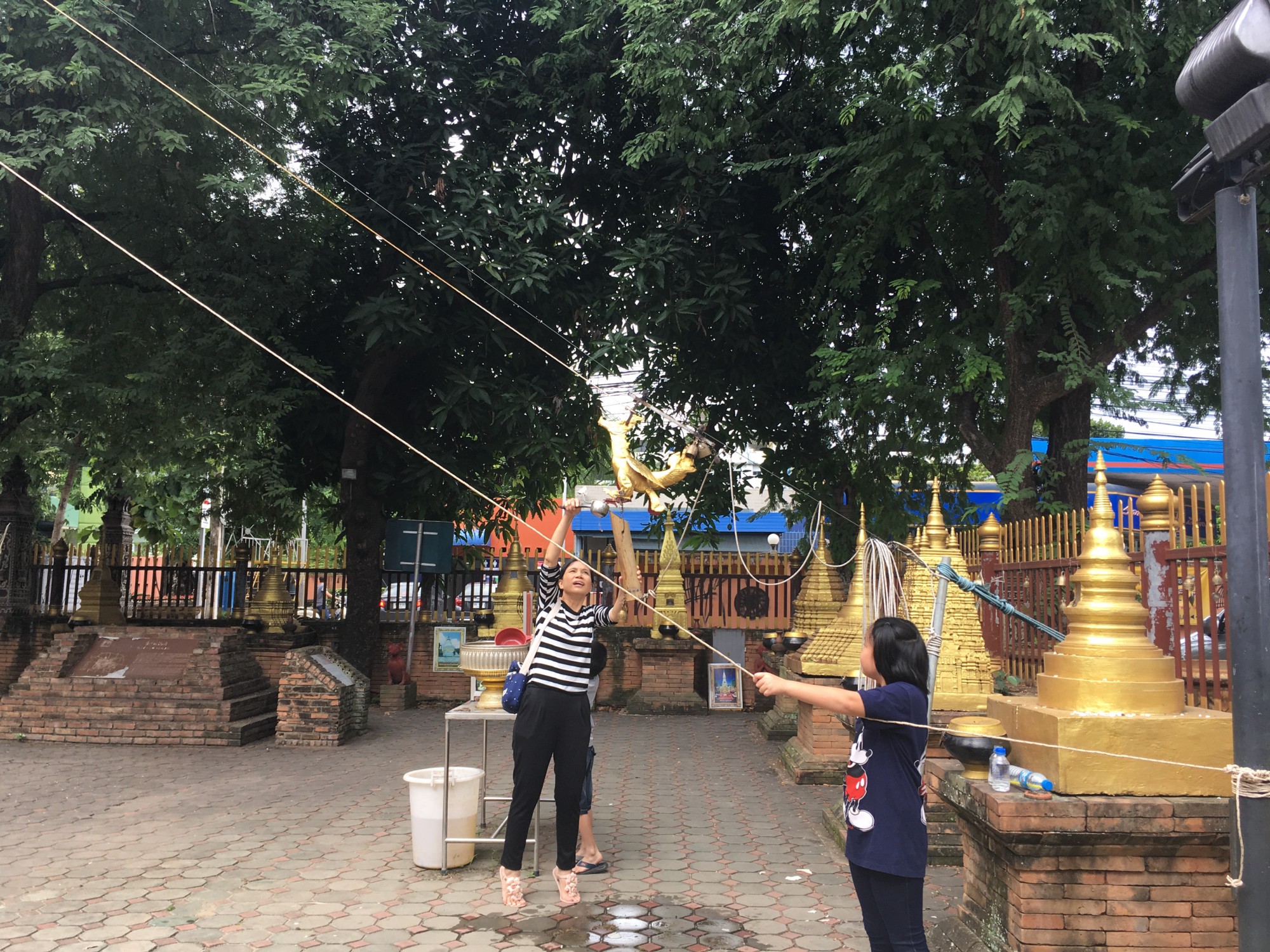 Different religions mix not just between Buddhas and Ganeshas on the market stalls, but on the shared grounds of the temples. And the Halal district. And monks studying English in the entryway of the temple.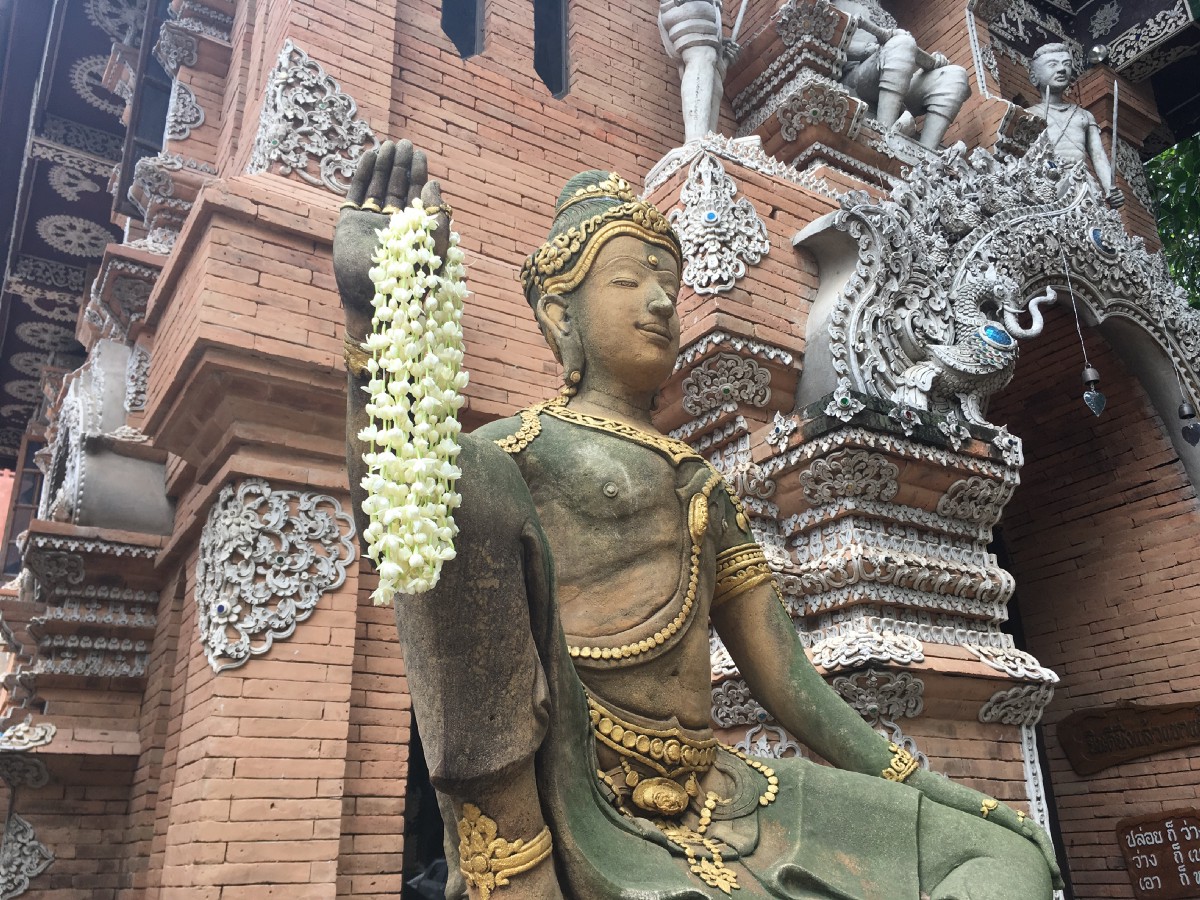 There is another mystery though: what are clocks doing next to Buddha-statues? Based on their placement (and sometimes number) it can't be purely for practical reasons. There is also the tiny fountain which has a beat. Timelessness achieved through ignoring the measurements? Or am I looking for reasons where are none?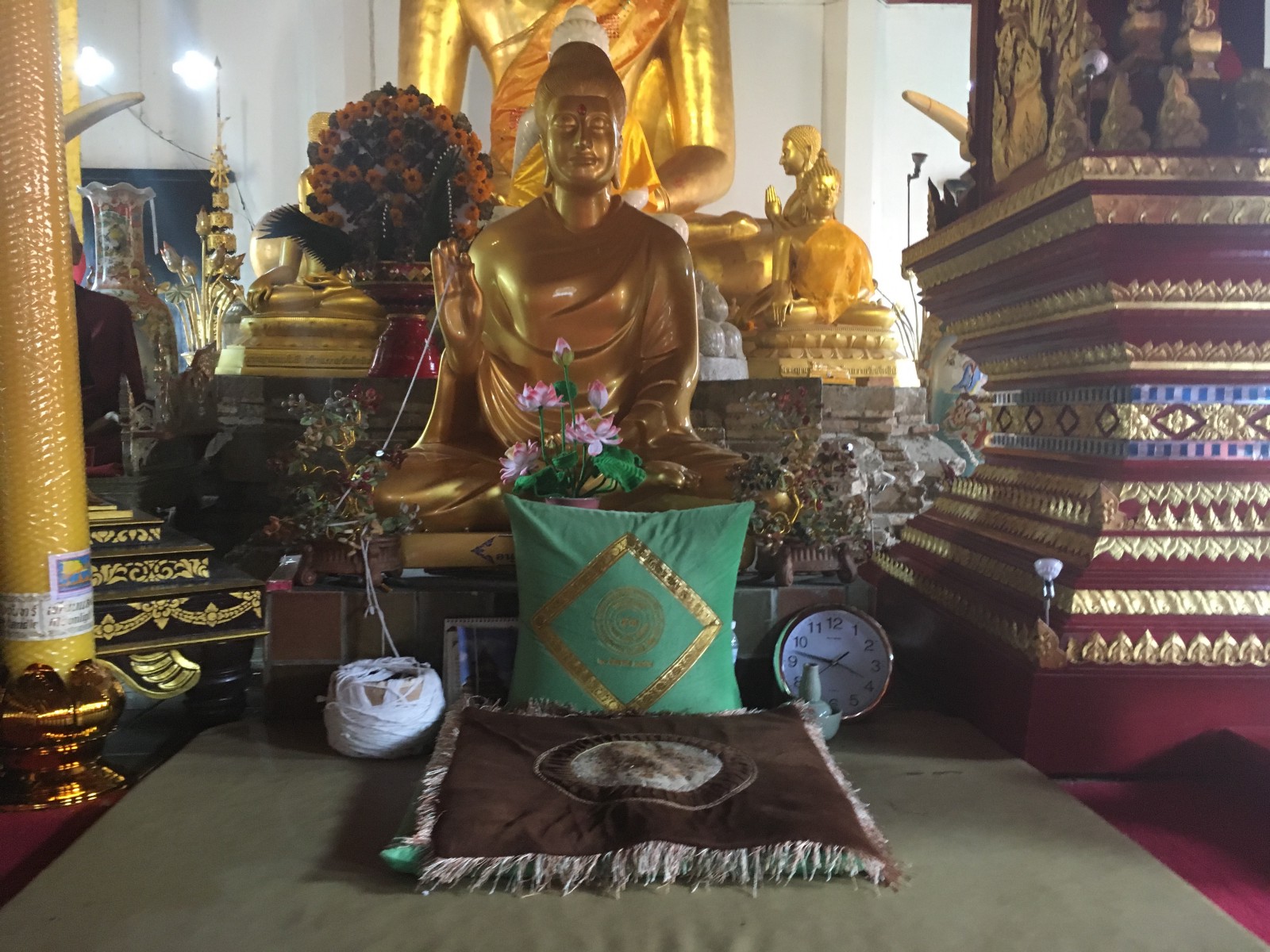 Clock on the right
Chiang Mai shows another side of Thailand. Compared to Bangkok it's a quiet, tiny town, though crossing a road still requires the skills of a stunt. The proportion of tourists compared to locals is higher, which changes the profile of the city. There are tiny shops and long market streets everywhere, they feel embarrassingly cheap when converted from Baht to CHF (not so much in HUF), with cheap and/or quality objects under 'handmade'-signs. We decided to avoid all forms of human-elephant interaction, one of the biggest tourist attractions, since the treatment of riding elephants is cruel, and we can't be sure other captive elephants are better off when they 'just have to play', so we will avoid the whole issue. The focus was on wandering and temples.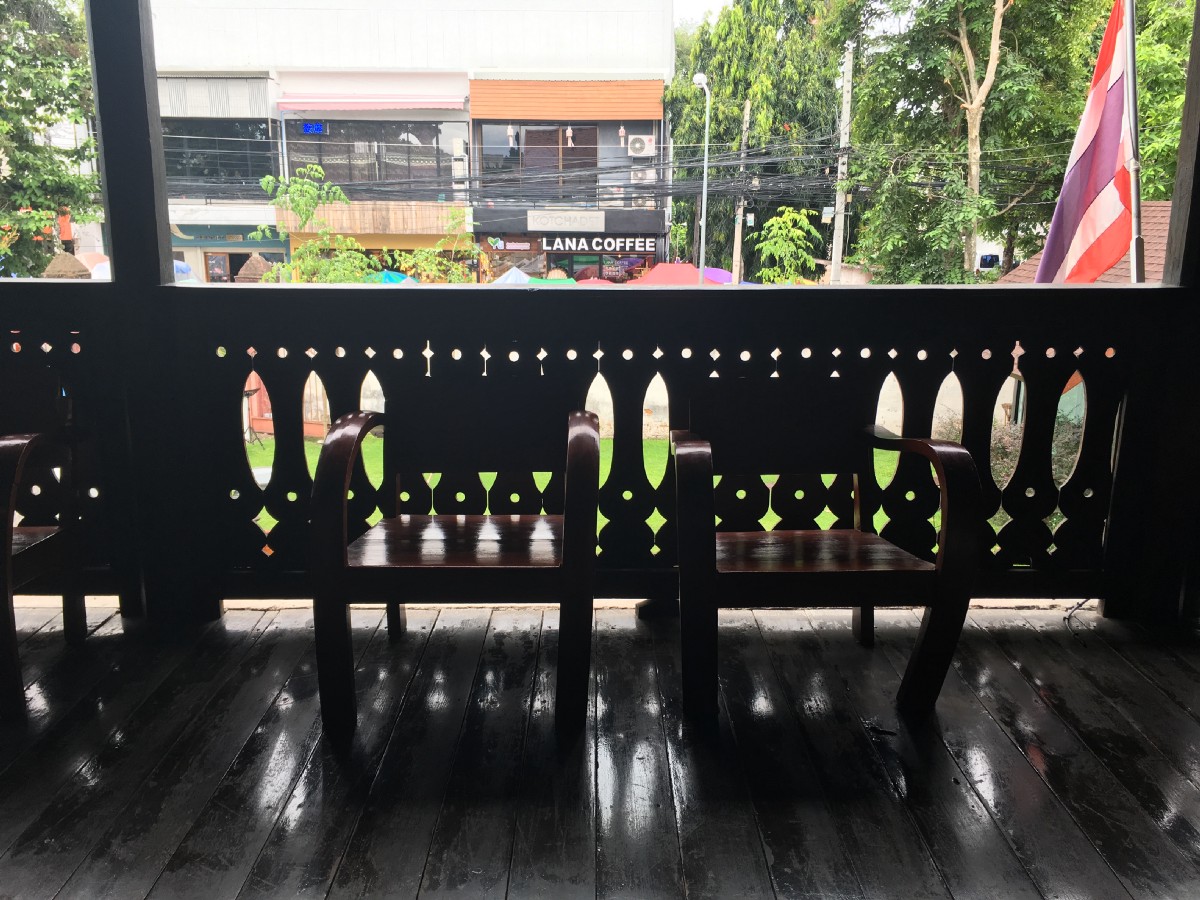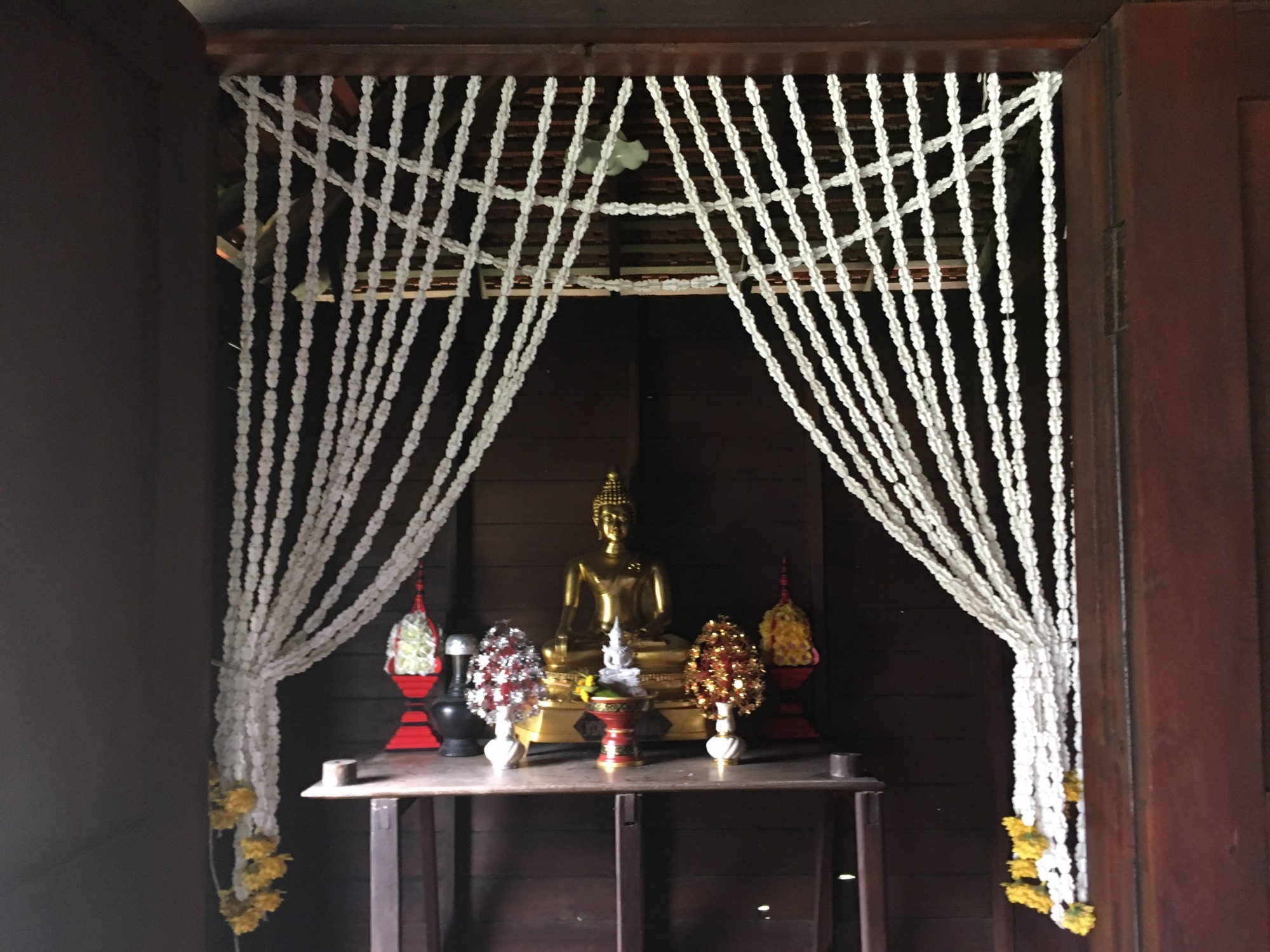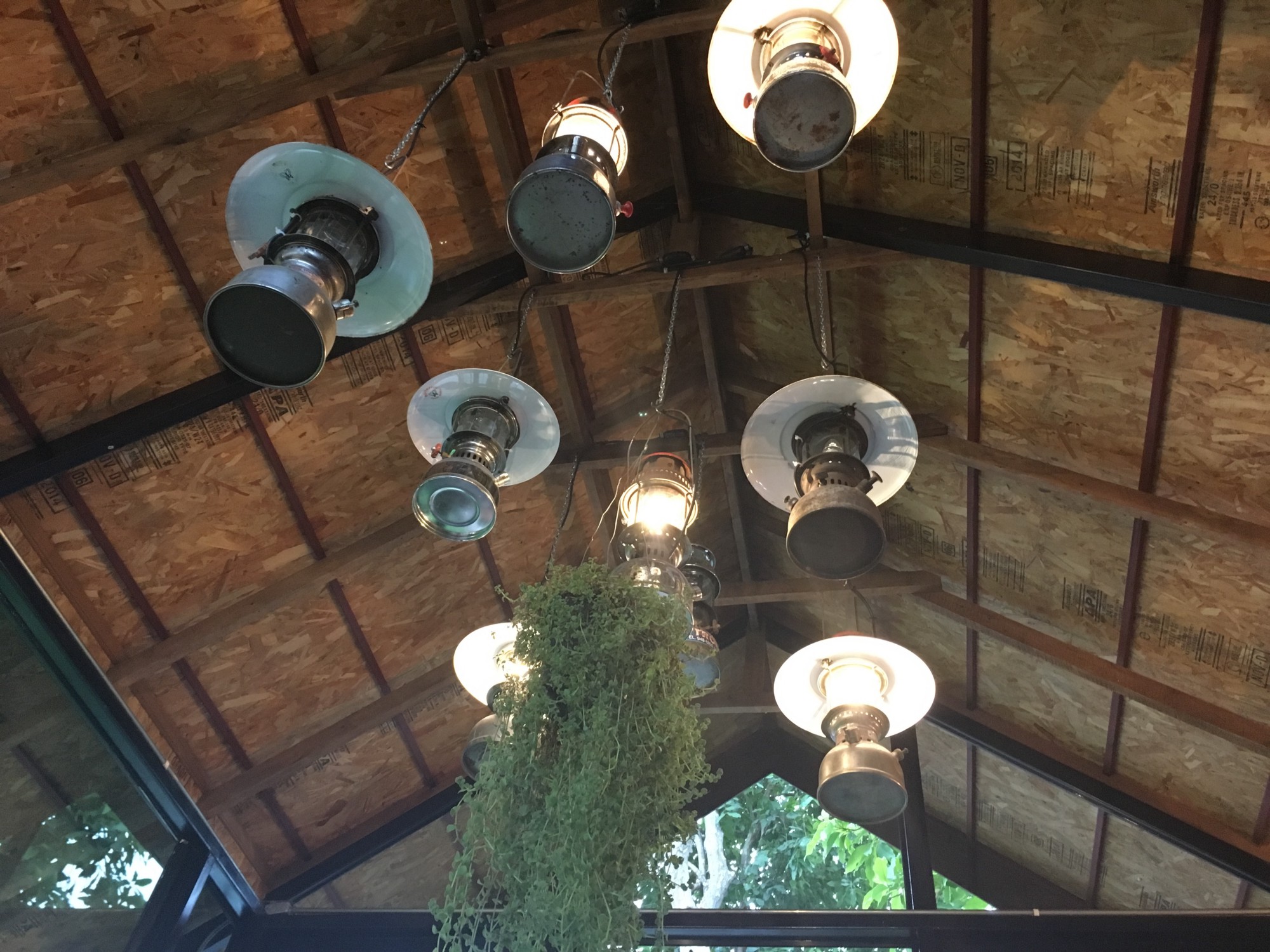 Lanna Architecture Center — Bedroom, corridor, altar and coffeehouse
We visited the Lanna Architecture Center, which is basically a well-preserved old house where nobility used to live, the decoration was intricate but subtle, e.g. woodcut patterns.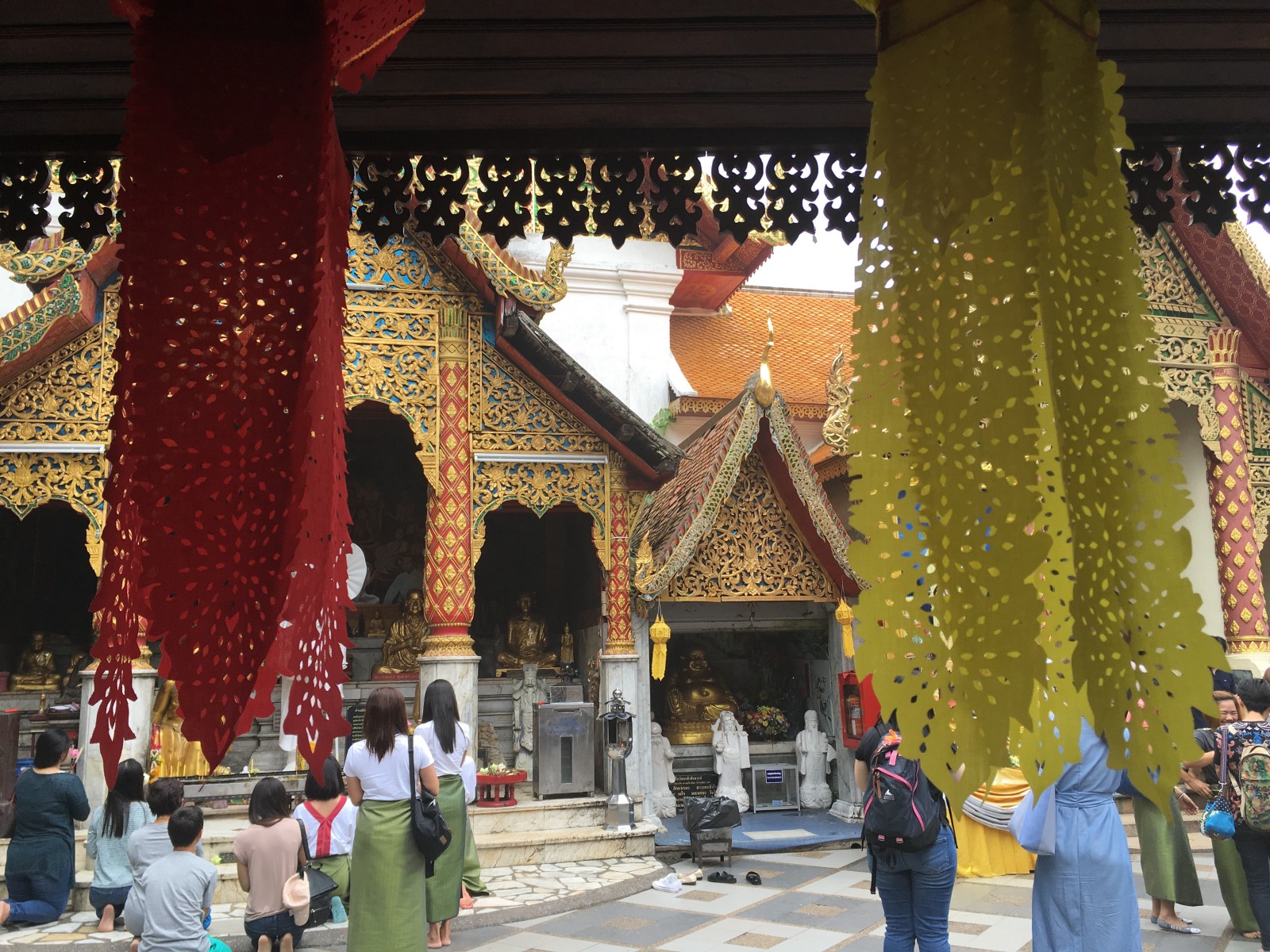 Wat Pratha Doi Suthep
After the struggle with the crowd at the Grand Palace we still dared to visit Wat Pratha Doi Suthep on a Buddhist holiday, and luckily it was much more quiet. The altitude and the stairway leading there probably helped.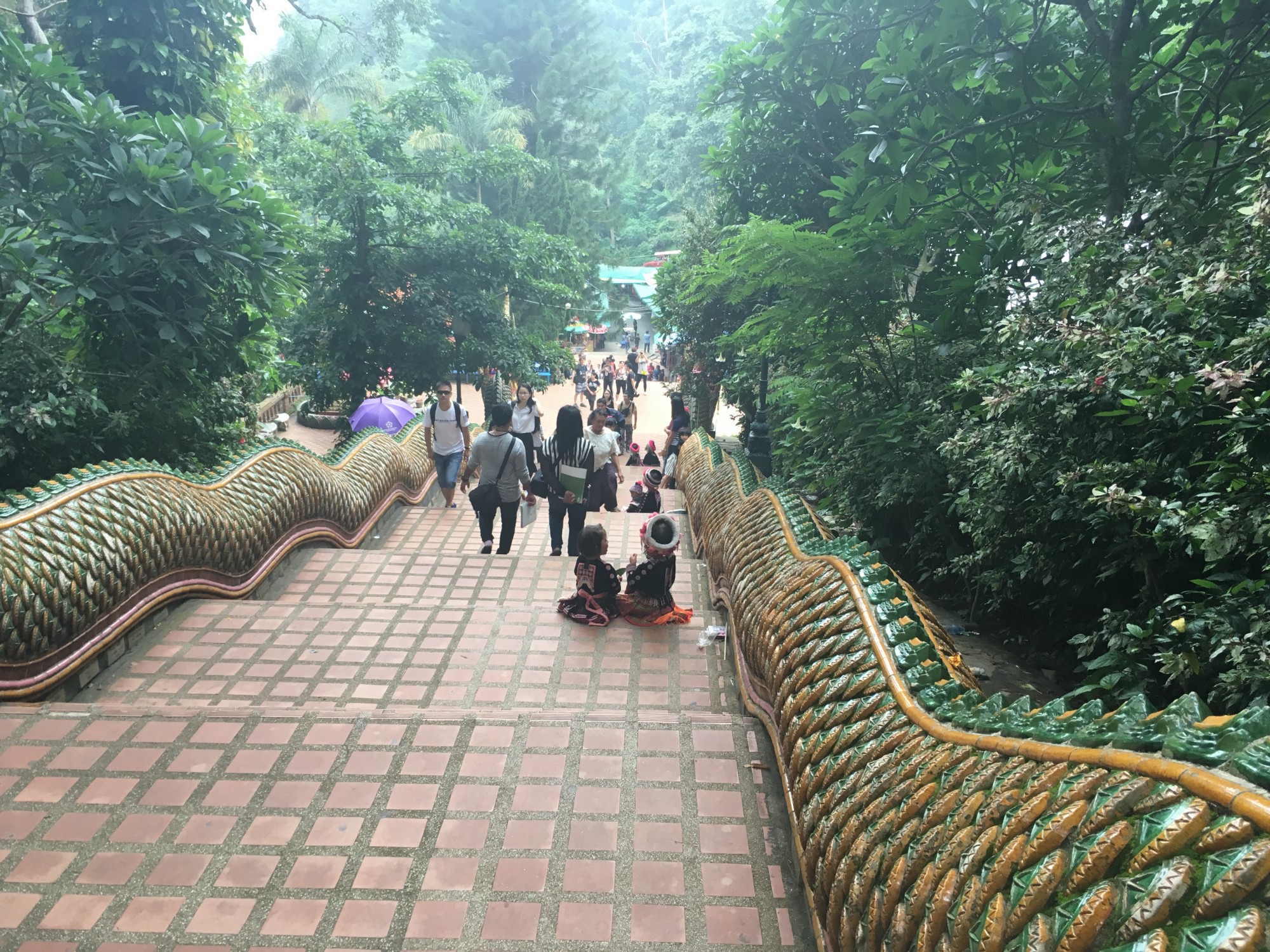 The temple and its site was in the middle of a national park. If one could block out or get away from the group photographers who were pushing everyone out from the background, the place had a strong spiritual atmosphere.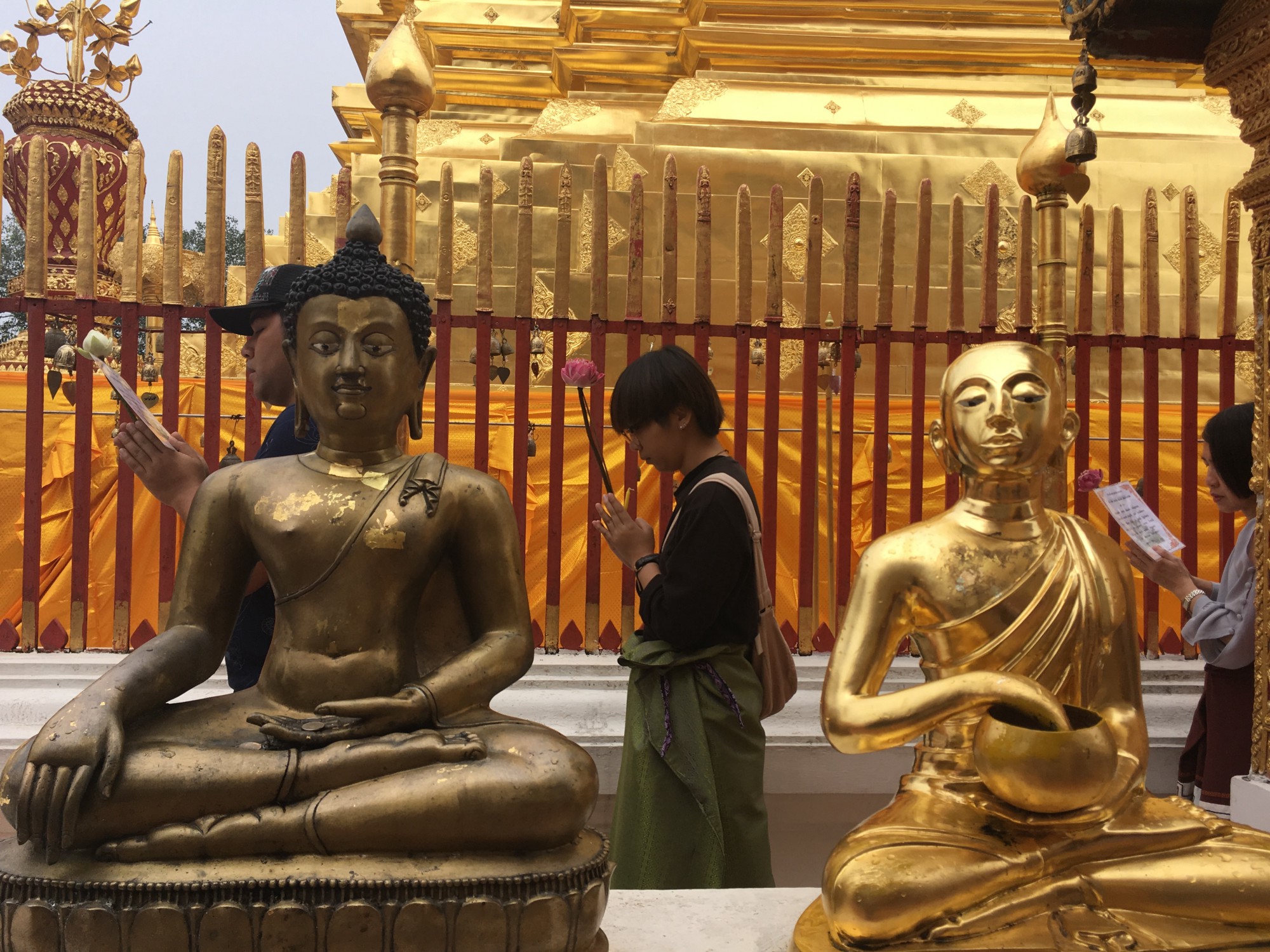 Many locals and Westerners came for blessings, mechanically or cheerfully given out by monks. This included a generous showering of holy water and getting a white bracelet from a wise man in a beanie.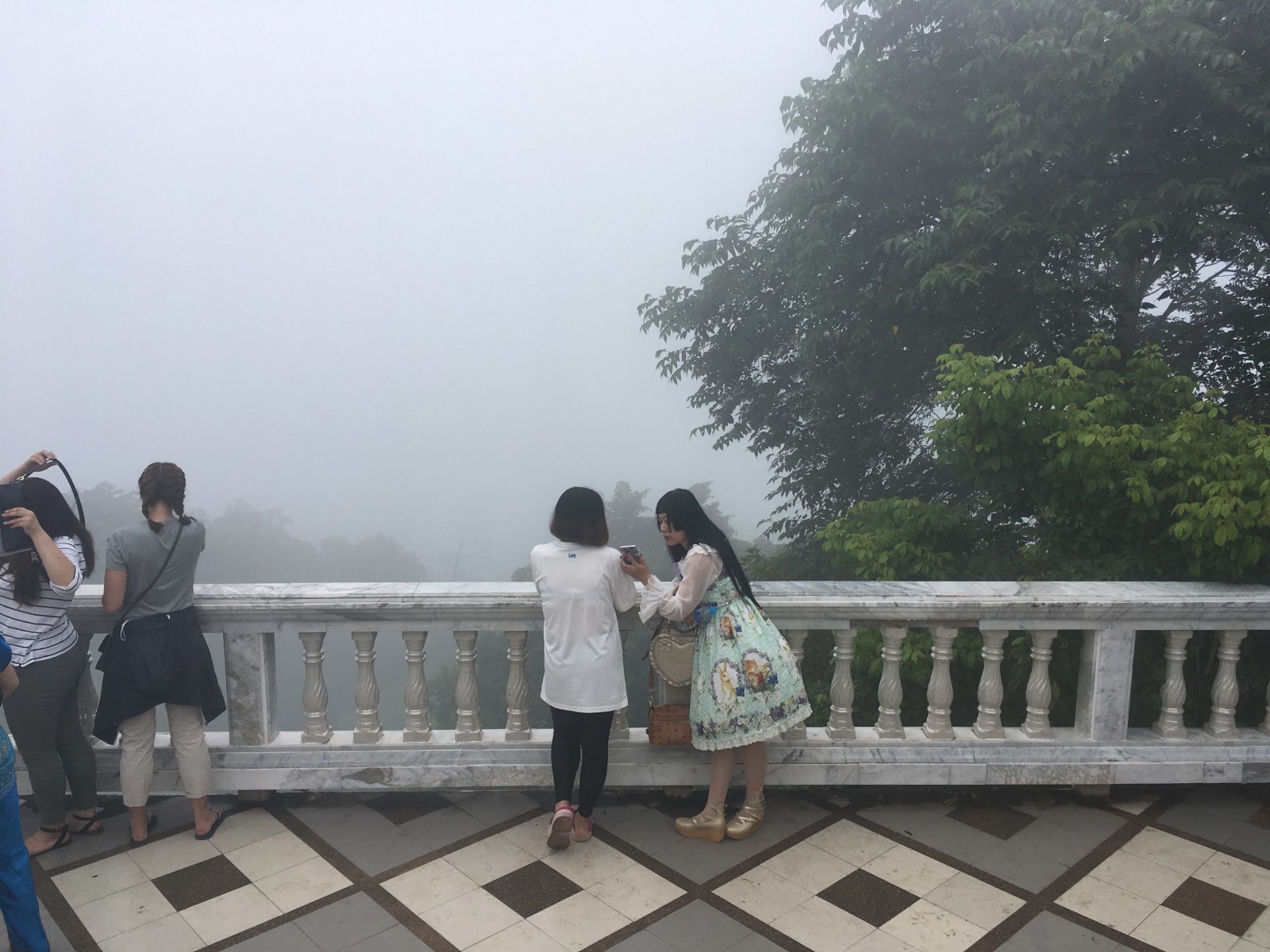 In a different weather, the top of the mountain also provides a great view of the city, but for us, the future was cloudy. However, we could witness a monk playing with two kids and a robot dinosaur.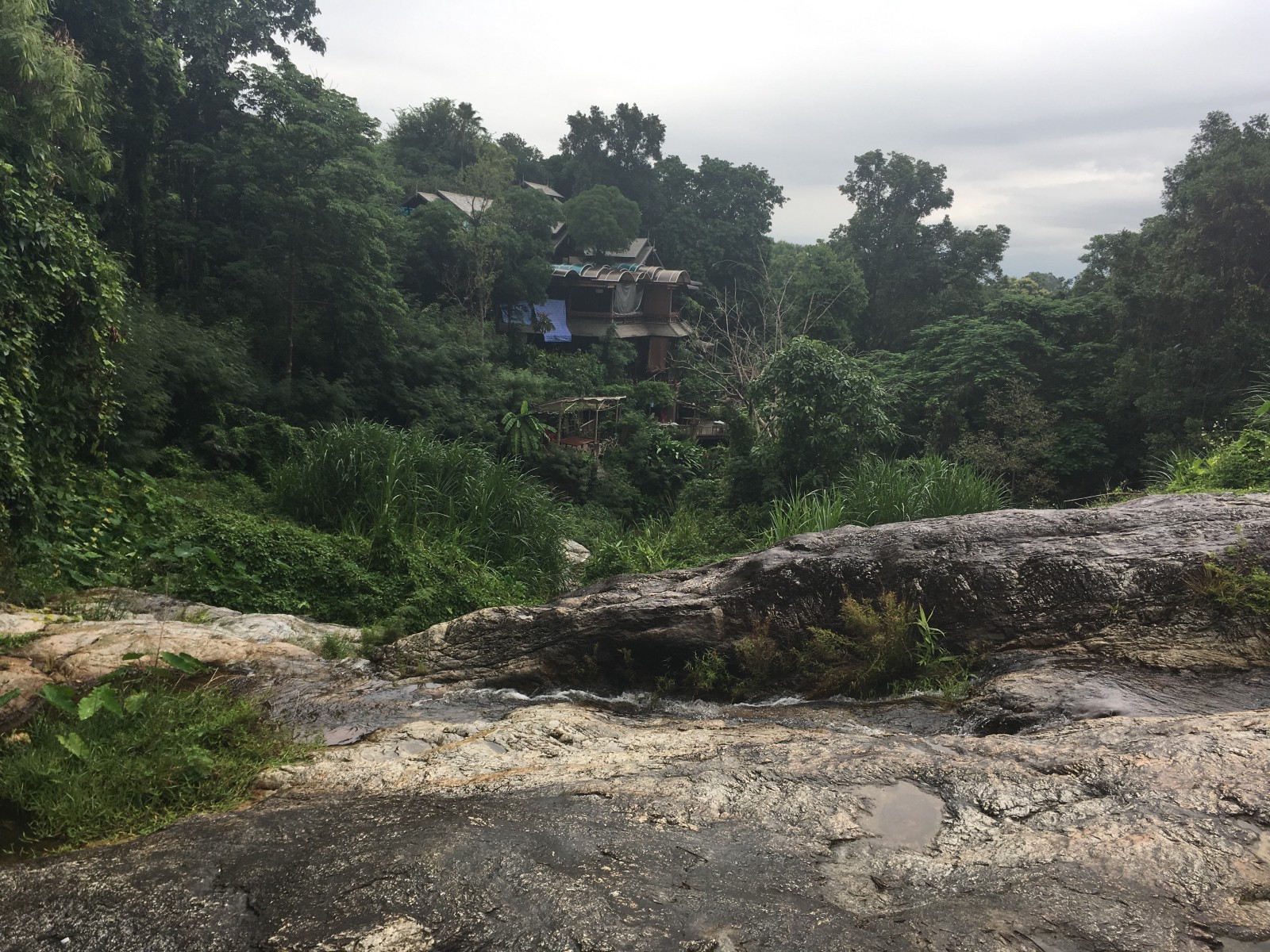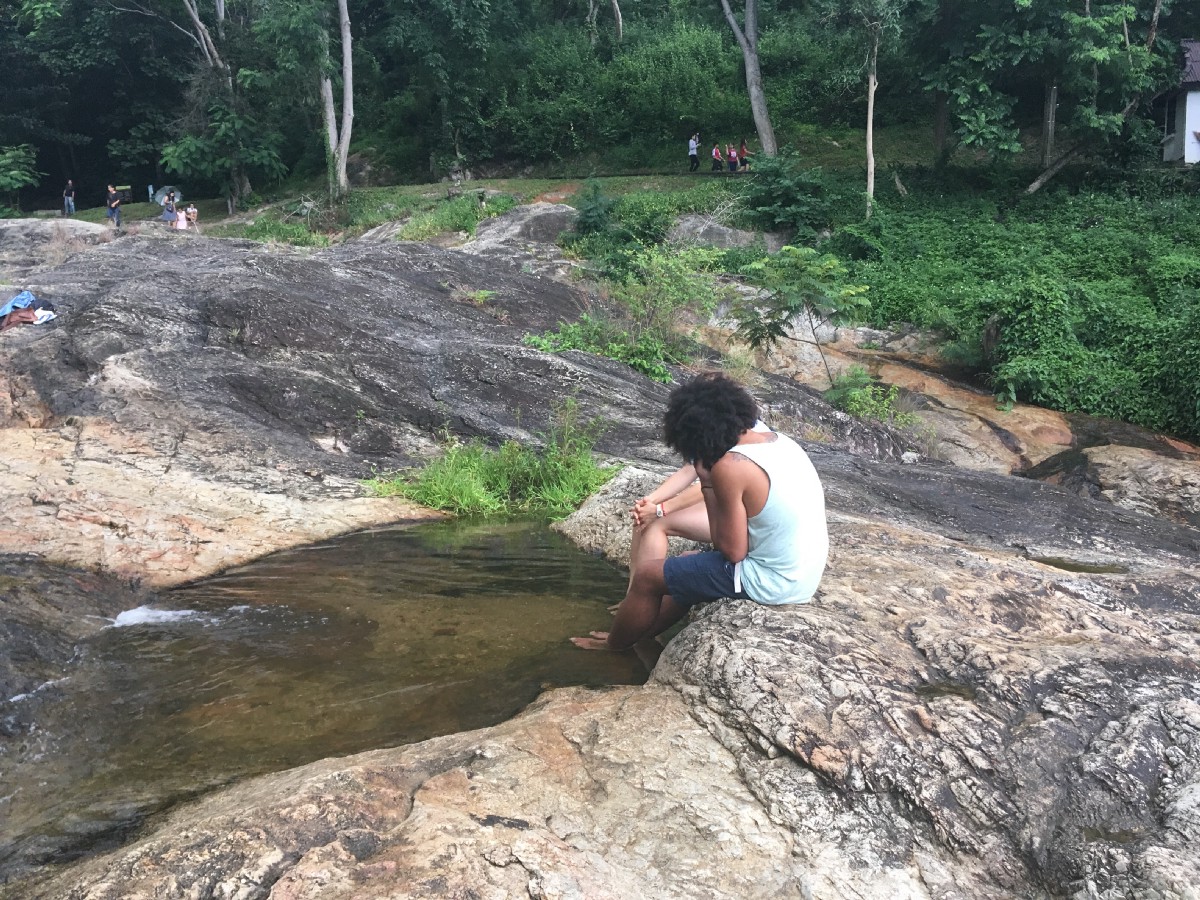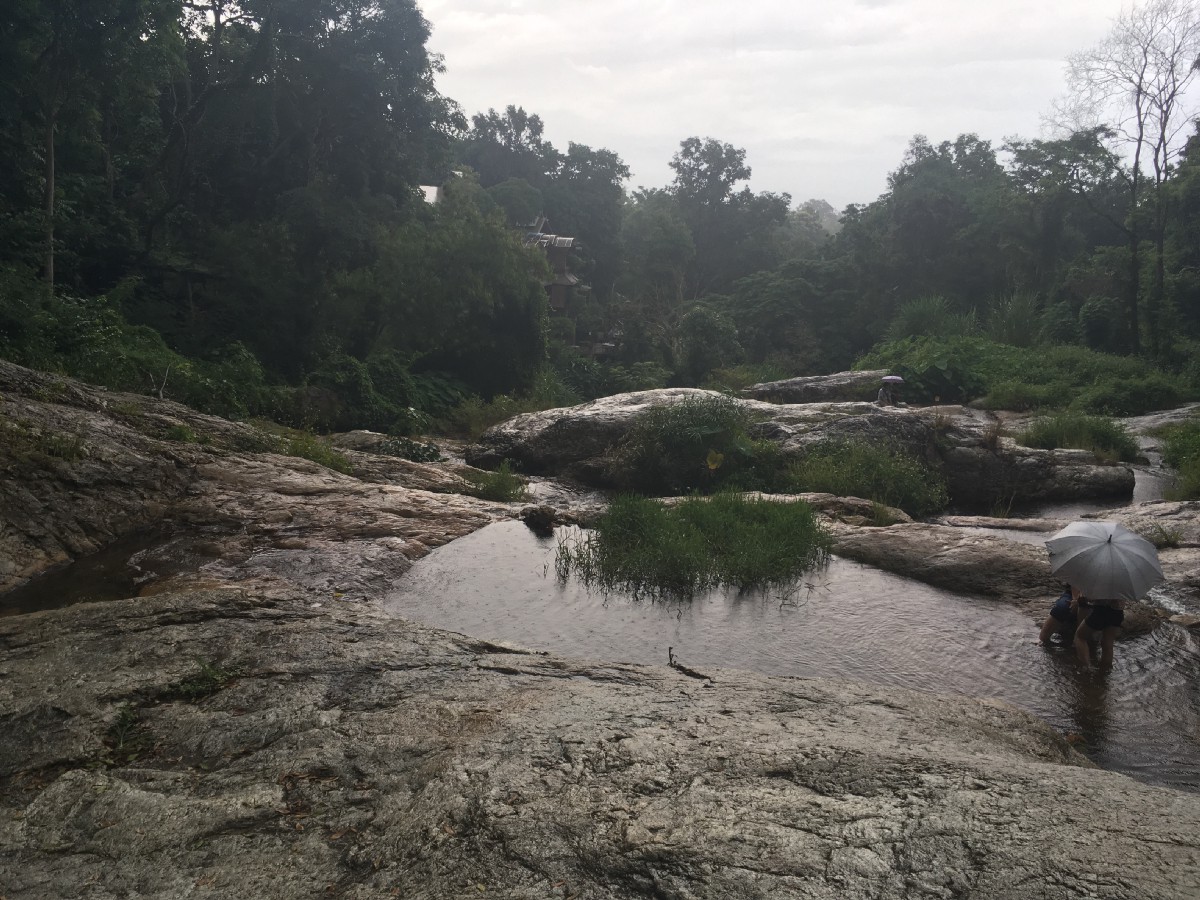 Huay Keaw waterfall
The last few minutes before the flood/rain were spent at a beautiful waterfall. It also had a closing time when the tourist police (that's a thing here) came to get everyone.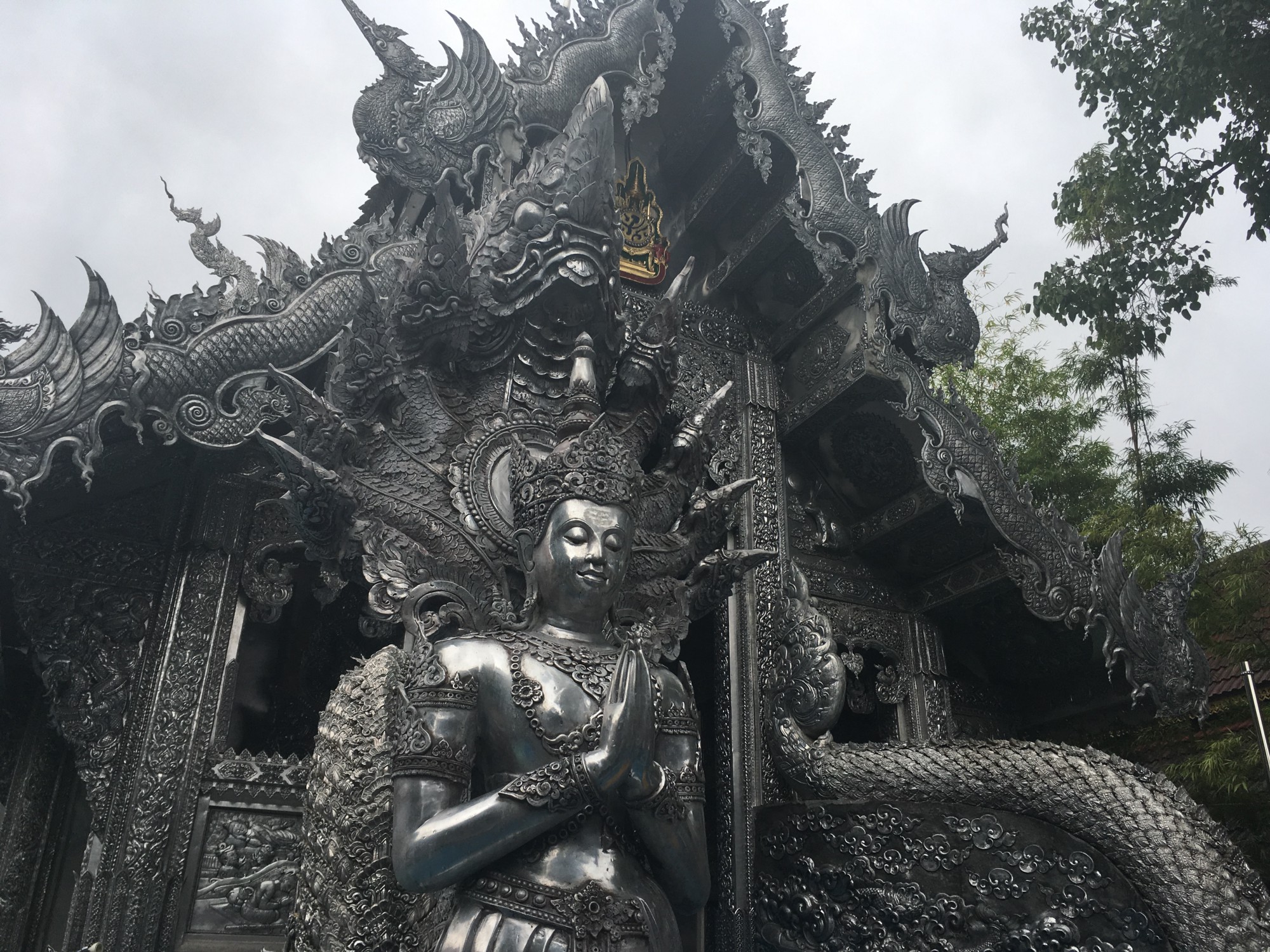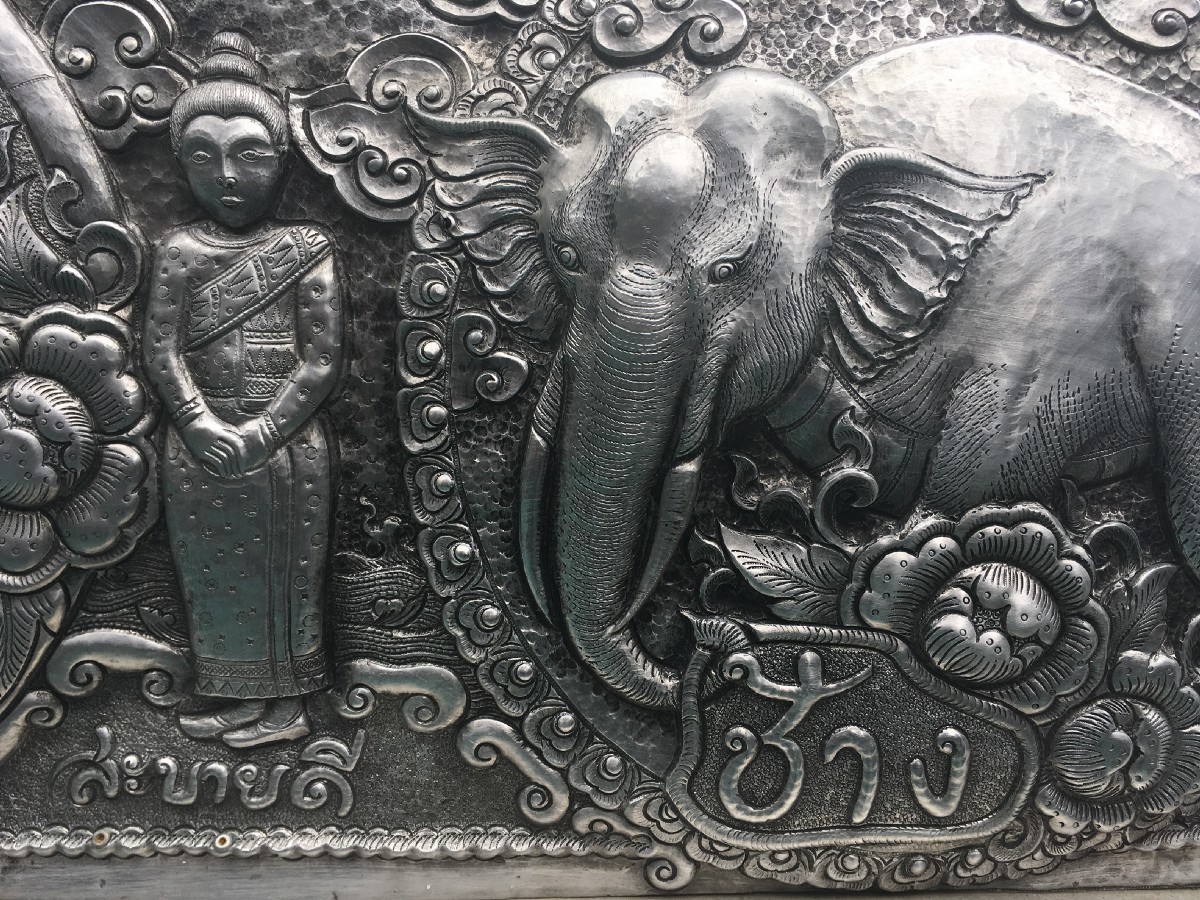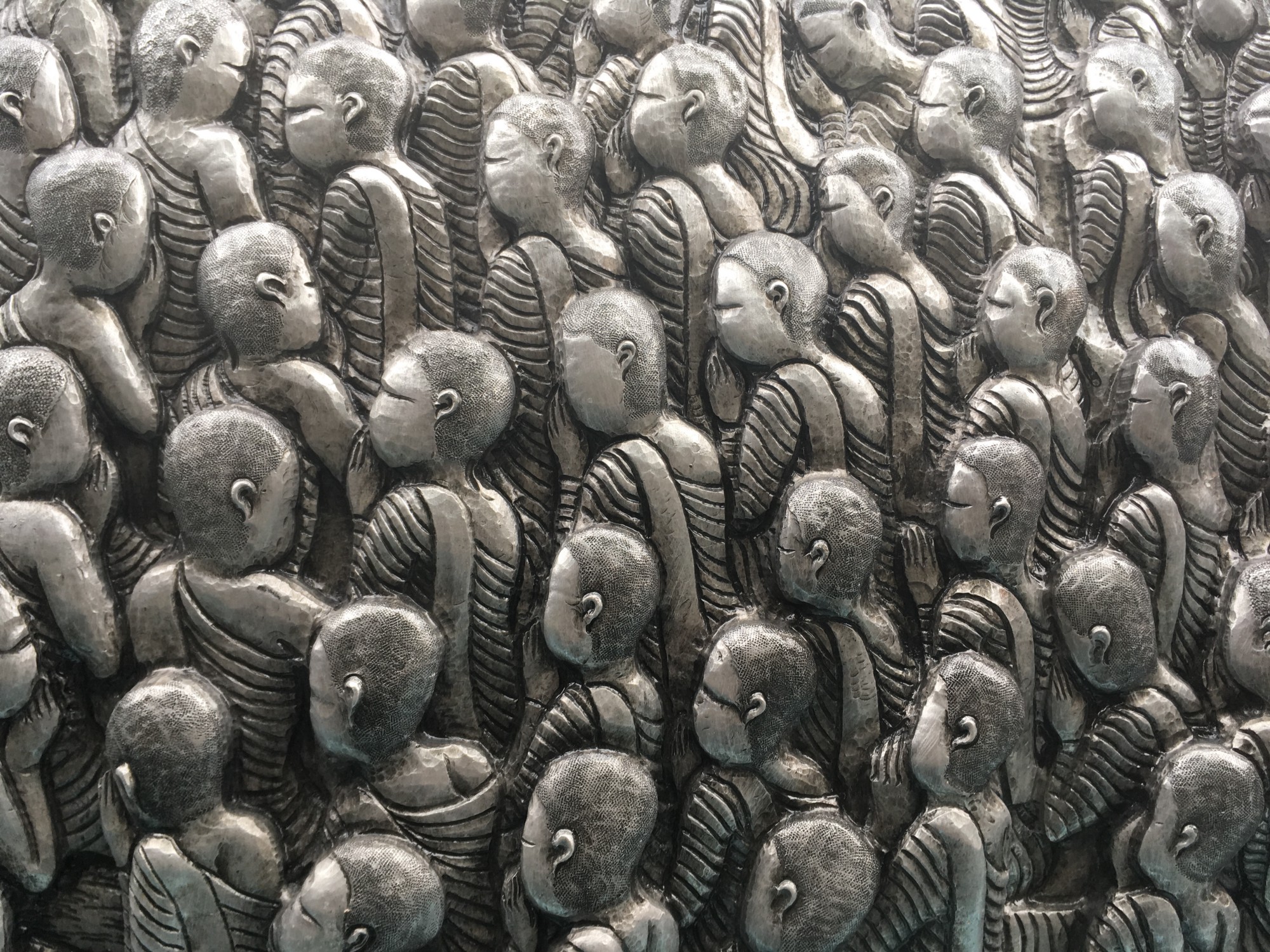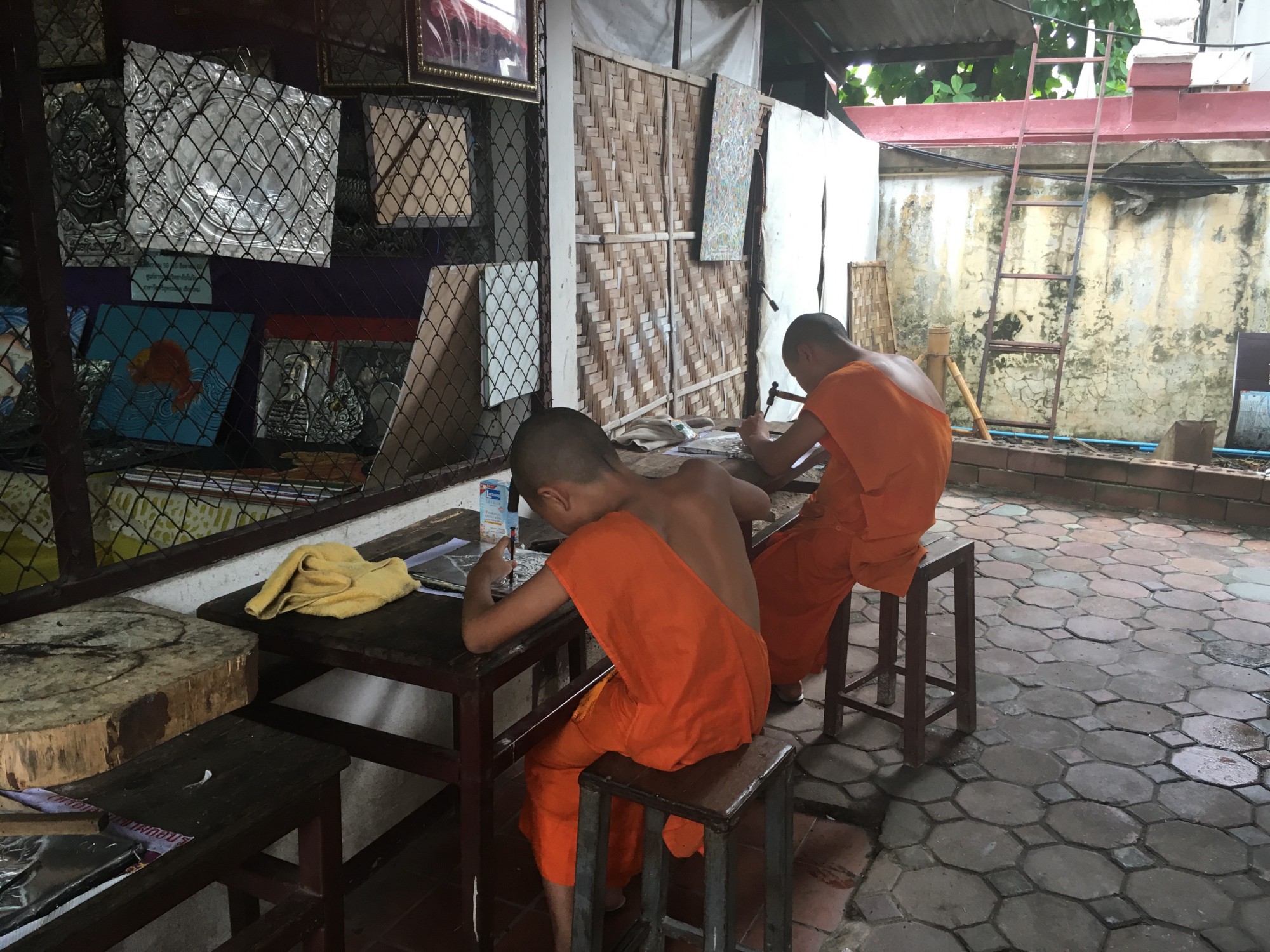 For tourists and expats it's easier to find traditional Thai crafts here, like the silversmiths at the Silver Temple, where women can't enter (?!?!). Not all the temple is silver, it's mainly aluminum, but breathtaking nevertheless also from the outside. Monks and novices consider the craft as a practice of religion and also teach it to visitors. However I tried it later, when I was standing outside a nearby workshop. I stared so intently at the silversmith's work that he just handed me the tools when he took a break.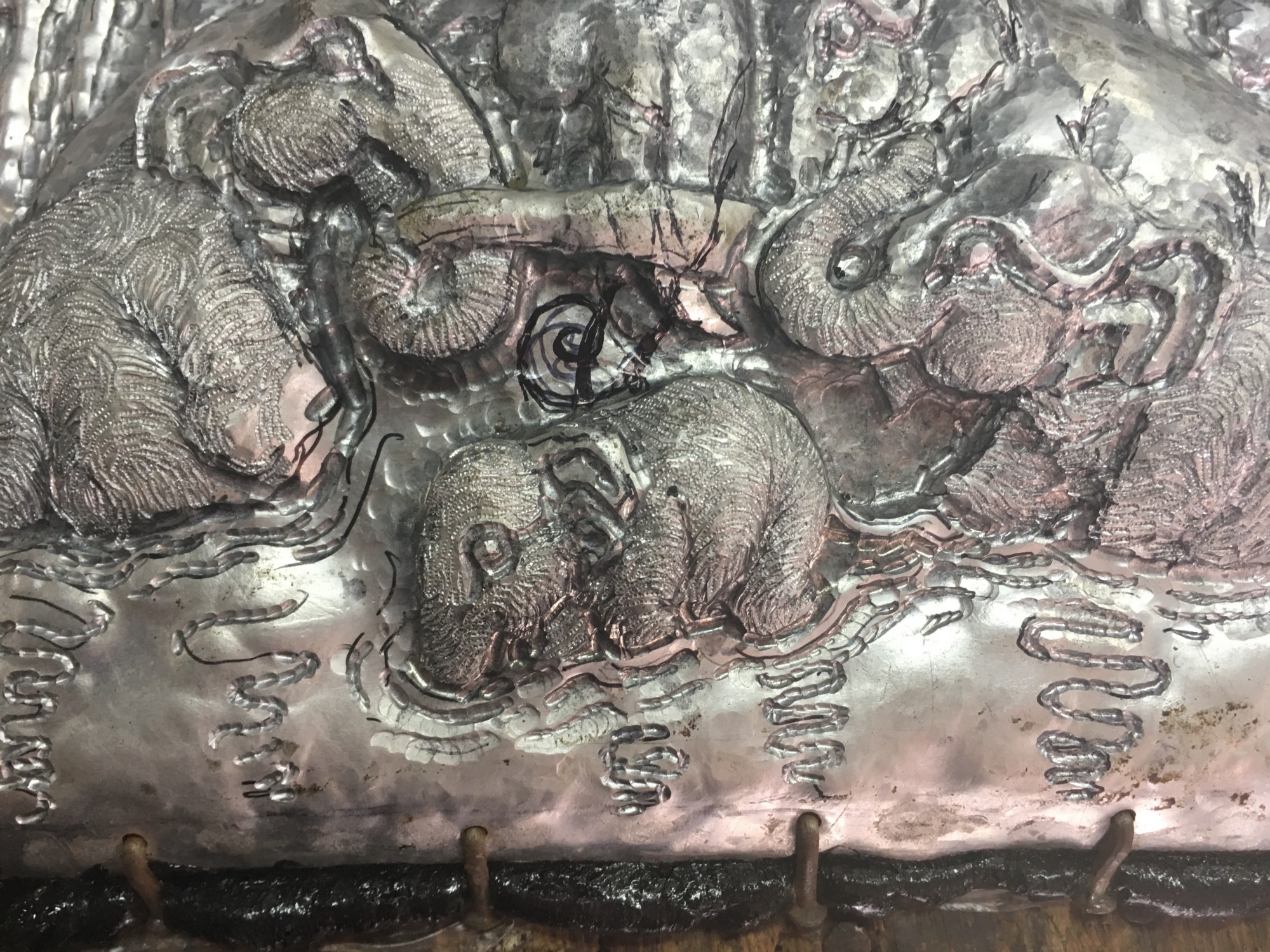 My contribution is the curly line in the lower right corner
In another temple we could meditate with three elderly monks who were sitting there as stable as the statues behind them. It was a powerful experience to see them 'at work', I did not even dare to take a picture.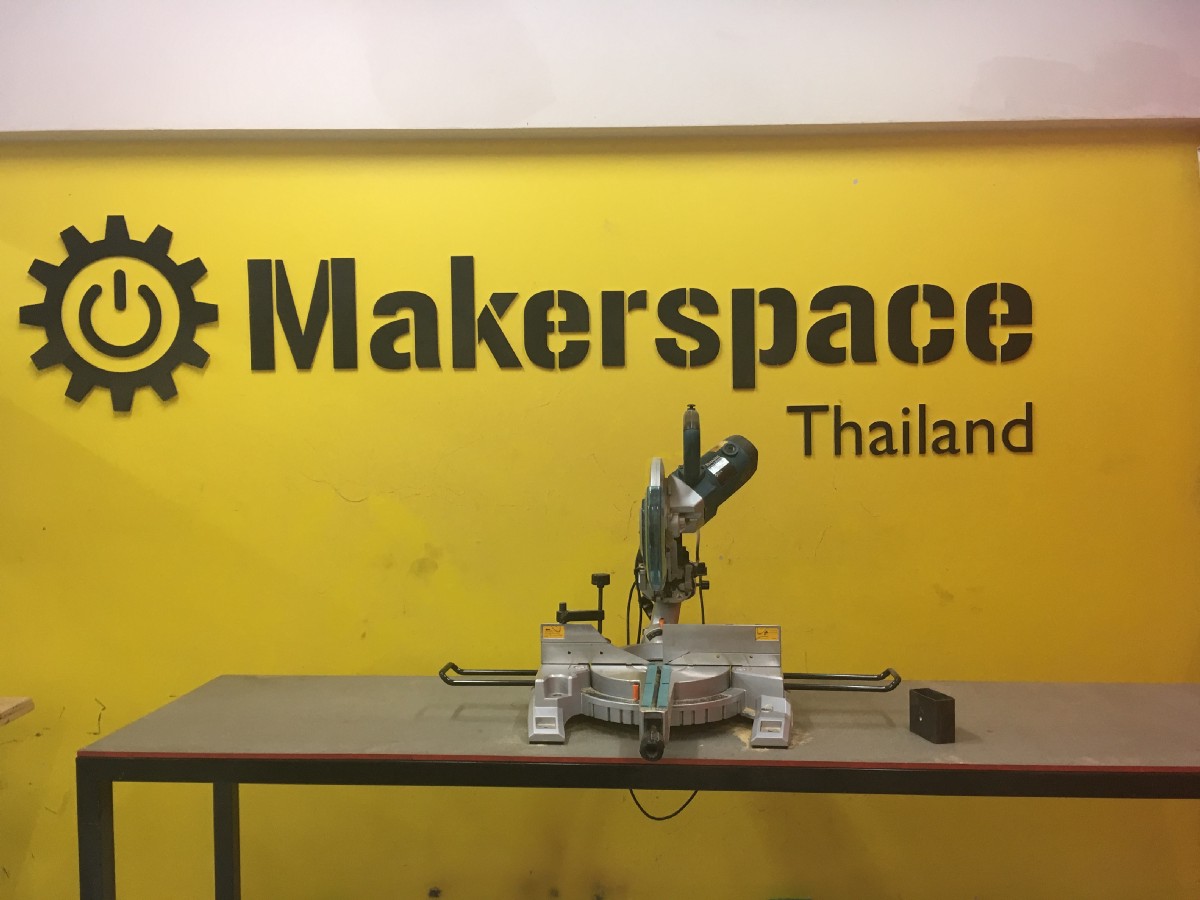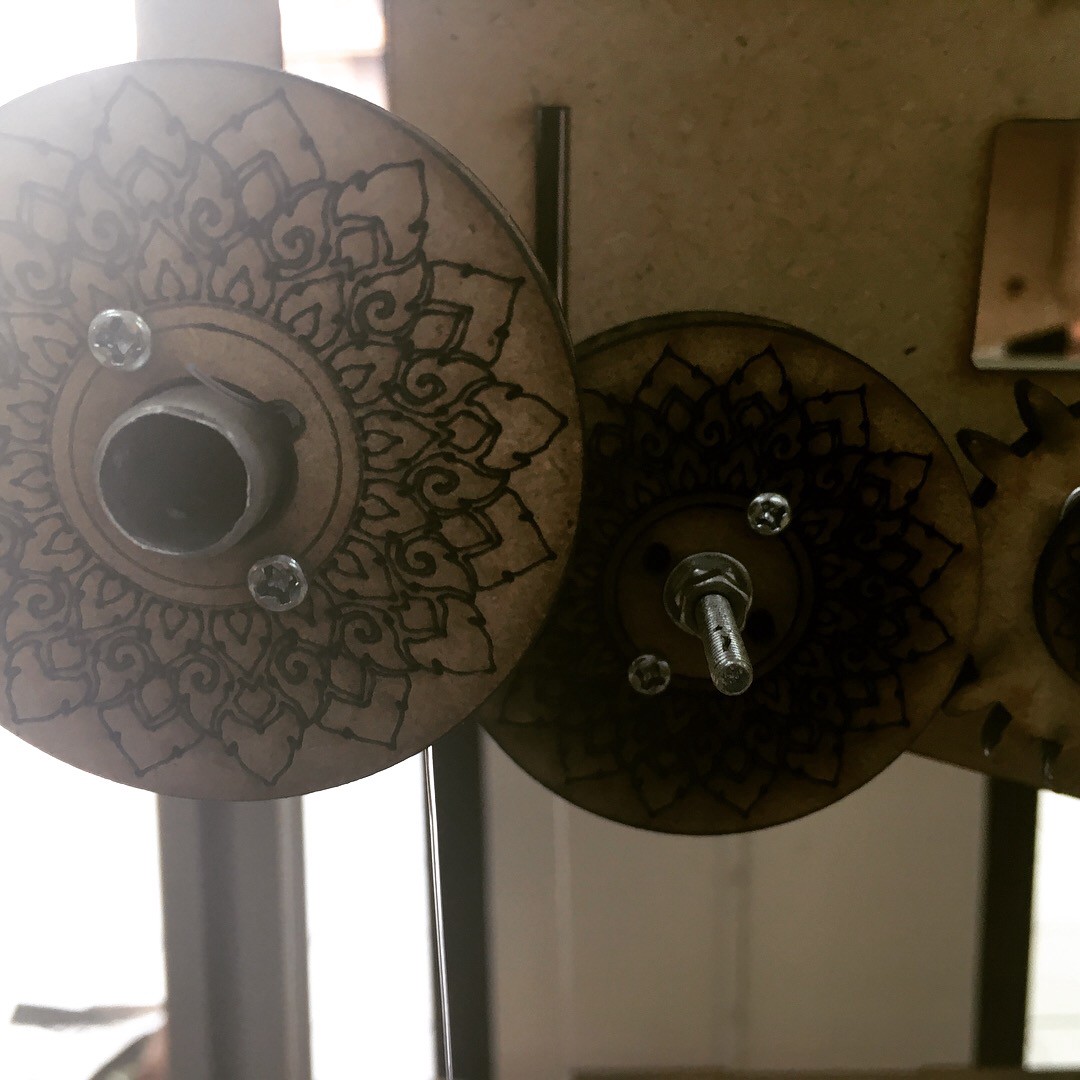 And the temples were still not over, although the last stop was at the local makerspace. There some very nice teenage boys tried to show what equipment they have with few English words and lots of smiles. Some machine parts were laser engraved with motifs and there was a separate corner just for jewelry. In total they have about 300 members, and looked like only a few were expats.
Next stop: back to Bangkok, just in time for some more temples before leaving Thailand! (They were beautiful, but the photos will have to suffice here. I haven't seen a computer since we set off, and it's hard to structure text on a tiny screen).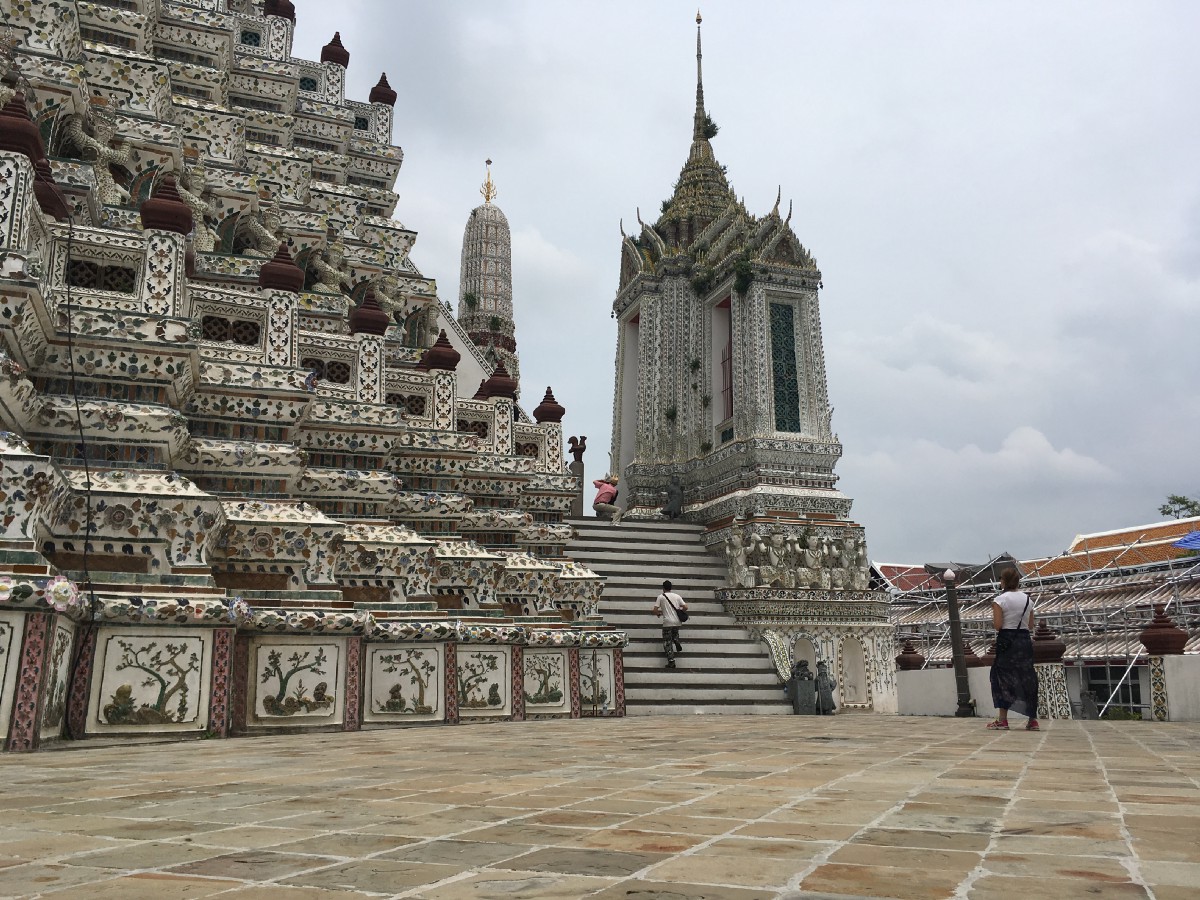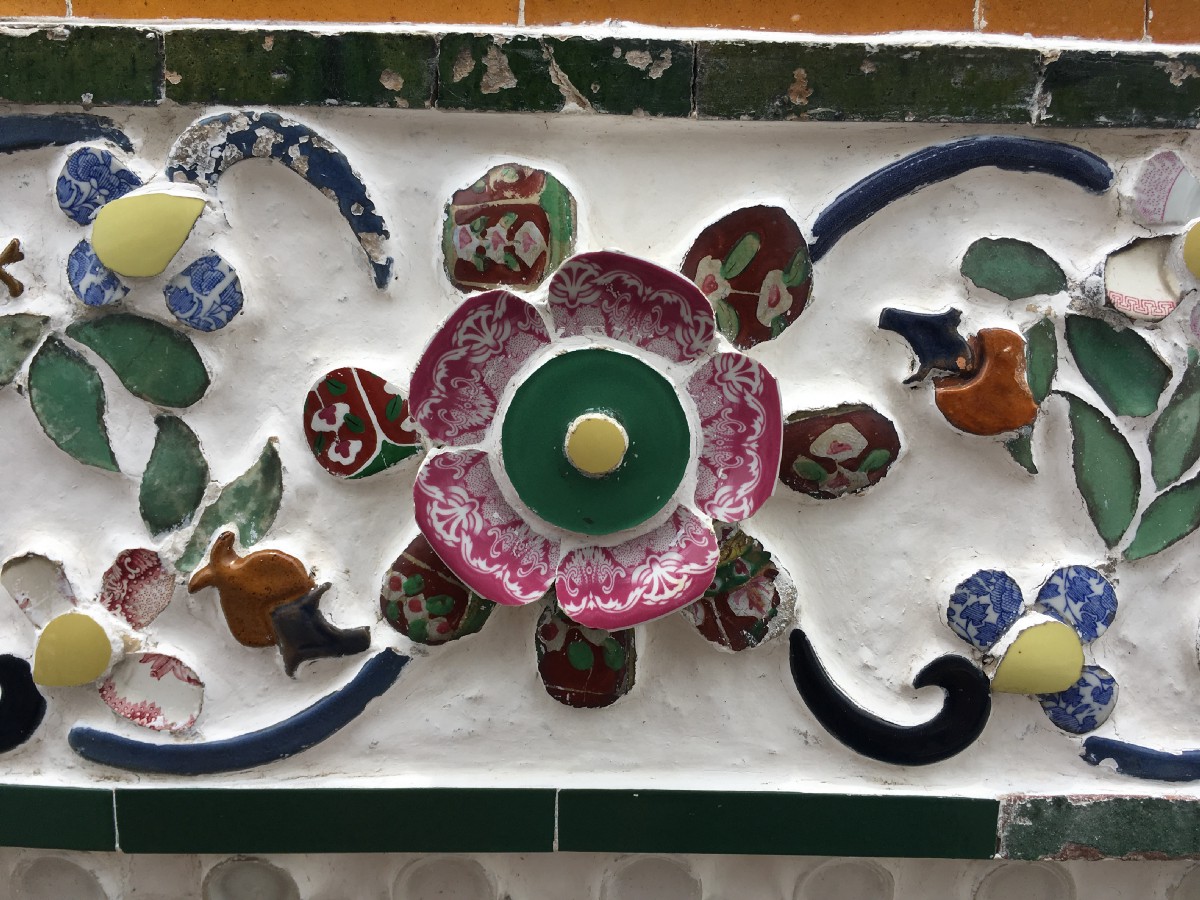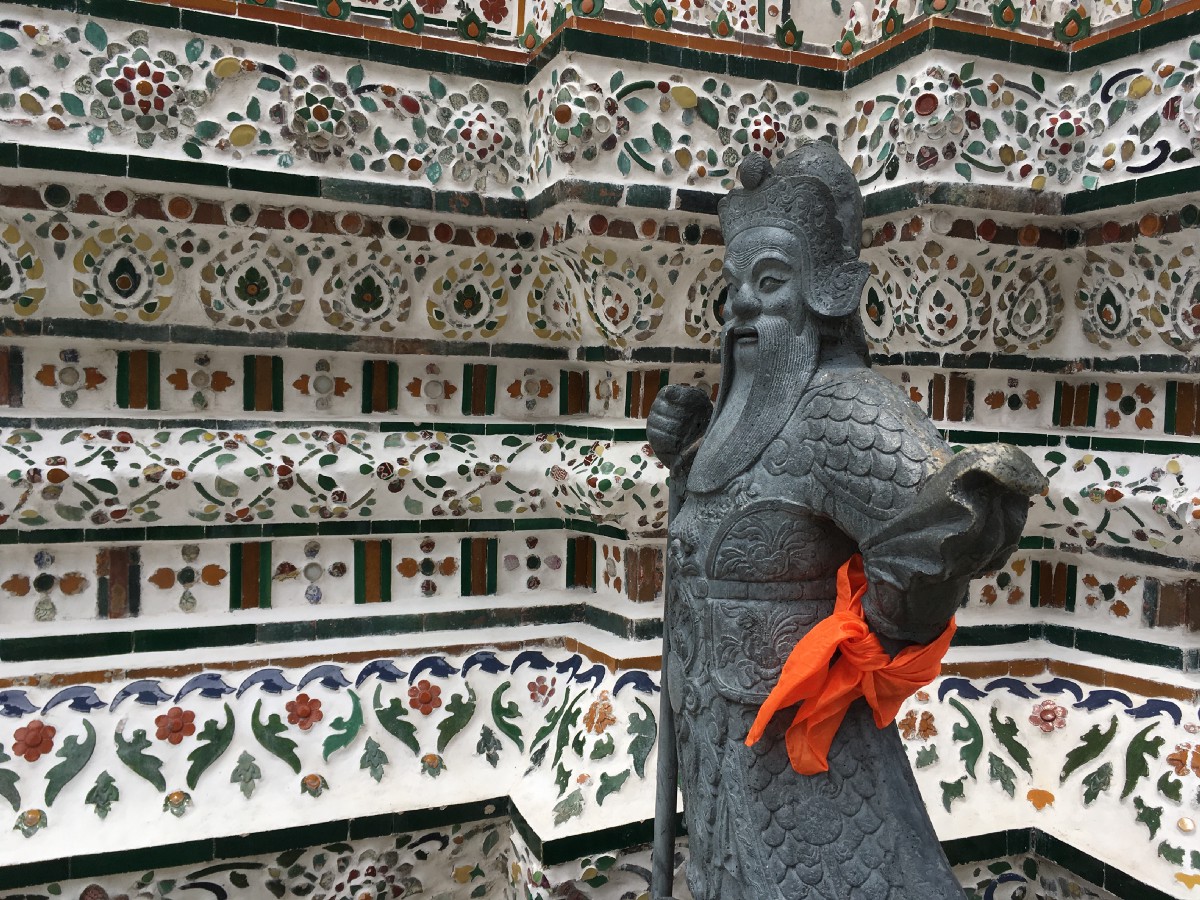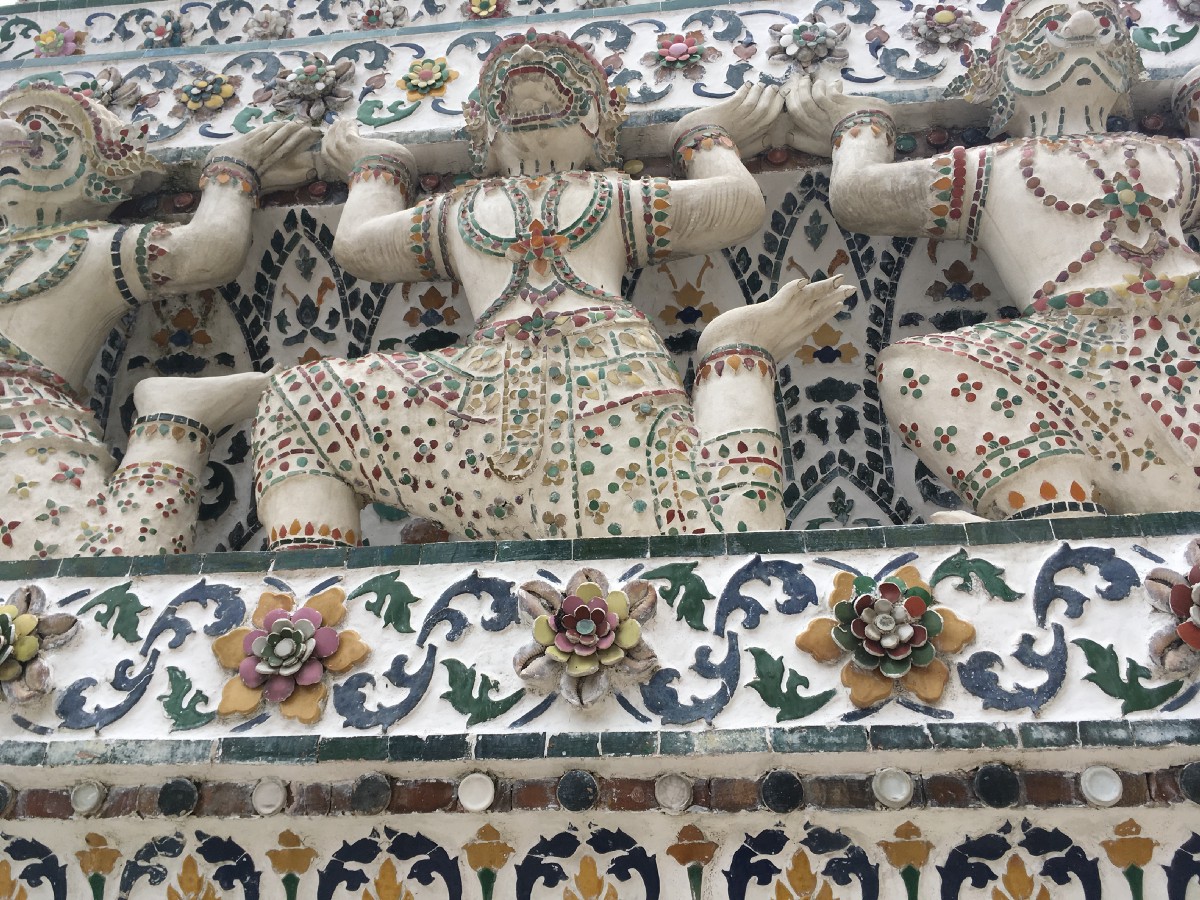 Temple of Dawn — why use gold when you can just smash some porcelaine plates on it?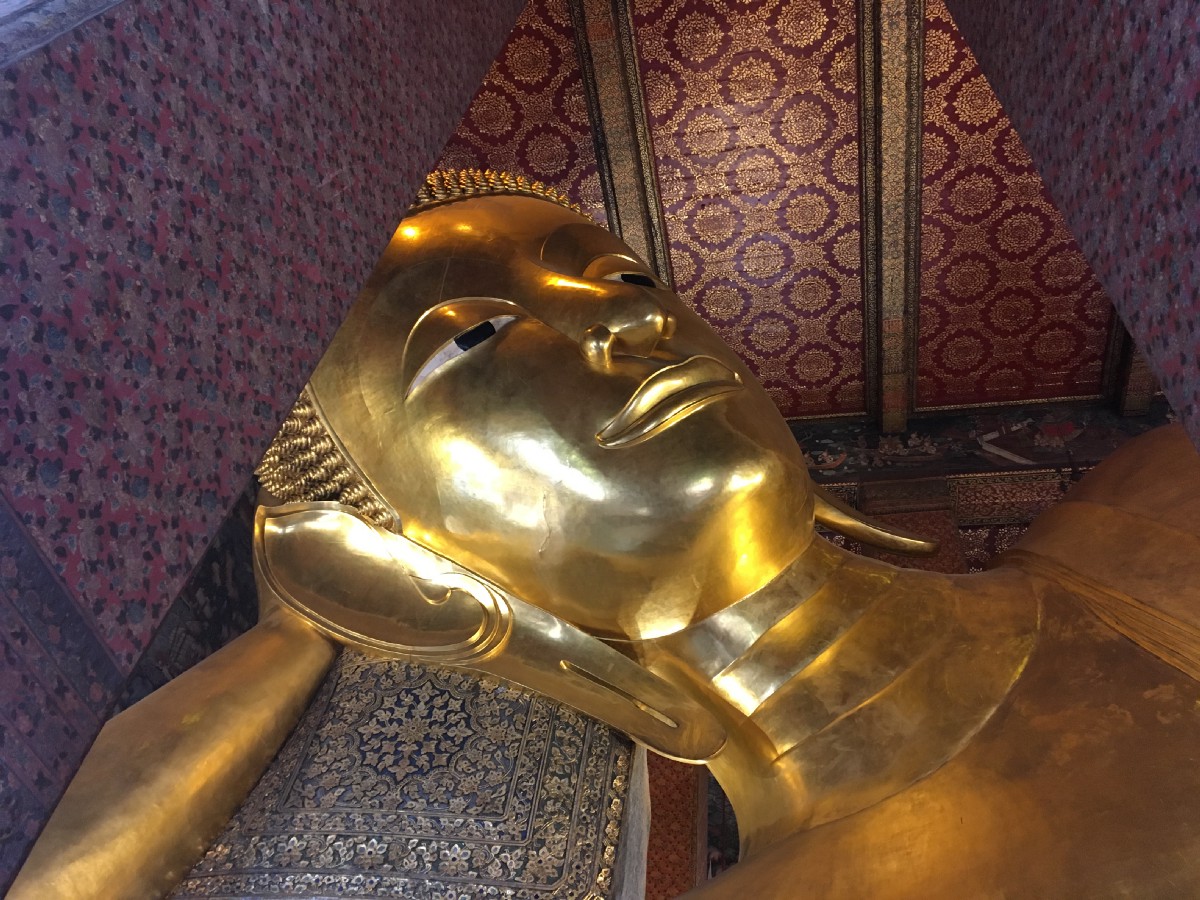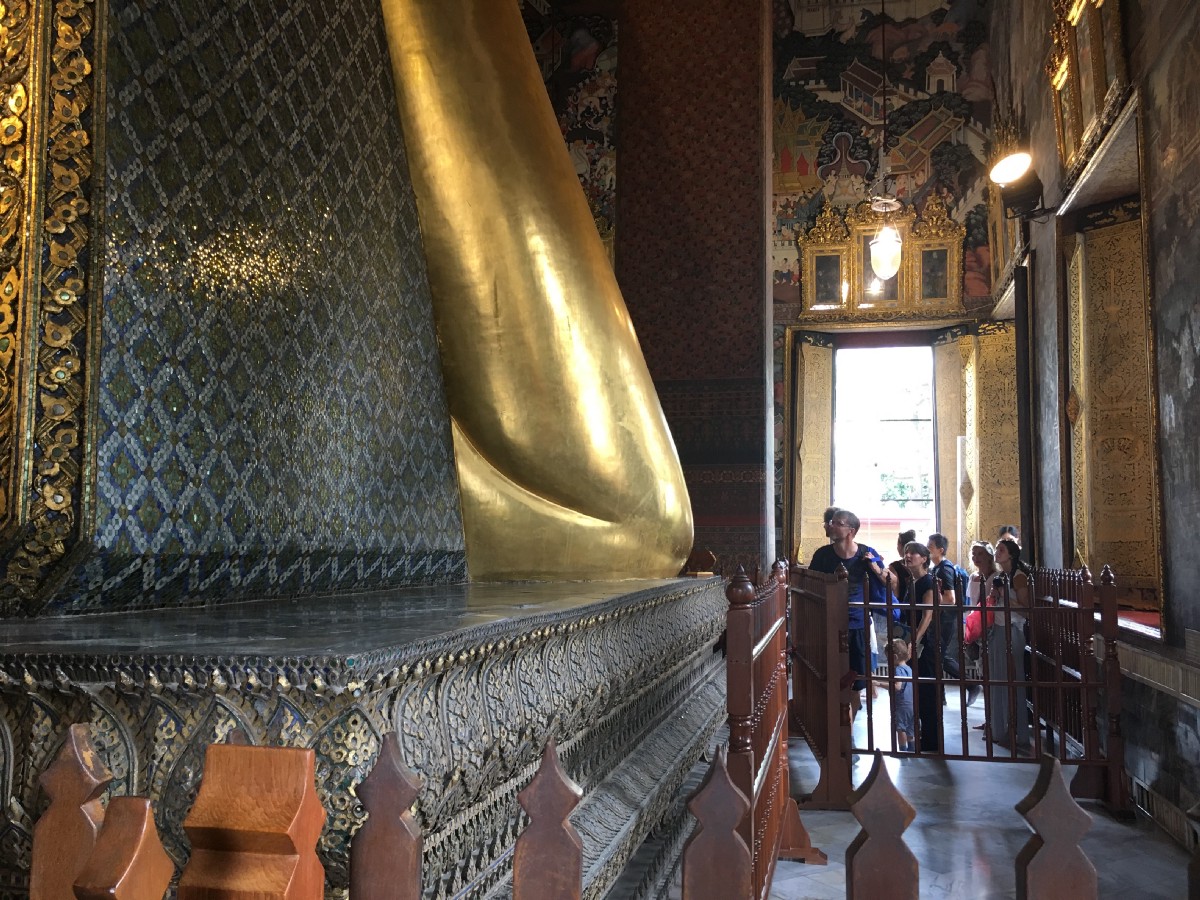 One big Buddha — Wat Pho
And there was the Rattanakosin Exhibition Hall, which was probably the weirdest museum-experience so far in my life, partly because the number of guides was much higher than all the visitors in the building (just us 2). But that's for another post, because let's focus now on the change of scenery: Hong Kong!