The HKUST (Hong Kong University of Science and Technology) campus was quite unlike any university campus I have stayed at. First of all, we used 3 elevators between the bed and the breakfast, each of them spanning 10 floors, and some walking in between. The whole journey took 13 minutes. And then 2 escalators to the bus. The upside of these daily journeys was the view of the sea at all times. There was very little time left for socialising on campus, but we met some friendly cockroaches in the room, and compared to most of Hong Kong's spaces, each room seemed very spacious.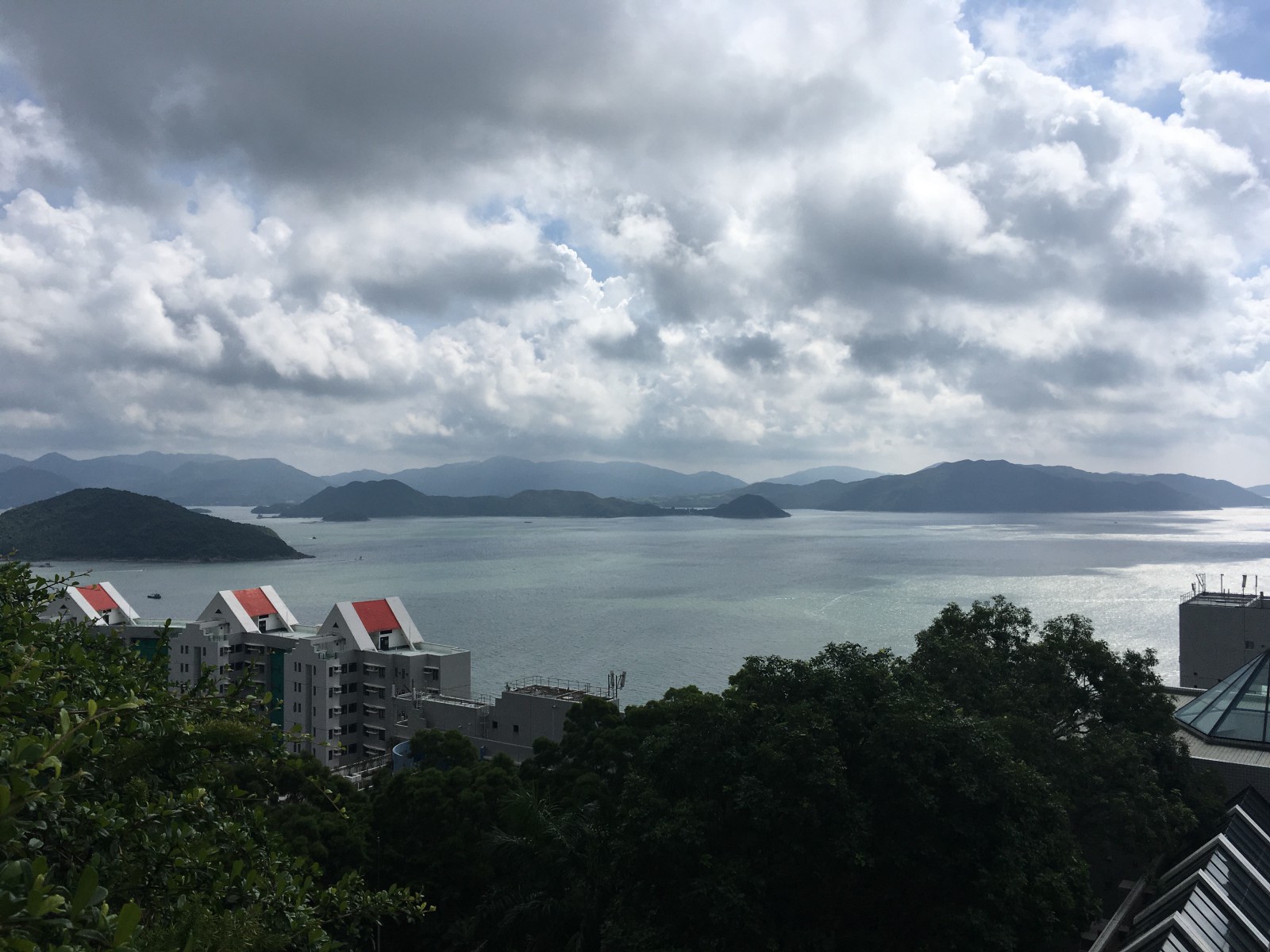 Cloudy morning
As we could also see by visiting an expat meetup, most white-collar jobs in Hong Kong are in finance, which makes the city economically fragile. The sky-high real estate prices do not support new businesses, and at the same time they have 30 years left as a special administrative region in the People's Republic of China, so I did not see it as an ideal place for entrepreneurs, however there are many institutions that want to present Hong Kong as one. We visited the Science Park administered by the Hong Kong Science and Technology Parks Corporation (a non-profit set up by the Hong Kong Government), although some of us were late — the 3 elevators to reach breakfast are to blame.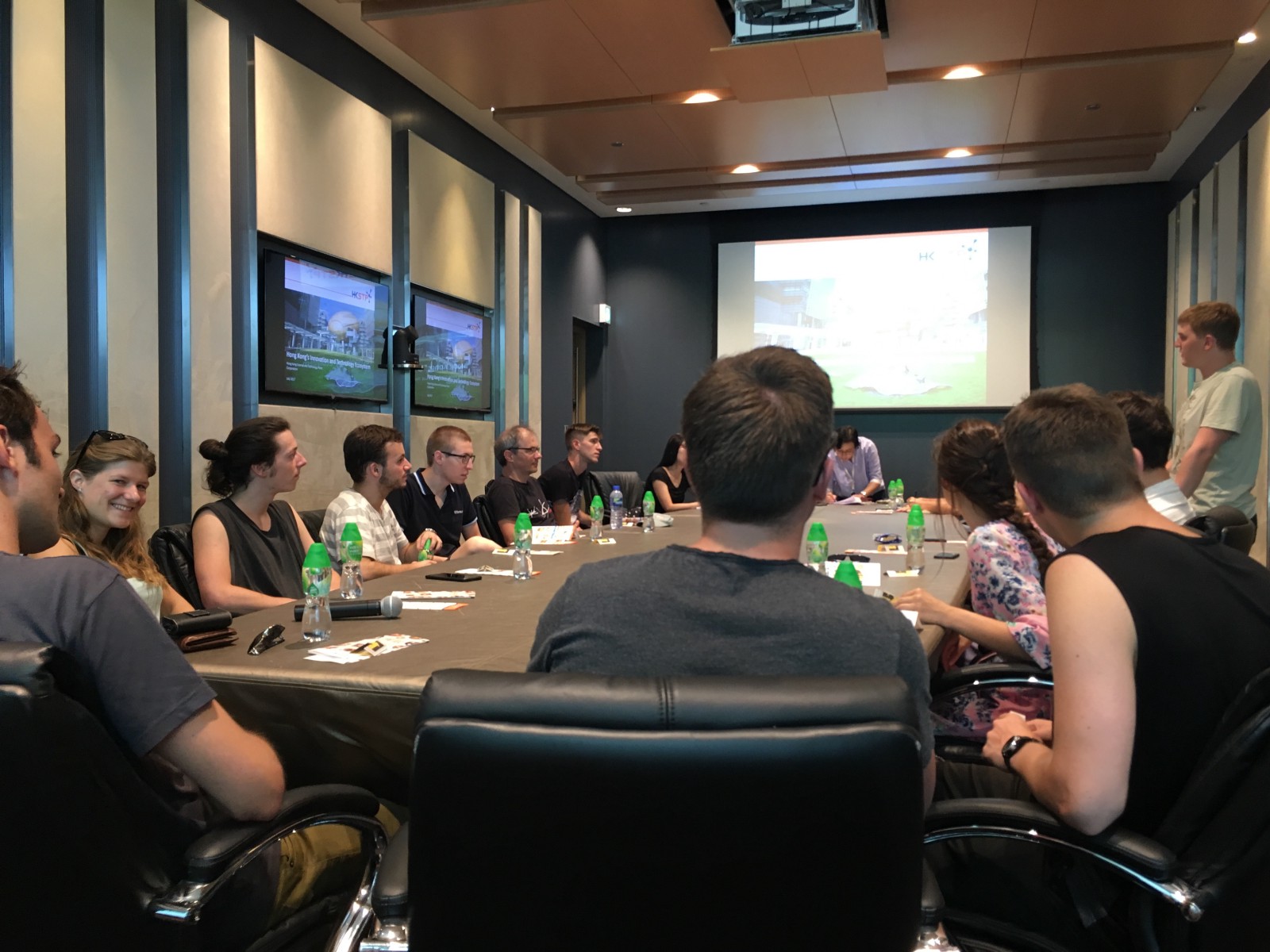 The Science Park aims to create an ideal place for hi-tech startups. Design-first companies can go to InnoCentre, which we did not visit. The main areas of interest for Science Park are "Biomedical Technology, Electronics, Green Technology, Information & Communications Technology and Material & Precision Engineering", and they also develop three "over-arching cross-disciplinary platforms (Smart City, Healthy Ageing and Robotics)".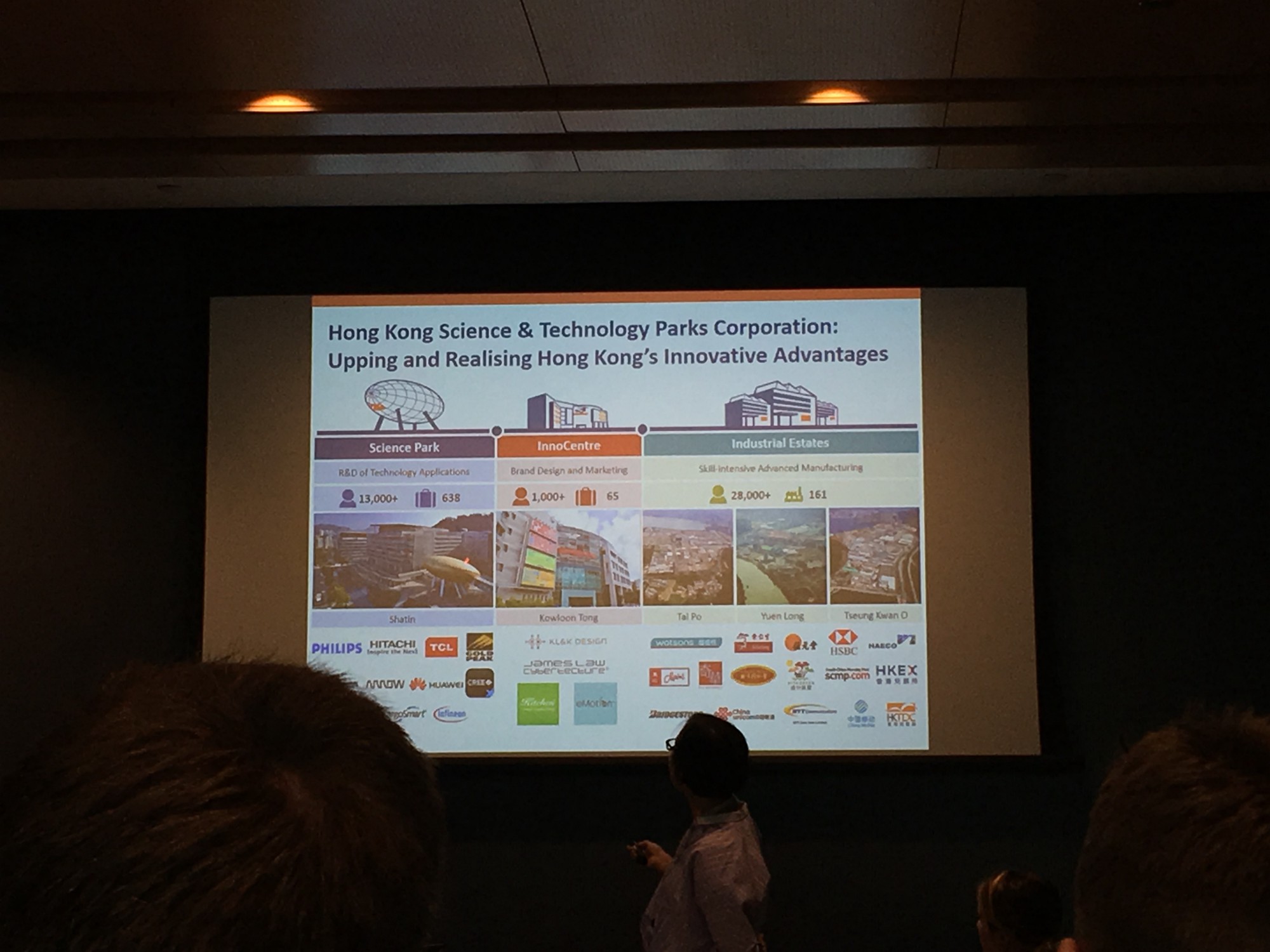 I have no idea what they are developing in these domains. I would have loved to see the projects on campus, but as it is the case with most company visits, the really juicy things are hidden and confidential, so I can't tell how successful they are in their mission to "bring about a golden age of technology" or "enhance the city's diversified economy, and guide Hong Kong into a new era of prosperity." (Quotes are from their mission.) Judging by the resources poured into these institutions, attracting or facilitating the creation of new and successful startups seems to be a priority for the city.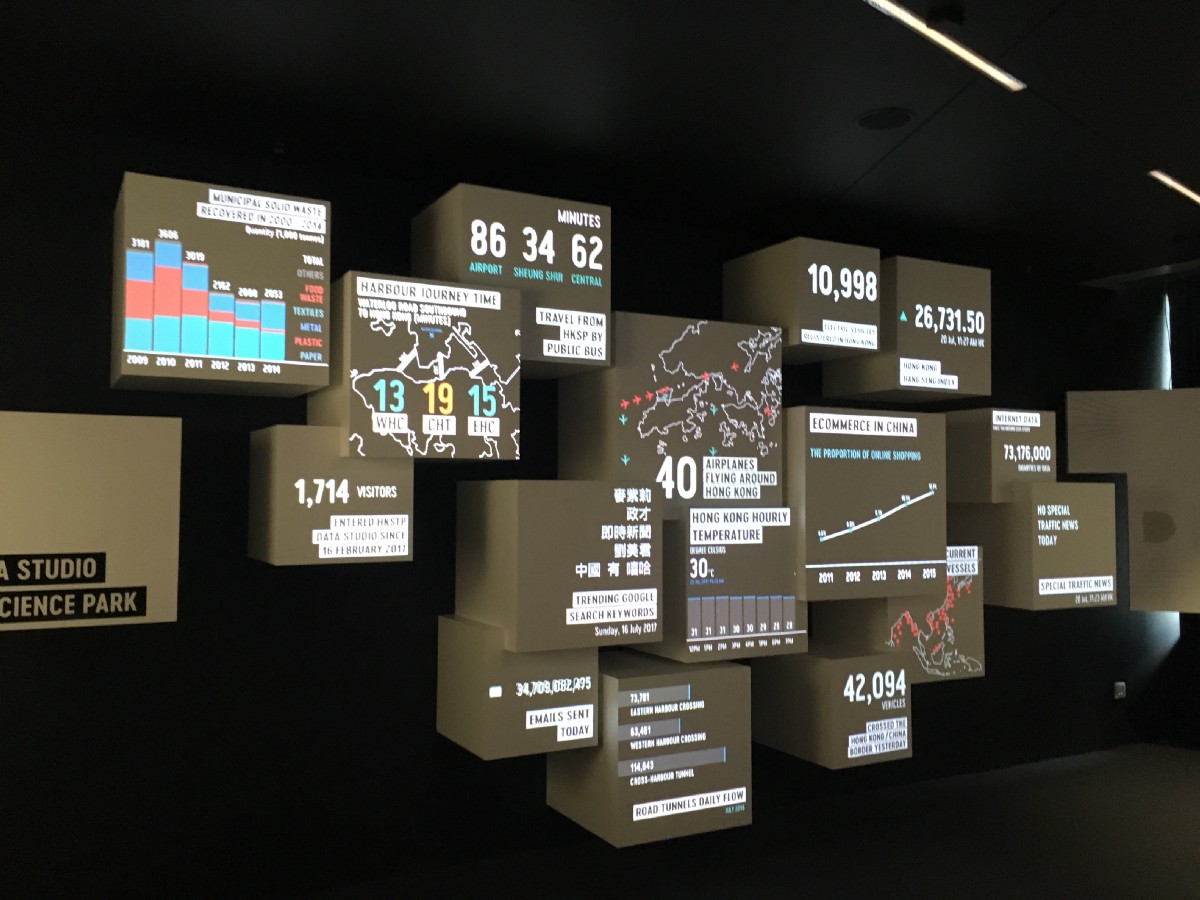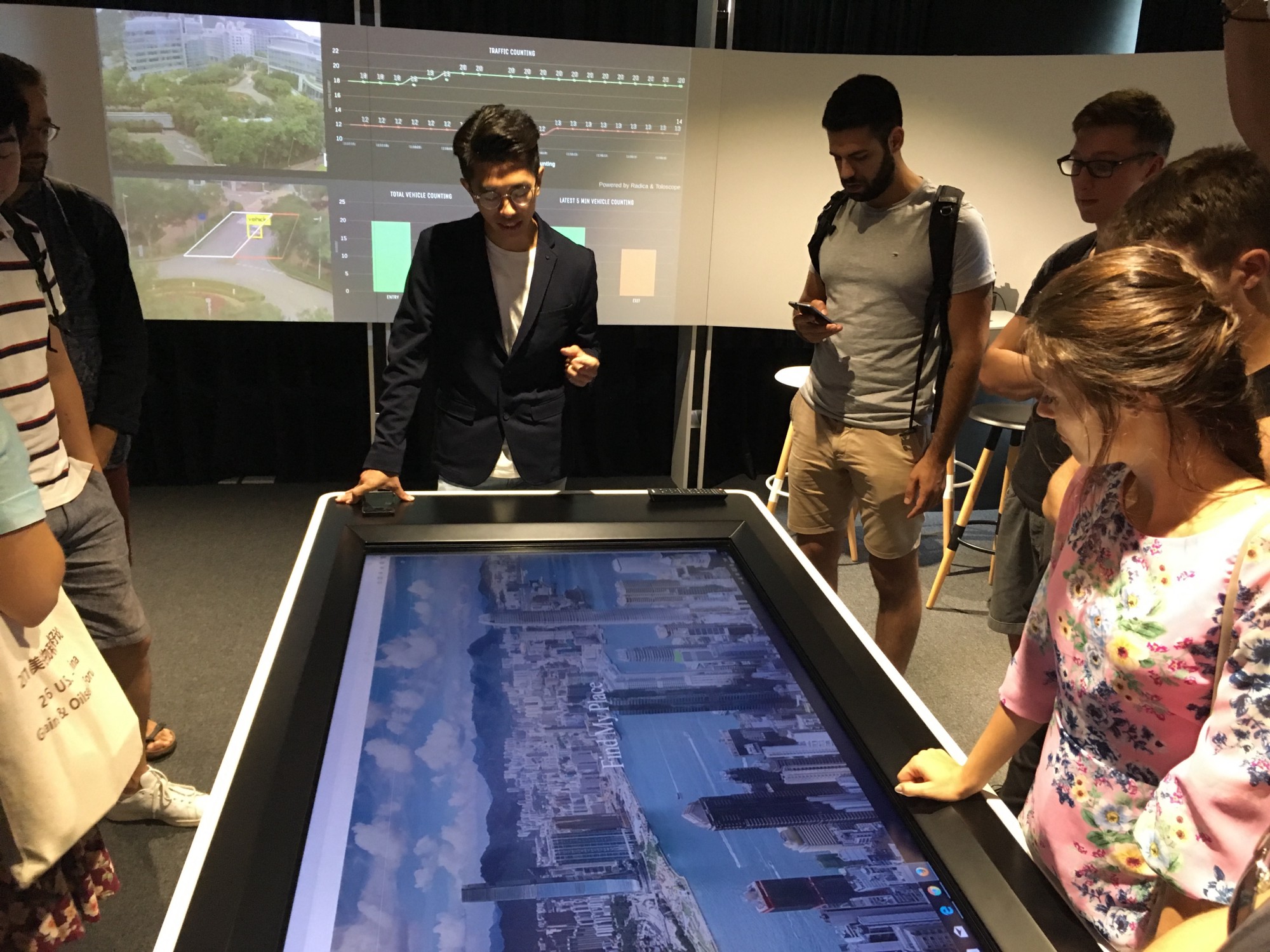 This was the HKSTP Data Studio
The two other visits of the day were memorable in a very different way: they made me feel very tiny. We visited Modern Terminals, which is the second largest container terminal operator in Kwai Tsing Container Terminals in Hong Kong, which is the sixth busiest container port of the world. So it's pretty big. We could even visit the control room to take these nice top-view pictures, and guess whether the cars are self-driving or not. They still have drivers, at least for now.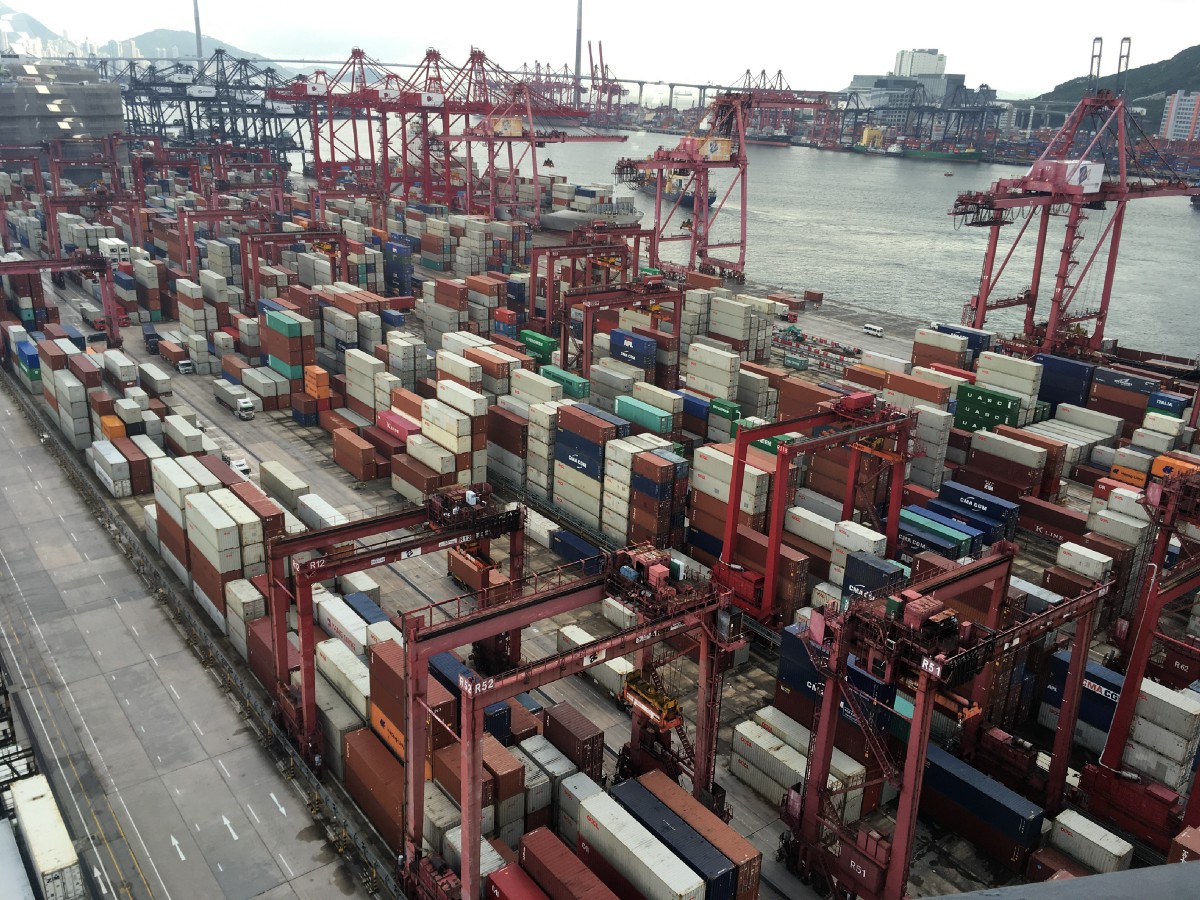 We also went to see how the containers get filled up in a warehouse. Now if I will order something or hear 'we could just sell it online', this is what will come to my mind. I know there are 7.5 billion people on this planet, but do we really need all of this stuff?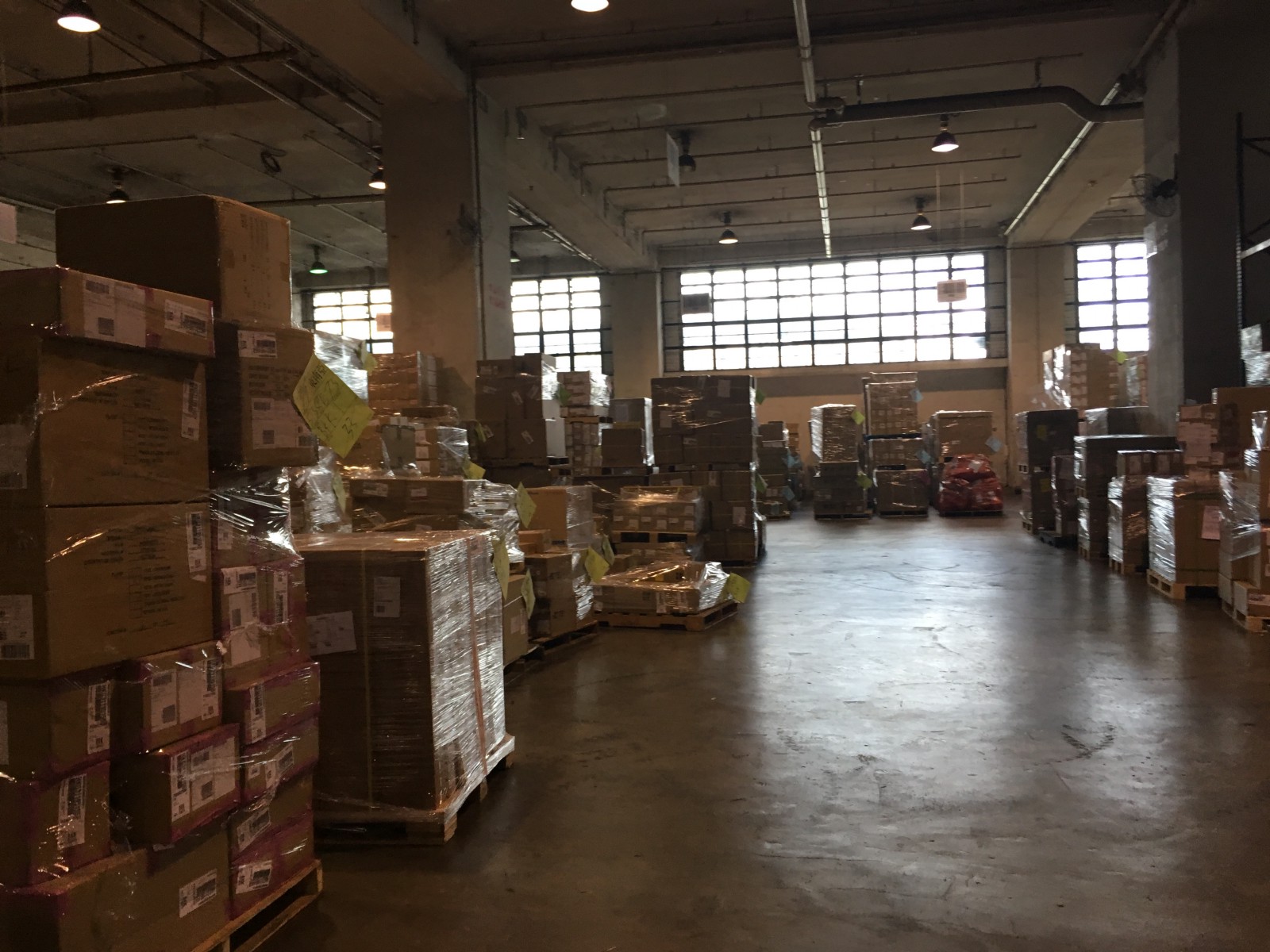 No image can show the heat and sweat in this hall
To quickly wash away these disturbing thoughts, we went to have dinner at a nice low-key restaurant and then admired the skyline from a sky-bar where we definitely did not fit the dress code, again.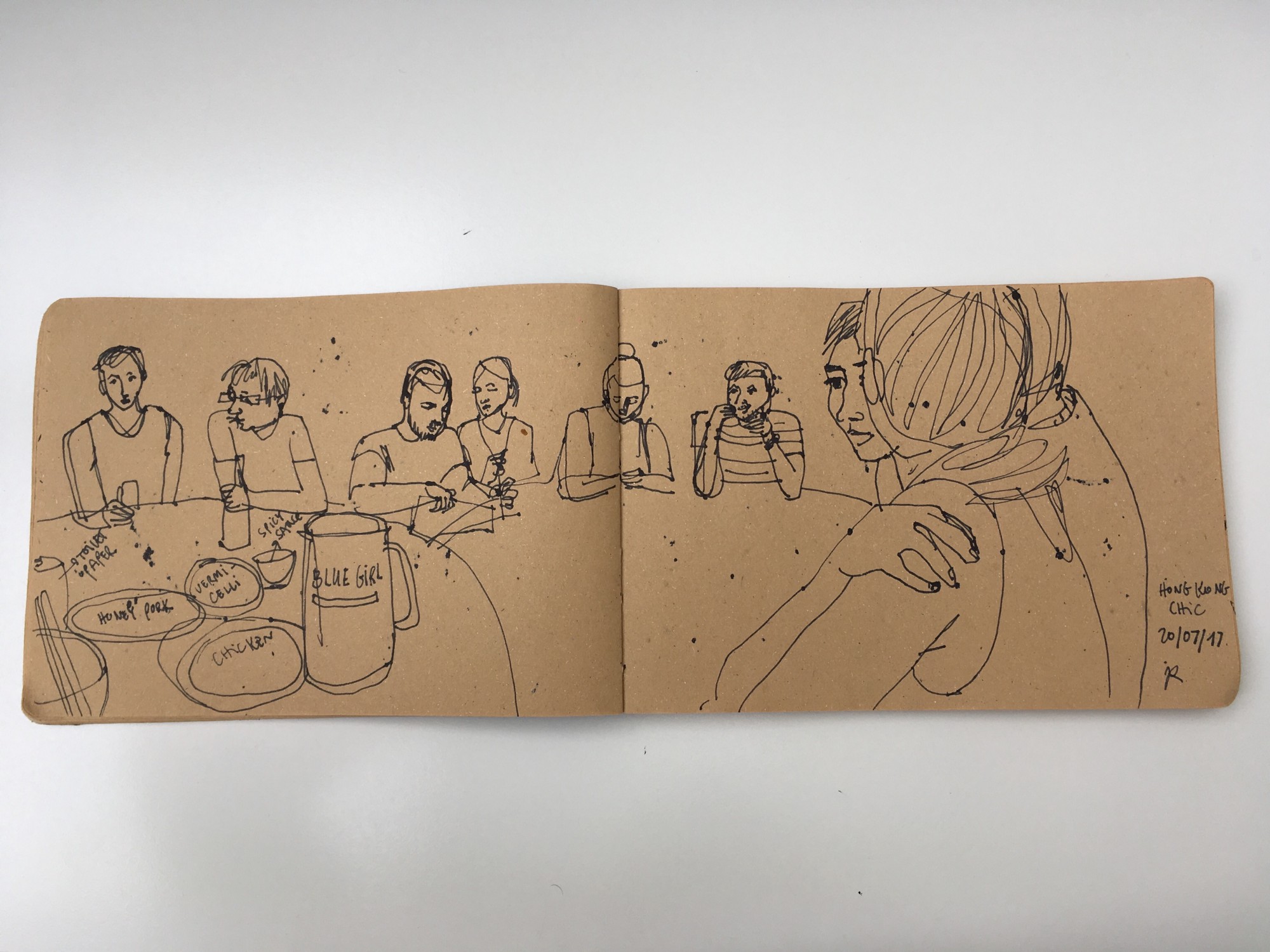 We took up two tables and finished around 15 dishes, maybe?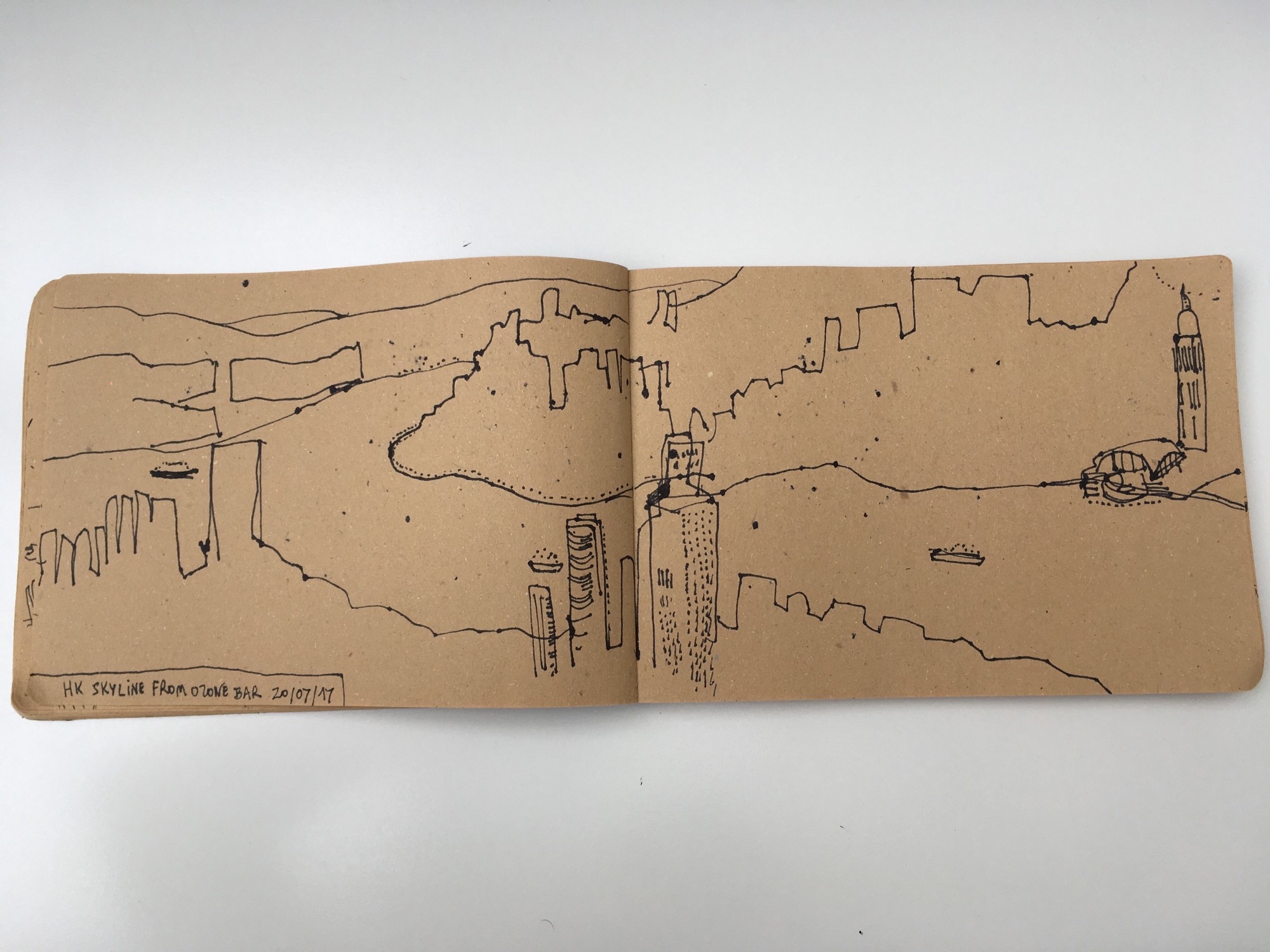 All my photos have glass reflections from the window, so here's a drawing
Our last serious day in Hong Kong was spent getting to know important design hubs of the city. In 3 groups we visited 3 different design institutes: 2 universities and a museum. Although learning about the Hong Kong design ecosystem would be more direct through company visits or meetups, I enjoyed the visit at the Run Run Shaw Creative Media Center. 2 enthusiastic alumni showed us around among the numerous exhibited projects. Their facilities are also impressive. Since they have about 160 students in a class, their scale is different than what we are used to in Europe with classes of approximately 15 people. At the center students can show their diploma movies in a real cinematic setting.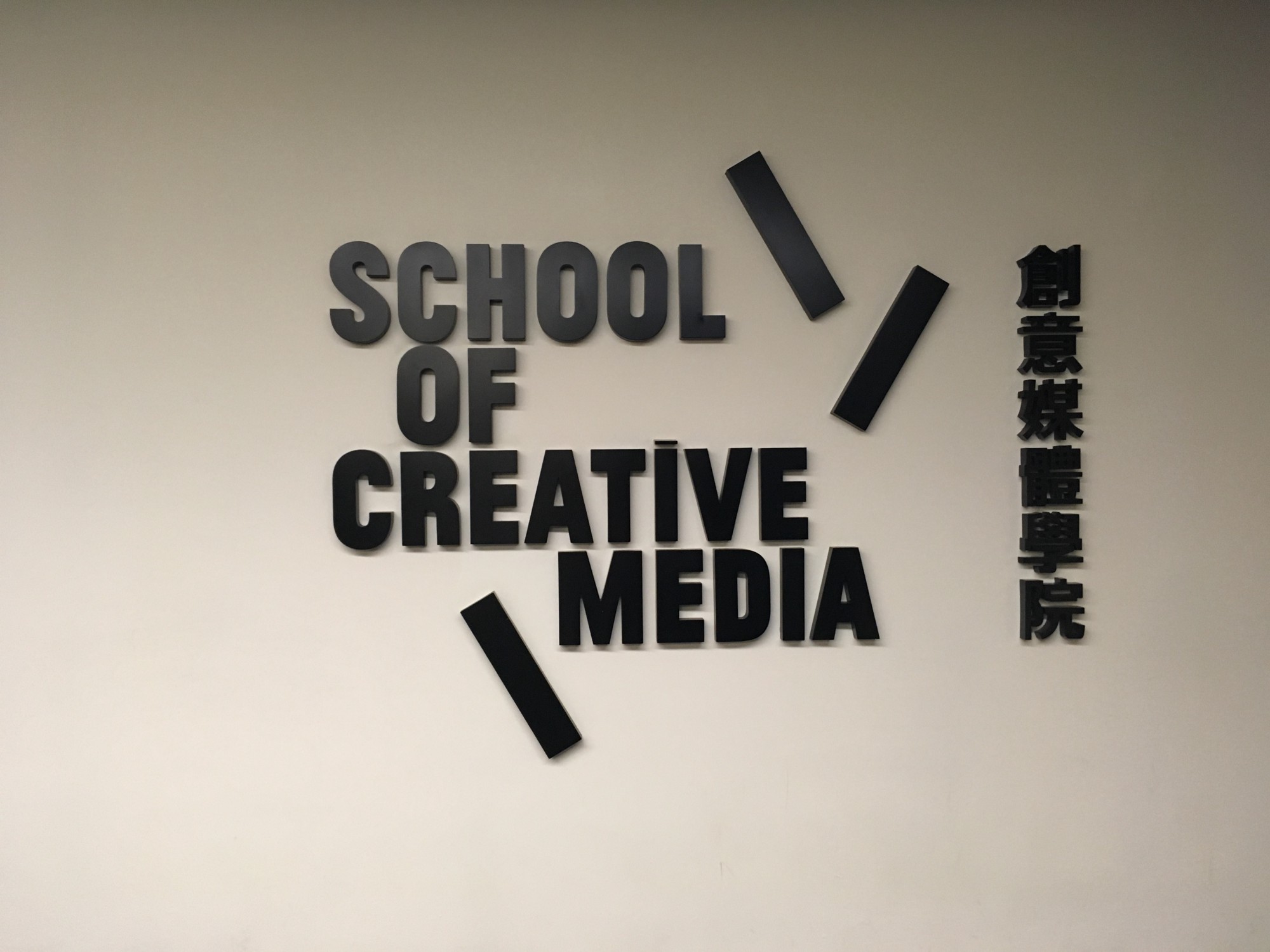 What I was jealous of: the amount of space they had. They could exhibit the projects in a dedicated open space, and had their classes elsewhere. No same-day vernissage and finissage!
However, I missed the mess. Maybe they just did not show it to us, but it seemed way too sterile for comfortable ideation and execution. I wanted to see scraps of paper and sweat on the floor, but I only got to look at the beautiful white cubes (except for one installation that was literally a pile of trash as an outcry against the art world and its institutions).
And then the fun part: visiting Joker Entertainment, the producers of the original slimy. The showroom we were standing in had no indication that this funny and quite disgusting material can also be used in healthcare and for cleaning — it looked like My Little Pony decorated that room when it was drunk for the first time. I would love to show a photo, but I can't find any.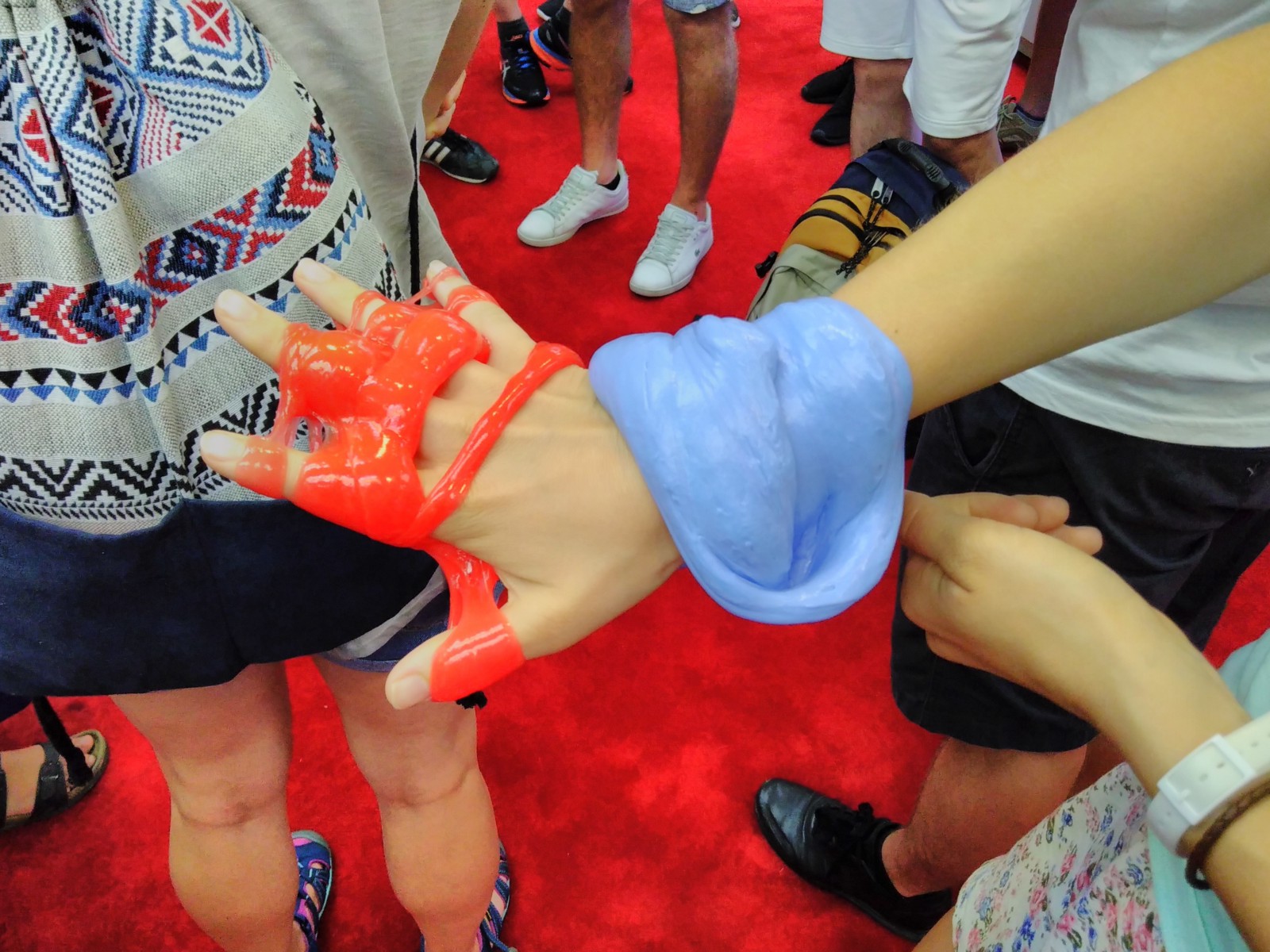 At least it was cold against the skin
However, the kind gentleman who talked to us gave genuine answers about how they built this company and the challenges or losses faced. This turned out to be much more inspiring than all the diplomatic answers we heard before and after at other companies.
And some less organised activities: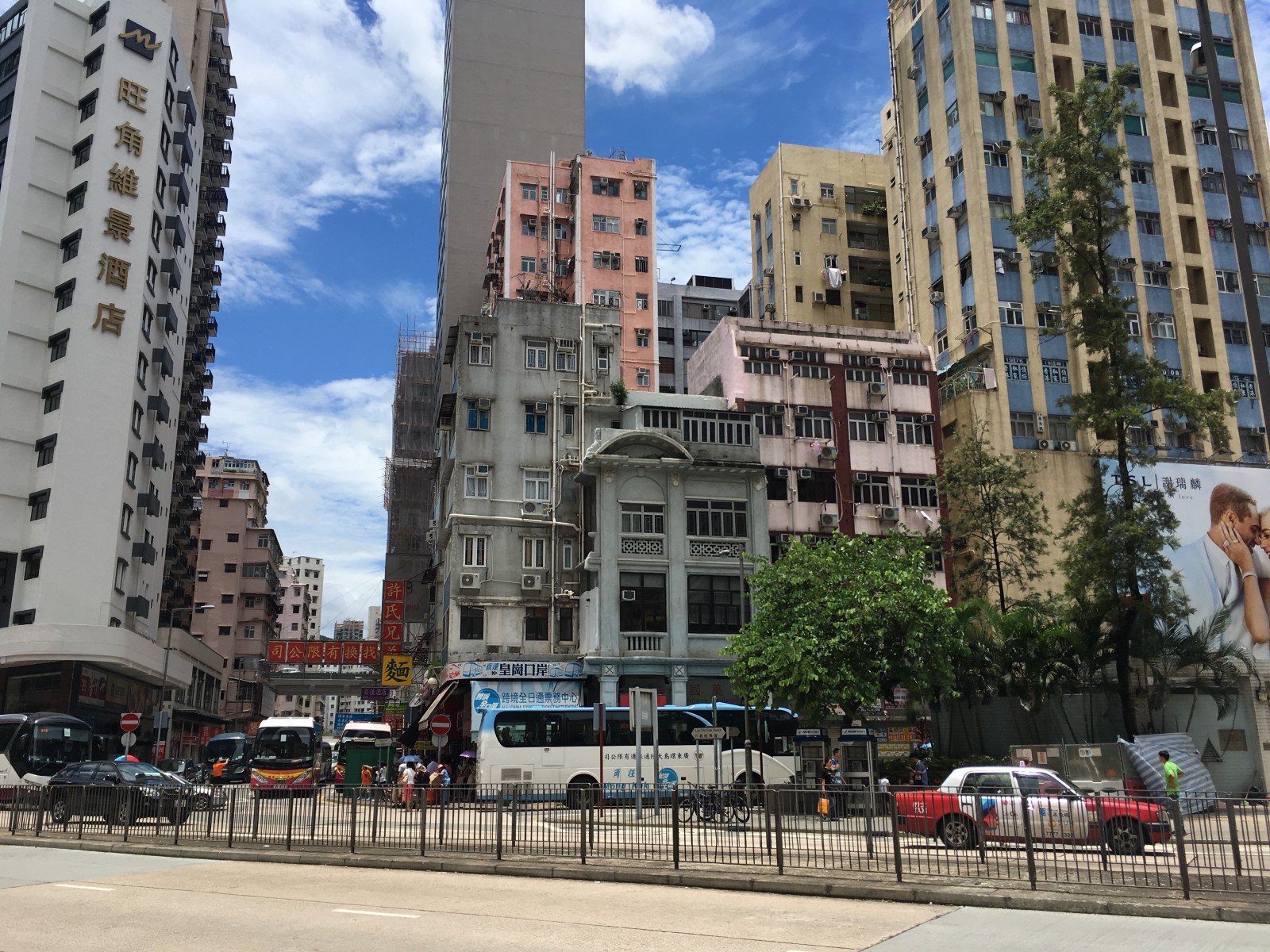 The scavenger hunt
The teams were mixed up from the different cities (Geneva, Fribourg, Lugano), and set free with a list of tasks that we had to mostly disregard with the best of intentions as it was way too long for one day. (We did answer one question: Starbucks does not always use the green color here — why? Is it too close to the color of jade stones?)
What we really completed was the visit to the Golden Computer Arcade full of, well, computers. And cameras, tablets, phones, cables and chargers, game consoles, drones, printers, etc. It was a challenge to not lose our engineers there, luckily at one point they got hungry. Then we switched to some less nerdy fun: we took the ferry and some subways to arrive at the beach. It was more than nice to dive in the water and then float, staring lazily at the skyscrapers loosely attached to the hills.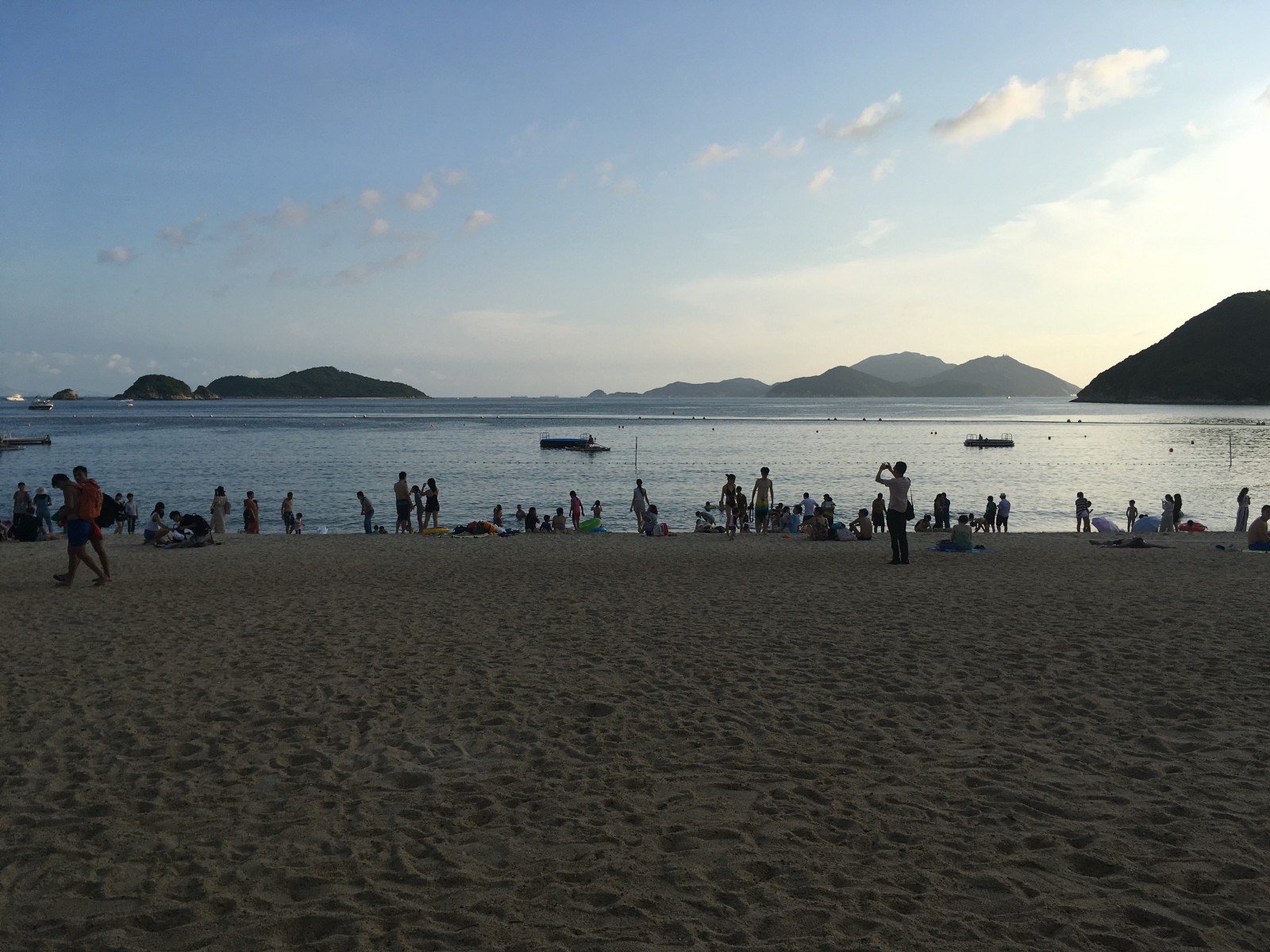 Surprisingly not crowded
Looking at the skyline
From the beach in Kowloon, from a skybar, from the ferry to Hong Kong Island and from a beach close to Makerbay. And Victoria Peak of course, from where we walked down to see the nightlife at Central, where the super busy and rich work and drink.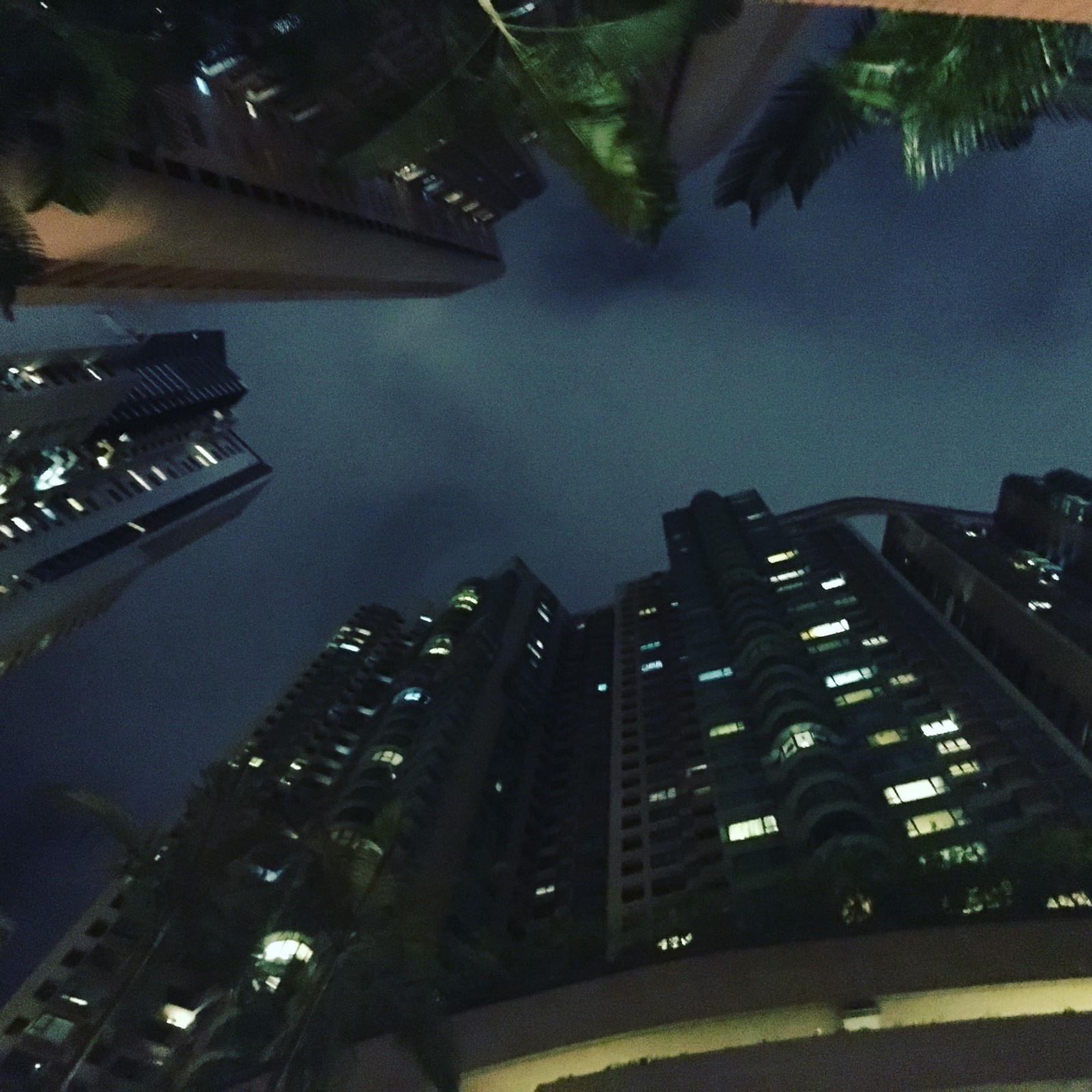 Walking down from Victoria Peak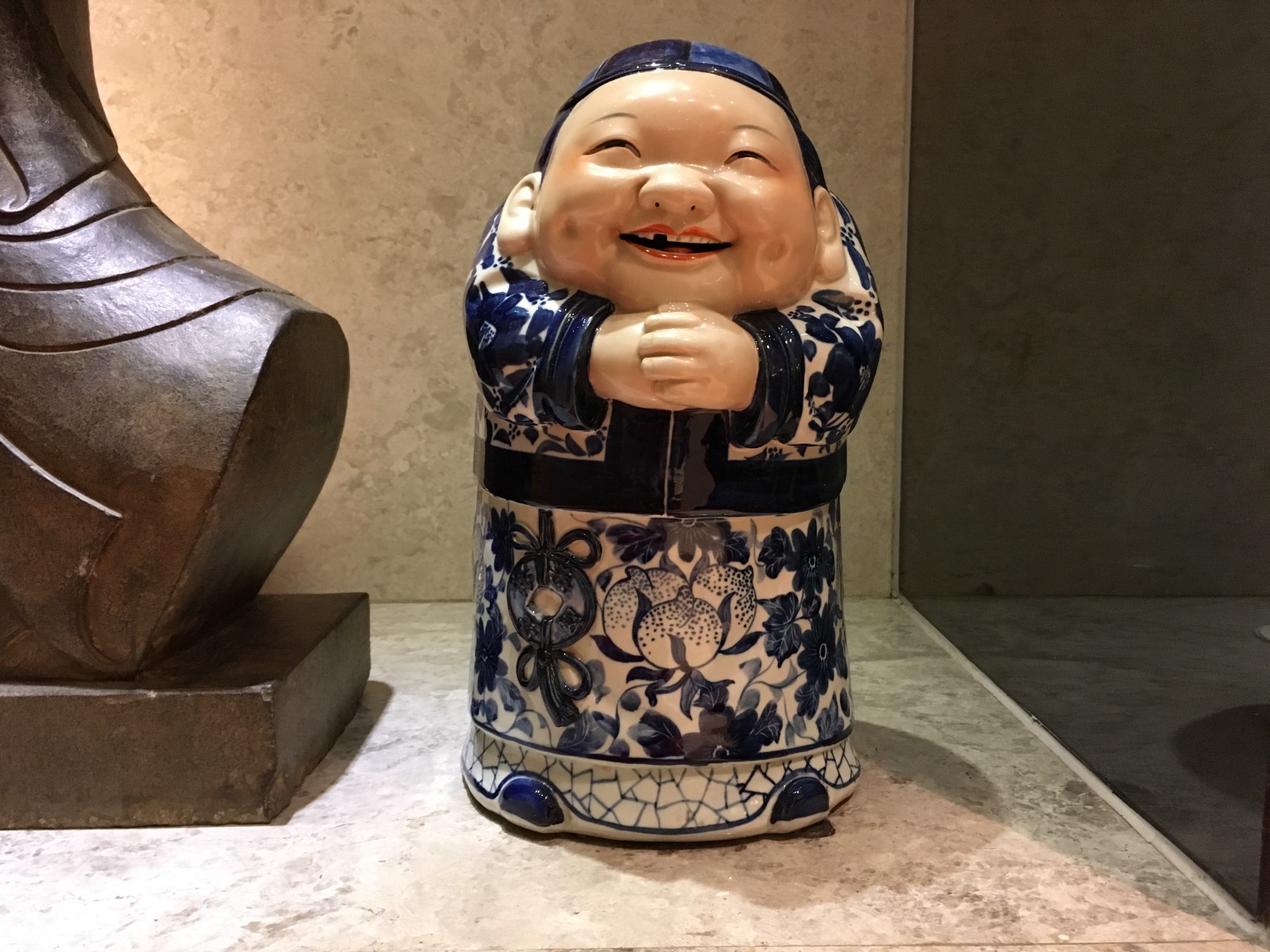 Happy figure in a restaurant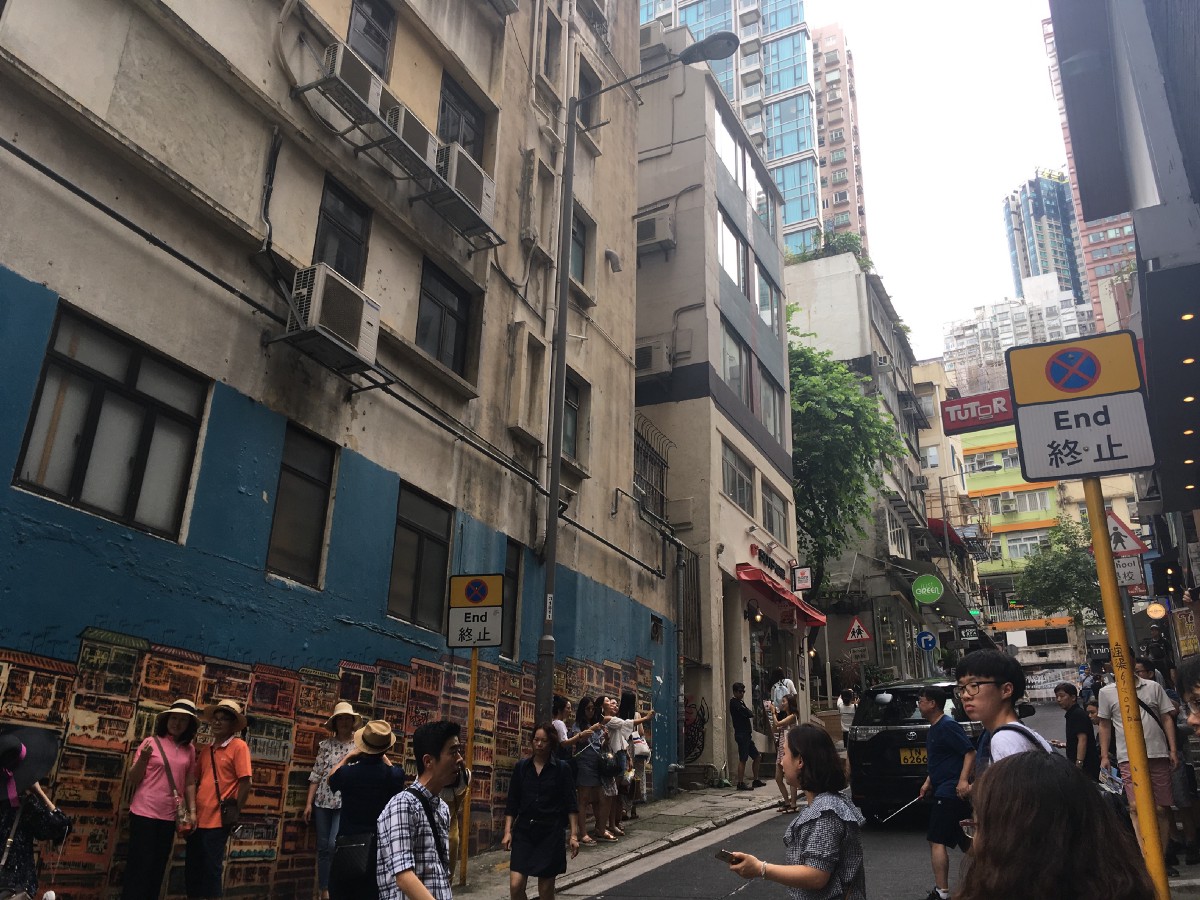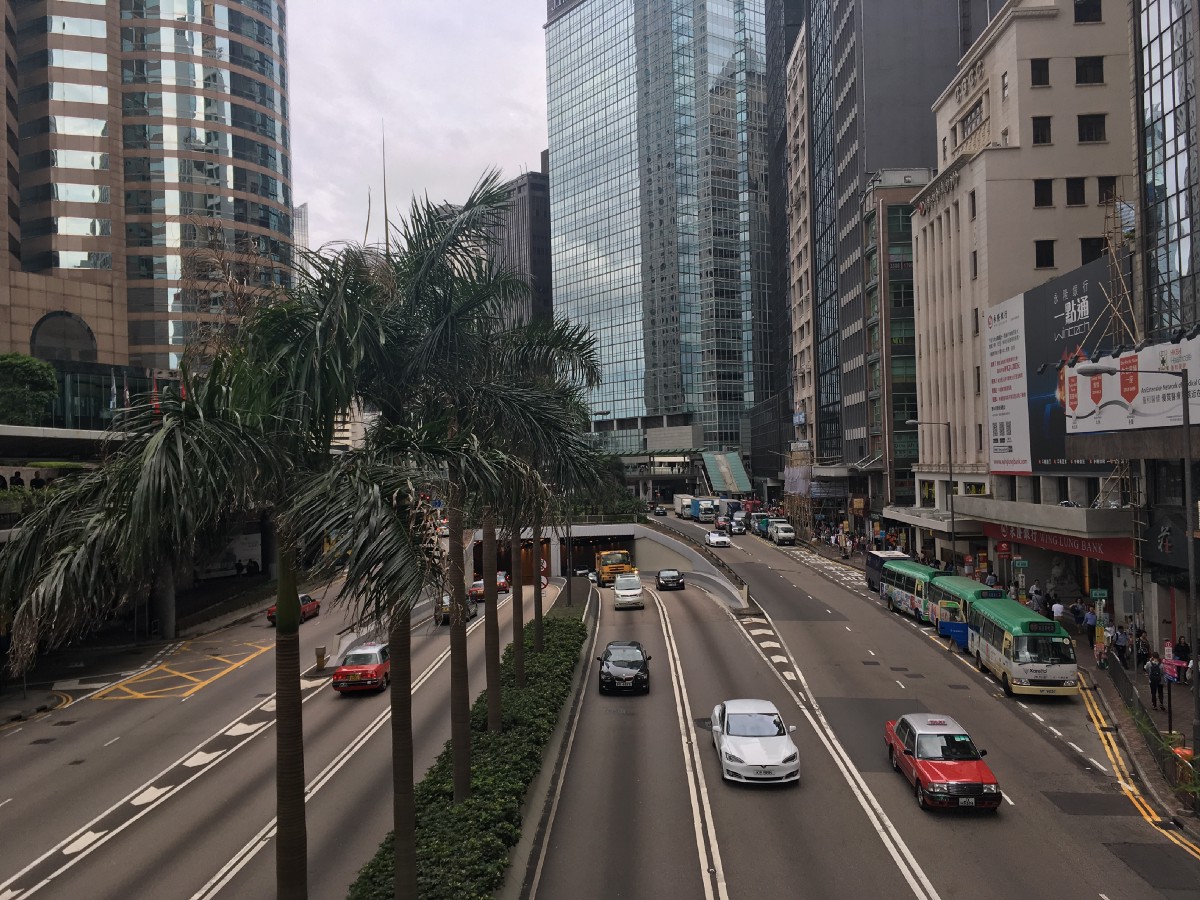 Central during the day
Markets
For scarves, bags, fake watches, powerbanks, clothes, etc. Finding a common price with no common language is not hard if one has a calculator. Theatrical performances are required on both sides. There are so many markets, and then there are the malls. Basically all urban life is inside malls, there is one or more at each subway station, it is a place to hang out, etc. Which is crazy from a Western European perspective (although not unusual in Budapest), where shopping centers are pushed to the outskirts of a city.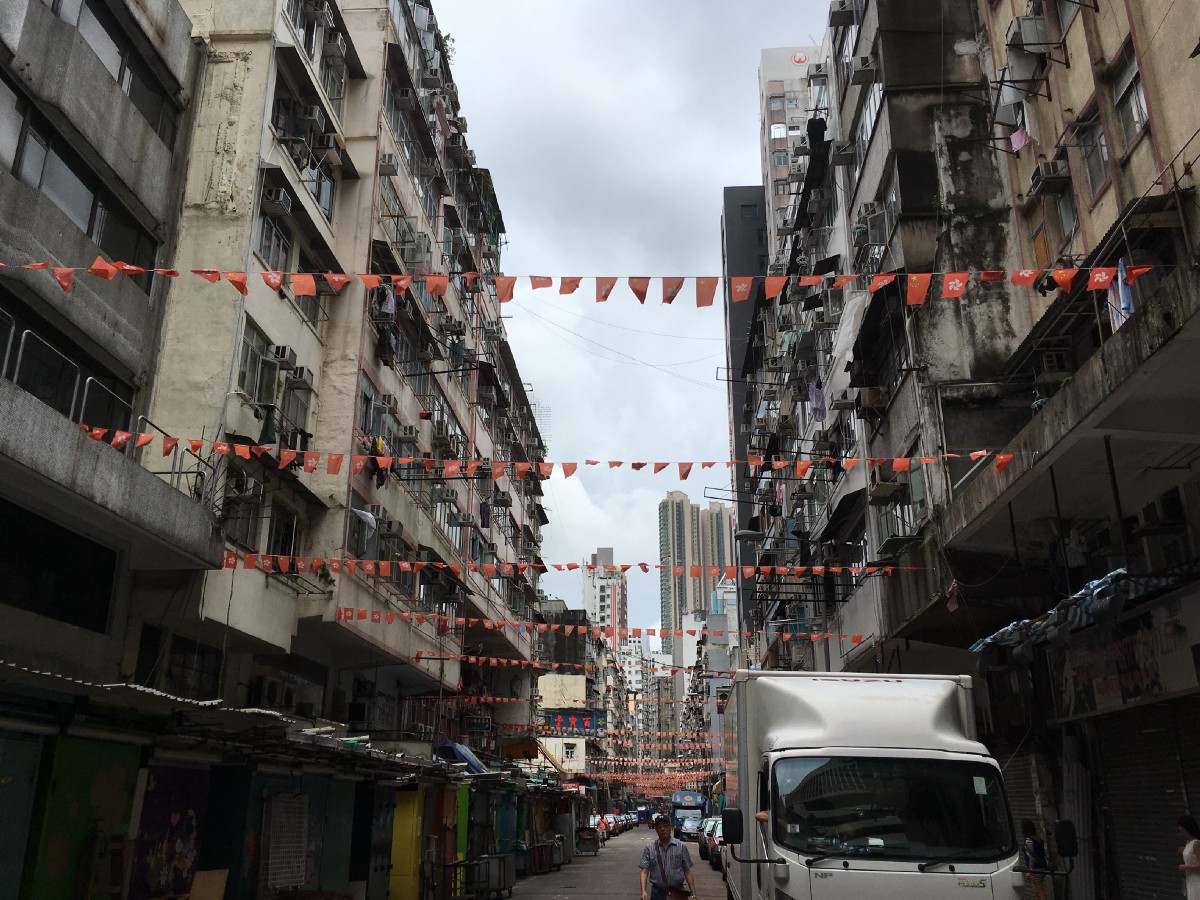 Closed market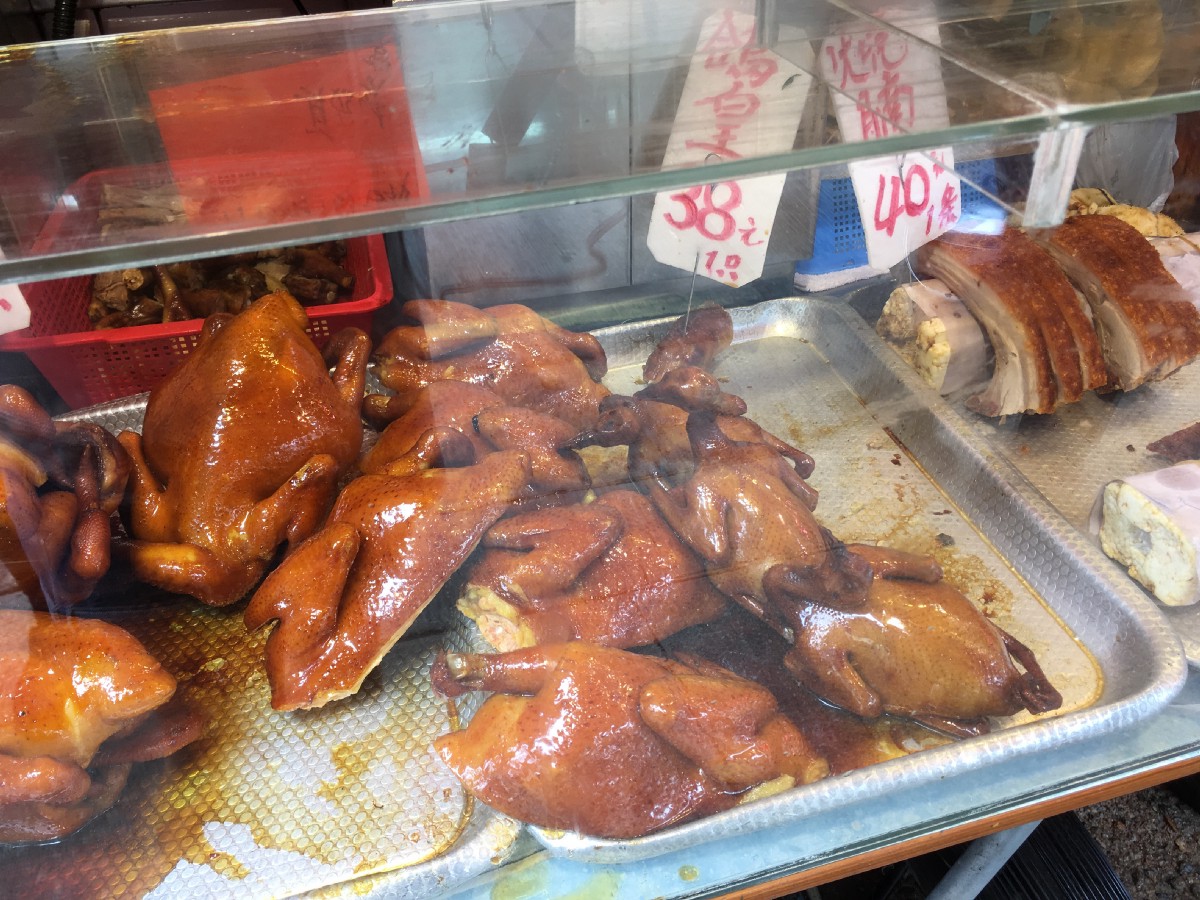 Say hi to the ducks!
I also visited the Jade Market, since I have studied jewellery design a bit. However, most vendors were more skilled in harassing the buyer and not so much in finding quality items. In a far corner though I found a lovely lady who knew about each stone's origin, why is it that colour, and had a deeper knowledge about the symbolic meanings of the carvings than just the Chinese zodiac signs.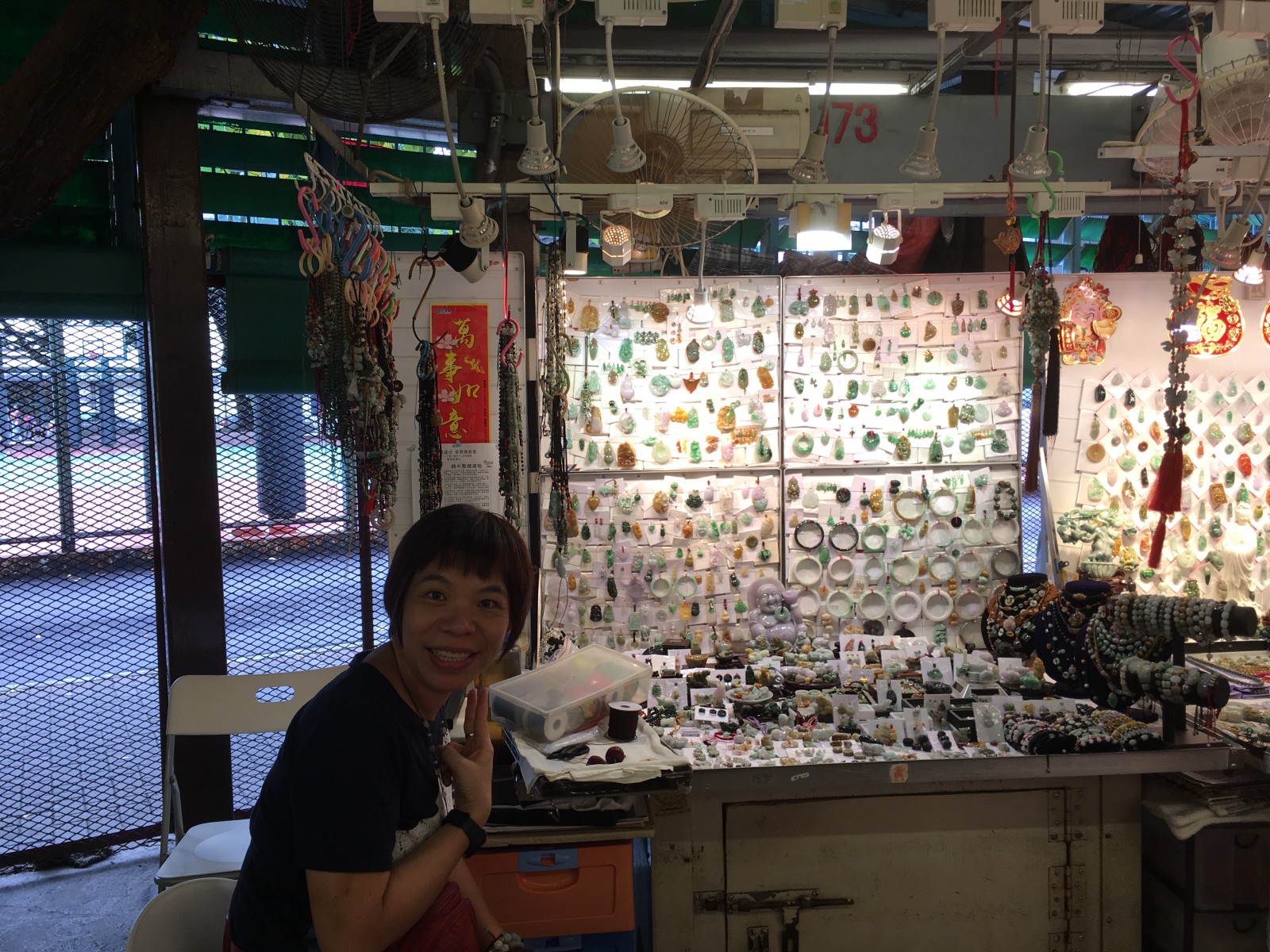 Temples
The crazy real estate prices probably do not inspire religious constructions, but there are some temples, lying low among the tall buildings, or a bit outside in a park.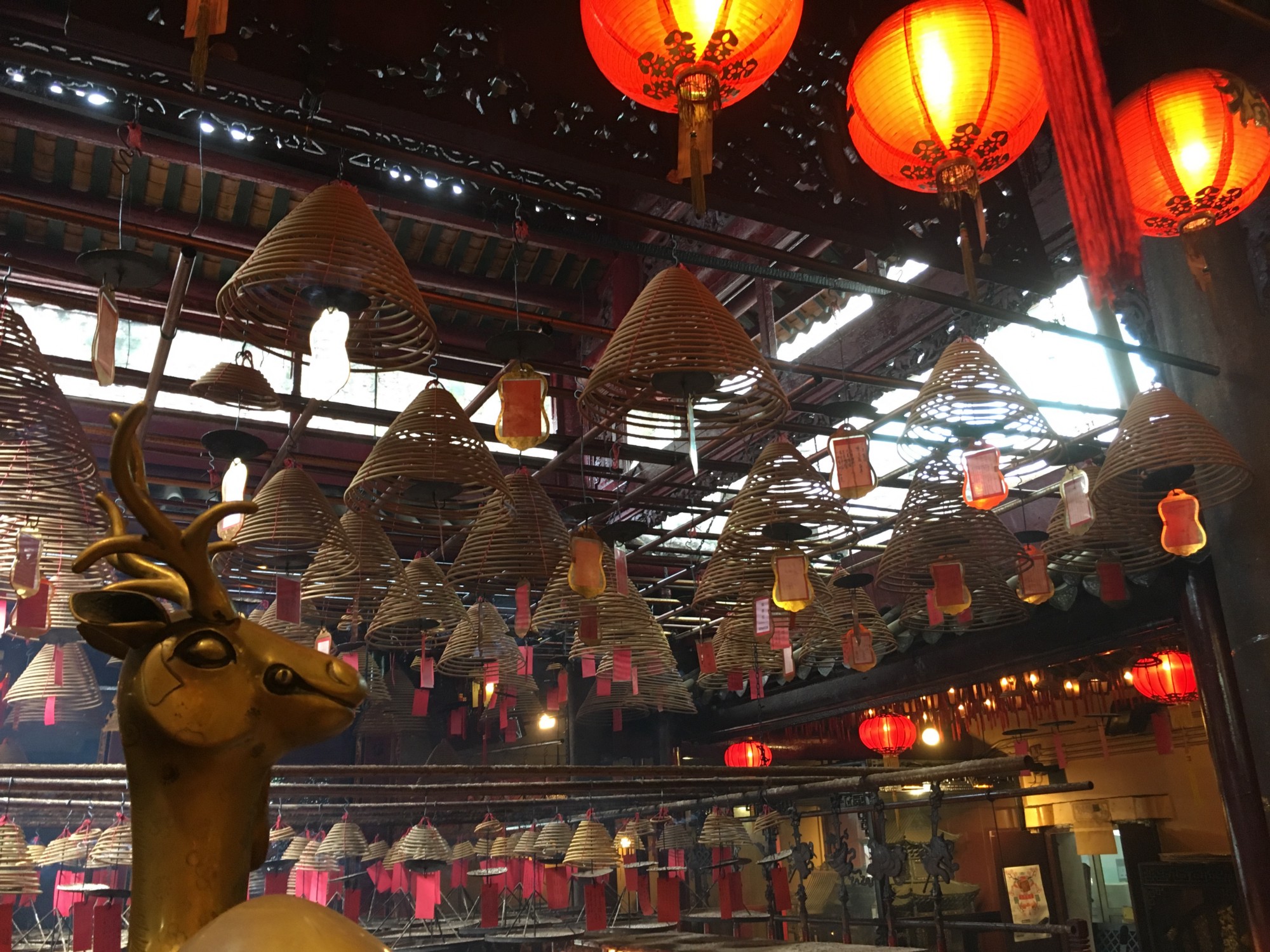 Incense in the humid heat — only nice on the picture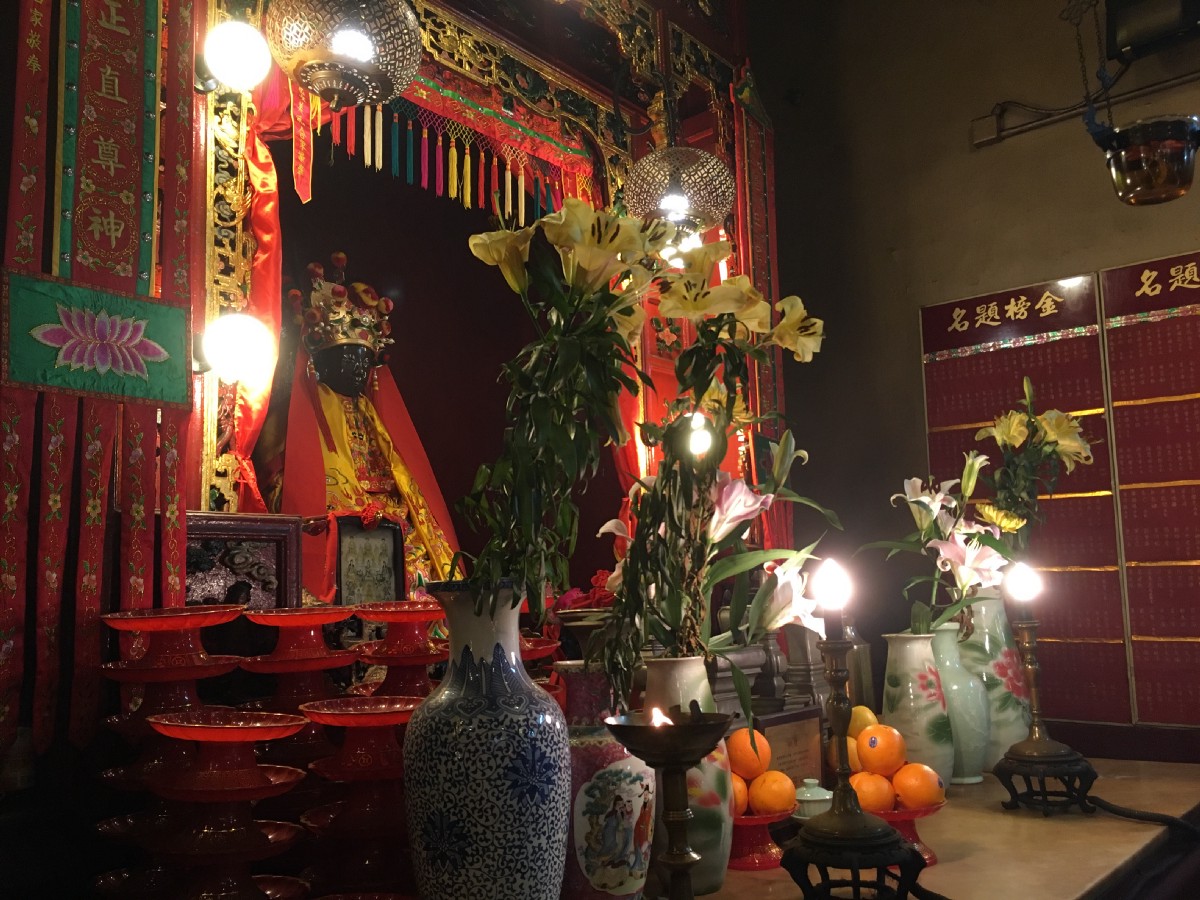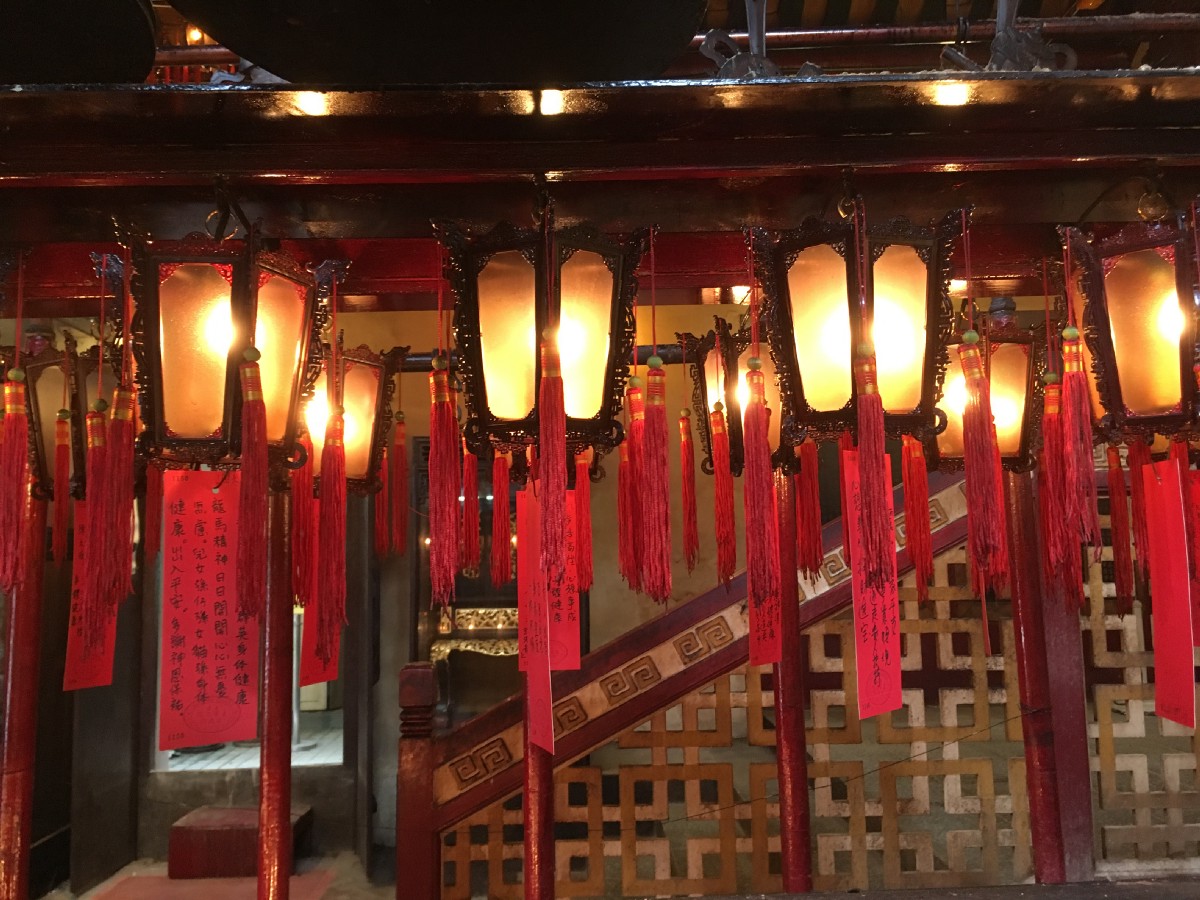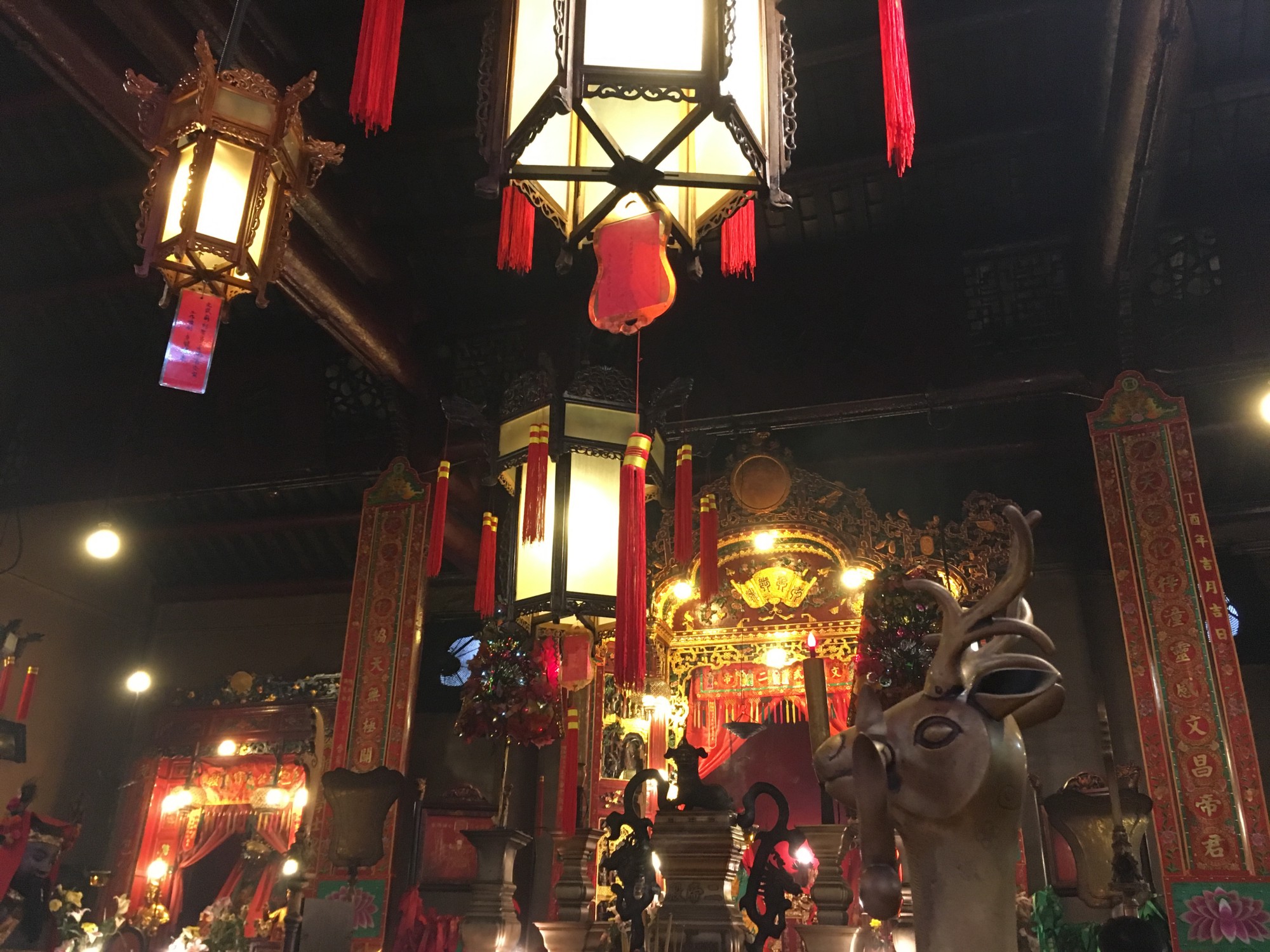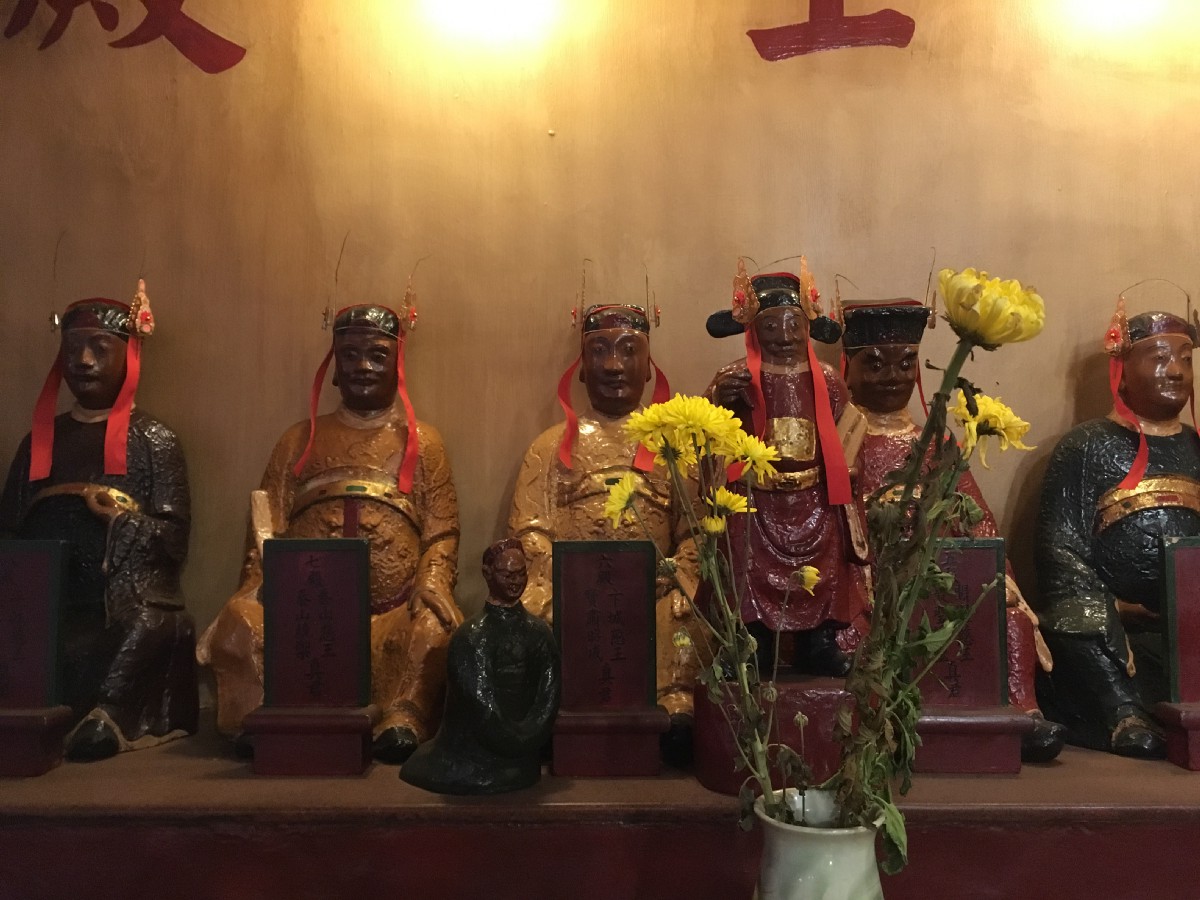 Man Mo Temple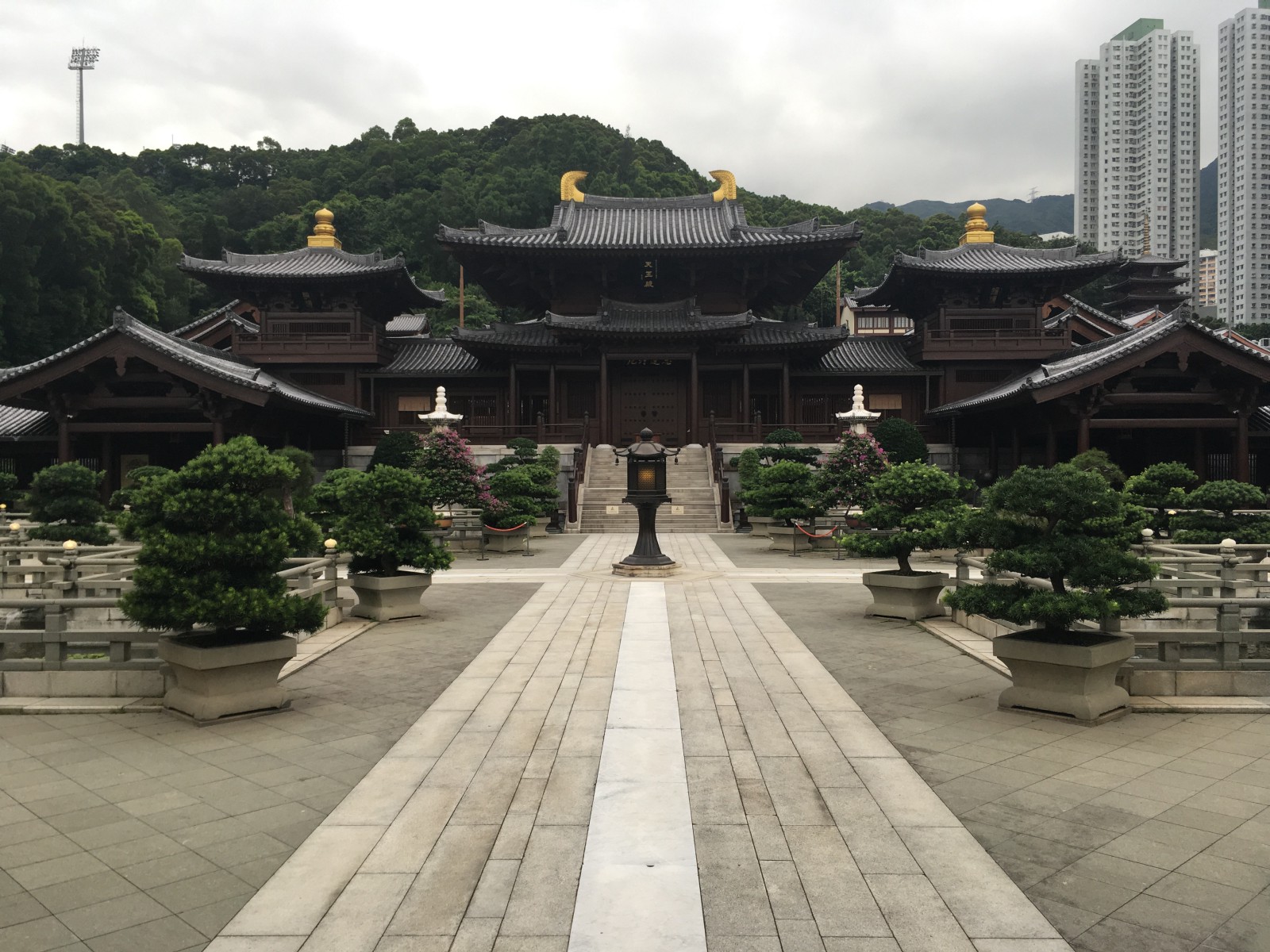 Temple Garden Nan Lian
And on Sunday, we crossed the border to Shenzhen.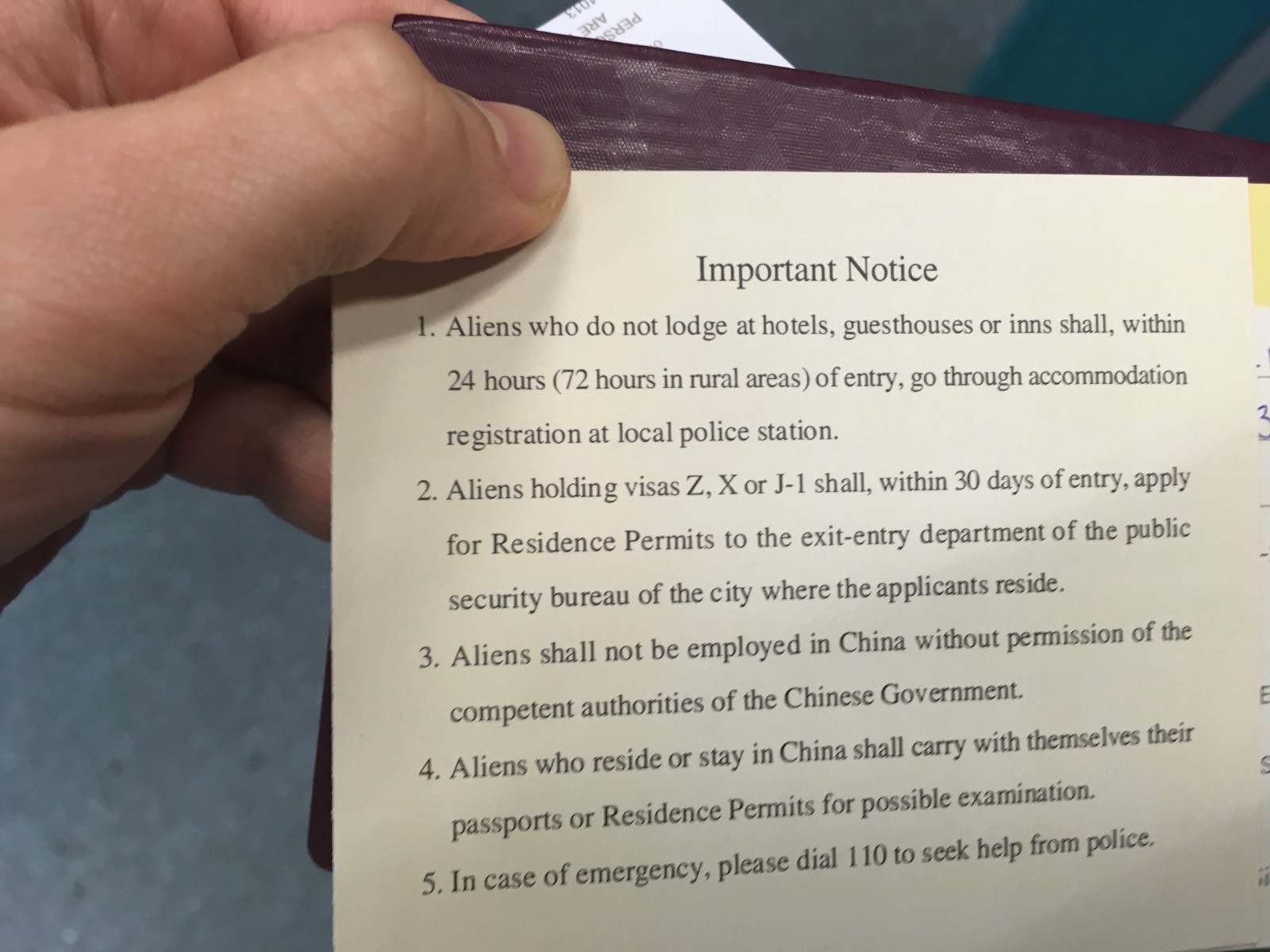 The government does not wish to discriminate by birth planet.
Next post: Makerbay. Partly because this one is already too long.